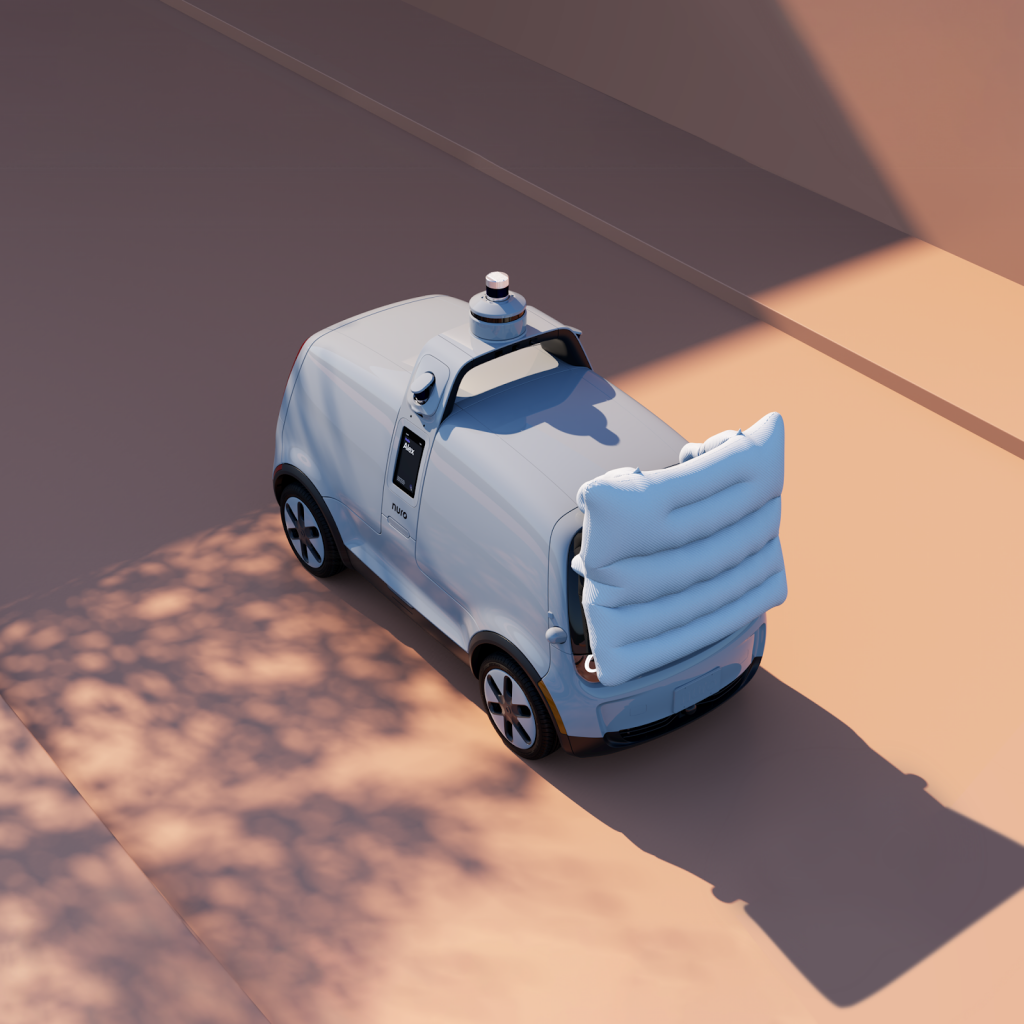 Autonomous delivery company Nuro's next-generation robot includes an airbag for pedestrians, the company announced Jan. 12.
Nuro revealed that its third-generation autonomous delivery vehicle will include a custom external airbag that can open across its front. The airbag is optimized to reduce the force of impact and number of injuries in the event of collision.
"Safety has been and always will be our top priority. In fact, it's one of the core reasons Nuro was founded — we knew that reducing the number of car trips people take would enable us to keep more people safe," the company said in a statement. 
The new model includes a number of other upgrades as well. For example, it is approximately 20% smaller in width than average passenger cars. "That significantly smaller footprint gives bicyclists and pedestrians more room to maneuver alongside the bot," the company noted.

At the same time, the vehicle's compartments encompass 27 cubic feet, nearly five more cubic feet than the second-generation model, making it able to fit about 24 bags of groceries and keep almost 500 lbs. worth of individual orders separate and secure. Modular inserts that fit inside the compartments allow for heating and cooling, with a range of temperatures from 22 degrees F or hot to 116 degrees F, which means pizza stays warm and soda stays cool, the company noted.
The new vehicle can reach a top operating speed of 45 miles per hour and safely operate in the same environment as all motor vehicles. "That allows us to serve a wide variety of geographies that experience various weather conditions throughout the year," the company noted.
Nuro's vehicles were already battery-electric and emission-free, "but we've decided to take our commitment to sustainability even further—in this new vehicle, we're using 100% renewable electricity from wind farms in Texas to power our fleet and to reduce our overall carbon footprint," the company  noted. "And all materials adhere to strict sourcing and supply chain standards meant to protect the natural environment."
To ensure the new model's security, "we engineer defensive and detection mechanisms into the system for early warning about potential attacks and ensure our safety margin is maintained in every conceivable scenario," Nuro noted. "Early detection throughout our system is continuously evaluated by an internal offensive security test and evaluation team that conducts penetration testing emulating highly funded and exceptionally skilled attacks."
Nuro's focus on security "extends to our customer data, which we prioritize even above our own intellectual data protections," the company noted. "Our privacy policy dictates everything from how we collect data to how we safeguard it, so that our customers have full transparency into the handling of their private data."
In addition, the new model can clean its own sensors. "This self-cleaning is important to maintain operations and retain sensitivity throughout the day, the company noted. A large touchscreen may one day also permit new curbside commerce experiences such as mobile marketplaces.
In 2020, Nuro became the first company permitted to deploy autonomous vehicles on public streets for commercial operations in California. This paved the way for it to partner with 7-Eleven in 
December to launch the first commercial autonomous delivery service in California.
Pre-production on the new vehicle is currently underway, and Nuro is partnering with BYD North America, part of one of the largest original equipment manufacturer (OEM) networks of electric vehicles in the world, to assemble globally sourced hardware components for the vehicle platforms.
"This is the vehicle we'll be producing at scale to better everyday life for millions, and we can't wait for it to be on the road right outside your front door," the company said in a statement.