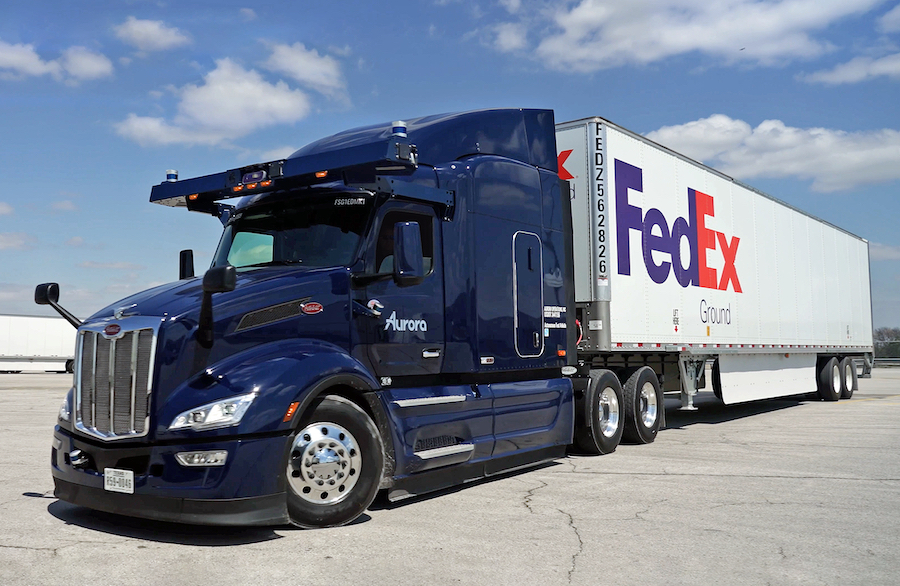 Self-driving vehicle startup Aurora is expanding its commercial pilot project with FedEx to haul freight on autonomous trucks on multiple routes in Texas, which may further plans to driverlessly move shipments between the East and West Coasts, the companies announced May 18.
The partnership, which launched in September, initially had Aurora and FedEx partner with Fortune 500 truckmaker Paccar on FedEx parcel routes on the I-45 corridor between Dallas and Houston, a nearly 500-mile round trip route that trucks operated autonomously on multiple times each week, with a backup driver for additional safety. This was an industry-first three-way collaboration between a logistics provider, autonomous technology developer and a truck manufacturer. 
"Innovation is in our DNA – our culture drives us to think radically and differently, finding new ways to use technology to enhance safety, improve our operations, empower our team members and help our customers succeed," Rebecca Yeung, corporate vice president of operations science and advanced technology at FedEx, said in a statement. "Aurora has been a like-minded collaborator, helping us learn from and grow our autonomous trucking solutions. We look forward to our continued work together as we test further integration of autonomous technology into our operations to build a collaborative, robust network of solutions to respond to growing customer demand."
Since the commercial pilot project began in September, Aurora's deliveries of FedEx shipments between Dallas and Houston have been 100 percent on time. To date, the companies have completed 60,000 miles with zero safety incidents, providing packages during inclement weather and all hours of the day and night.

"Some time ago, I was asked why the general public should care about autonomous trucking. This is why. In six months of working with FedEx, we've safely, reliably, and efficiently transported packages for tens of thousands of FedEx customers," Sterling Anderson, Aurora co-founder and chief product officer, said in a statement. 
Now, in addition to hauling freight between Dallas and Houston, the project is moving FedEx cargo between Aurora's terminals in Fort Worth and El Paso. 
"Fort Worth to El Paso represents the middle leg of Atlanta to L.A., one of the busiest commercial thoroughfares for the U.S. trucking industry," Aurora spokeswoman Rachel Chibidakis said in a statement.
Aurora's next-generation autonomous trucks, based on the new Peterbilt 579, began transporting shipments with safety drivers on board on the new 600-mile route on a weekly basis in March. The companies expect to increase the frequency of trips in the coming months. 
"This lane expansion came ahead of schedule, and we're delighted to continue building the future of trucking with one of the country's biggest and most important transportation companies," Anderson said in a statement.