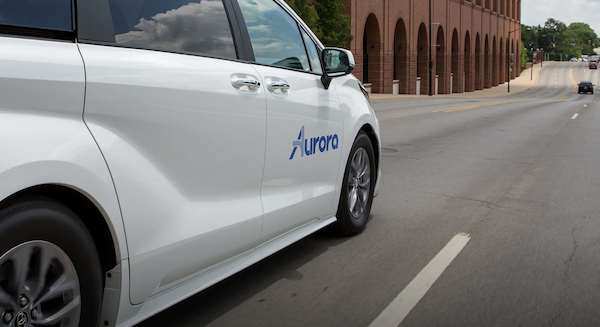 Toyota will partner with self-driving car startup Aurora to build and deploy autonomous vehicles for ride-hailing networks, including Uber's, the companies announced on Feb. 9.
"Toyota is dedicated to creating and realizing mobility for all by focusing on technology that will move people safely and responsibly, a vision Aurora shares with us," Toyota's operating officer Keiji Yamamoto said in a statement.
The partnership will develop and test driverless-capable vehicles equipped with Aurora's Driver software and hardware suite, starting with the Toyota Sienna minivan. By the end of 2021, the companies expect to have designed, built, and begun testing an initial fleet of these Siennas. 
"Toyota has an unparalleled legacy, engineering expertise, leadership and ability to deliver high-quality, affordable, and reliable vehicles," Aurora CEO Chris Urmson said in a statement. "They're also the preferred vehicle brand for transporting riders on ride-hailing networks, so we're excited and honored to work with them to unlock driverless mobility services with the Aurora Driver."

This new long-term global collaboration will include Toyota's longtime partner Denso, one of the largest global manufacturers and tier-one automotive suppliers.  The companies will explore mass production of key autonomous driving components with Denso and a comprehensive services solution with Toyota for when these vehicles are deployed at scale, including financing, insurance and maintenance.
In addition, the companies will lay the groundwork for the mass-production, launch and support of these autonomous vehicles on ride-hailing networks, including Uber's, over the next few years. (Aurora acquired Uber's self-driving car unit, the Advanced Technologies Group (ATG), in December. Toyota and Denso were investors in Uber's Advanced Technology Group, along with Japan's SoftBank Vision Fund.)