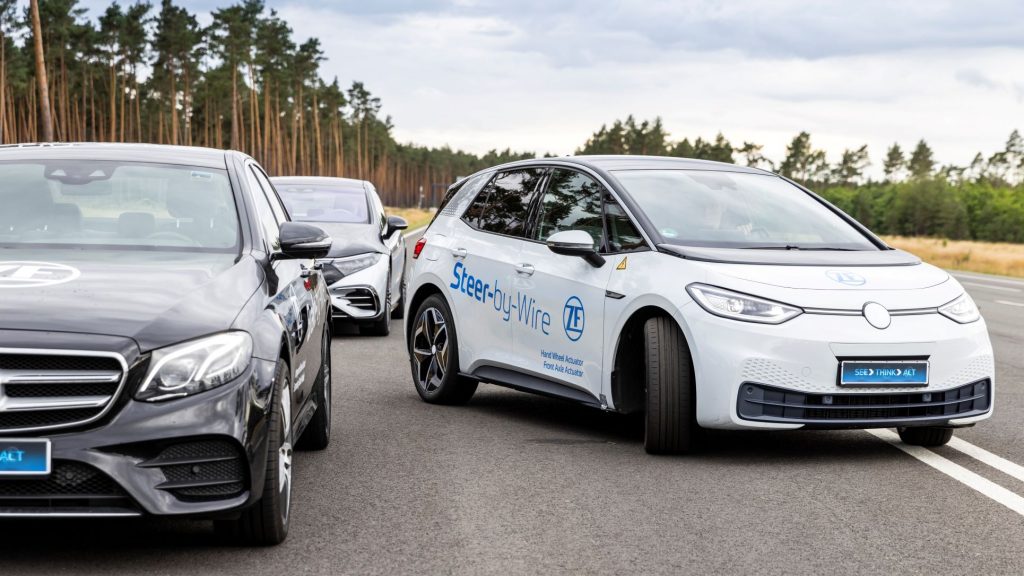 Momentum is accelerating for by-wire technologies in advanced chassis systems as vehicle electrification and autonomy applications take off. The latest example is from ZF, which revealed today to international media that its advanced steer-by-wire solution has been awarded significant volume contracts by multiple major car manufacturers that will launch in all major regions in 2023.
"ZF's smart by-wire systems end the era of mechanical connections and enable a new era of vehicle control," said Wolf-Henning Scheider, CEO, ZF. "ZF's steer-by-wire technology enables new safety and comfort features like autonomous emergency evasive maneuvers or parking in very confined spaces. It marks a breakthrough on the way to fully self-driving cars and trucks by adding new design and engineering freedom."
Scheider spoke at ZF's Global Technology Day press conference, unveiling a selection of its latest innovations and technology advances at its testing facility in Jeversen, Germany, ahead of IAA Transportation commercial vehicle event coming up in Hanover in September. He shared the stage with Wilhelm Rehm, Member of the Board of Management, ZF Group, Responsible for Commercial Vehicle Solutions, Industrial Technology, and Materials Management, who spoke about commercial vehicles.
The company believes that by-wire technology represents a "perfect fit" for future electric and automated vehicles. ZF says its additional customer contracts in all major regions for its steer-by-wire systems for series production establish the company as a leader in this technology field.

The ZF steer-by-wire system can enable fully autonomous vehicle control for shuttles and robotaxis. For personal passenger vehicles, it also offers unique capabilities like retractable steering wheels for fully automated driving modes, a fully adaptable steering control reducing the handwheel angle for parking or low-speed maneuvers, and enhanced crash safety through the removal of the steering column.
Similarly, on the braking side of the equation ZF is the global leader in the production of its Integrated Brake Control (IBC) system that is also primarily controlled using by-wire technology. In a single integrated unit, the IBC can replace the electronic stability control system along with the vacuum booster and the associated cables, sensors, switches, electronic controllers, and vacuum pumps where they are required for low or no vacuum configurations. It helps deliver advanced safety in the form of a rapid building of brake pressure for high dynamic demands such as automatic emergency braking. It also supports the brake vehicle control and stopping requirements for partially to fully automated driving functions.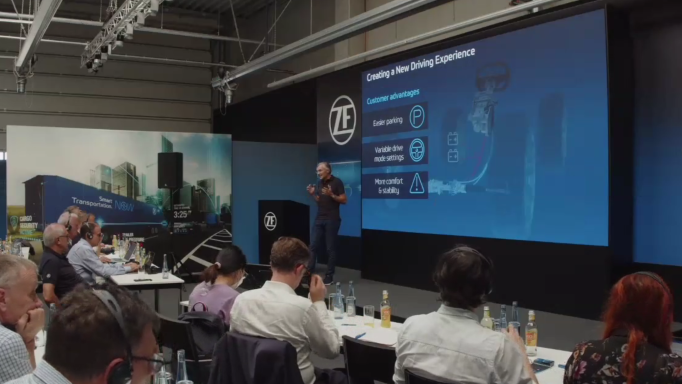 Thanks to its now complete portfolio, ZF believes it is well positioned to capture further significant market share in the growing by-wire chassis systems field, especially in the steer-by-wire market by 2030.
"ZF is actively shaping the clean and autonomous future of mobility by launching advanced suspension-, steer-, and brake-by-wire systems that will become more commonplace due to the many advantages they offer," said Scheider. "And ZF's software and high-performance computing platforms such as CubiX and the Vehicle Motion Domain Controller complete the picture and together create a new level of system performance."
CubiX is an example of software-driven connected chassis functions developed with partner Microsoft. It gathers sensor information from the entire vehicle and environment and prepares it for optimized control of active systems in the chassis, steering, brakes, and propulsion systems. Following an open-source application approach, it supports components from ZF as well as third parties. The start of production for CubiX is planned for 2023.
At CES 2022, ZF introduced the high-performance Vehicle Motion Domain (VMD) Controller computing platform. The central computer is adaptable for many types of chassis platforms, vehicle motion, and body functions for next-generation software-defined cars and future domain and zone E/E architectures.
It is designed to integrate vehicle functions across domains including body and power management and supports standalone functionality while reducing complexity by using a single controller for intelligent vehicle motion control. For a higher level of automation, the VMD high-performance controller can be connected to ZF's ProAI high-performance computing platform for ADAS/AD applications in an integrated system approach.
ZF's range of by-wire systems—steer-by-wire including rear-wheel steering, brake-by-wire with Integrated Brake Control, and electronically controlled active suspension—do not require a direct physical connection. The company's technologies are being combined to yield system solutions that offer enhancements greater than they can alone. It believes that software and combined E/E architectures play a key role in adding value for its customers.
By-wire systems offer greater degrees of vehicle control offering shorter stopping distances, more degrees of freedom in maneuvering, better stability at high speeds, and greater range and efficiency. With by-wire technologies, the amount of steering assist or brake torque can be tuned to mimic the typical feel that drivers expect, but they can also be instantly adjusted to enhance brake force to reduce stopping distances or steer around an obstacle more expertly than drivers can do themselves.
ZF's brake-by-wire IBC braking system enables regenerative braking and energy recuperation that helps recharge the batteries of electric vehicles, highlighting how chassis and e-drives can work together to enhance motion control, extend range, and offer more compact system packaging.