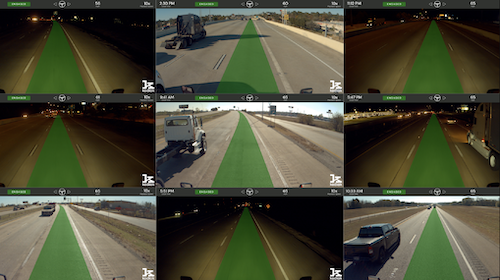 Kodiak Robotics' self-driving trucks are now making fully autonomous 200-plus-mile freight runs, the company revealed.
Founded in 2018, Kodiak carried its first commercial load in 2019. Now the autonomous vehicle (AV) startup's trucks are making "disengage-free" highway trips, meaning journeys where the safety driver never disengaged the self-driving system to manually take control.
Kodiak's trucks navigated the entire highway portion of their route—205 miles of Texas highway from Dallas to Houston—for the first time in December. These trips included one entire disengage-free day, with two back-to-back round trips between Dallas and Houston, during the day and at night. These are the first fully autonomous deliveries in Texas history, Andreas Wendel, Kodiak Robotics' vice president of engineering, said in a statement.
These deliveries reflect "that we're increasingly able to handle the full range of highway driving scenarios, from easy stuff like the open road and lane changes, to tough challenges like vehicles on the shoulder, merges and of course complicated construction zones," Wendel said.

"Many think AV development is like training for a marathon—first you take a run around the block, then that block turns into a mile, then 10, and eventually after enough training, you can run the whole thing," Wendel said. "But AV development is actually more like training for an ironman triathlon—a self-driving system needs to do a lot of things well, from negotiating heavy traffic to navigating construction zones. Just as running a marathon in record time doesn't do you any good if you can't swim, logging hundreds of thousands of test miles doesn't do you any good if you have to drive every construction zone manually."
Kodiak's strategies for long-haul trucking include staying away from real-time kinematic (RTK)-based GPS positioning, which Wendel noted is powerful, "but it can be finicky in bad weather or in remote locations, so you cannot rely on it to safely deploy an actual driverless product. 
"Furthermore," she maintained, "the hardware is too expensive to scale."
In addition, instead of relying on high-definition maps, which "are great until a construction zone opens up and the map changes," Kodiak employed a low-definition mapping system, "designed for over-the-air updates in case of lane closures or construction," Wendel explained.
All in all, "we navigated a major commercial freight lane, through a complex mix of urban and rural highways, open road, traffic and construction zones," Wendel said. "In other words, we can run, bike and swim, with poise."