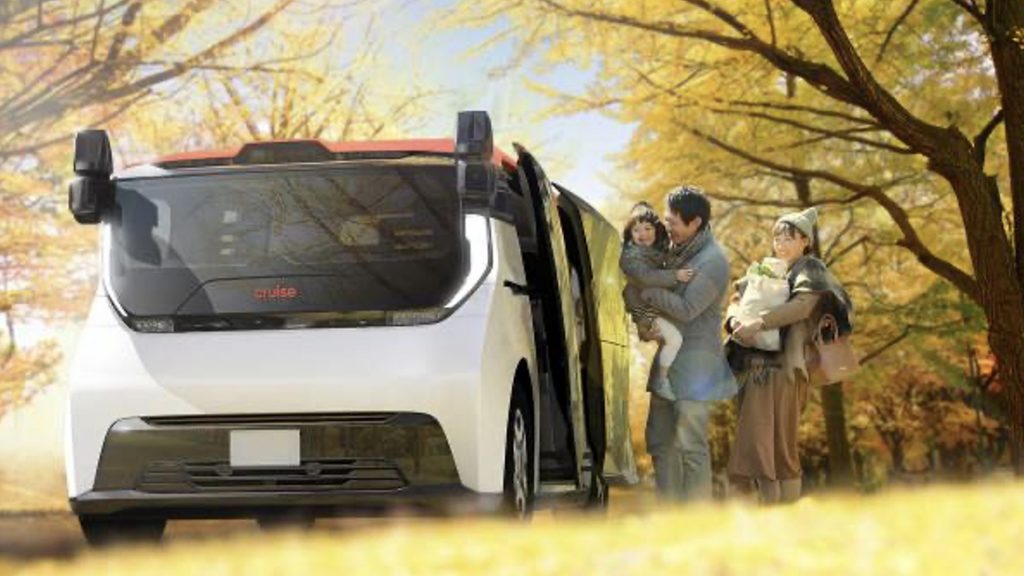 In Tokyo yesterday, General Motors Company, its autonomous vehicle technology unit Cruise, and Honda Motor Co., Ltd. announced that they have entered into an MoU aiming to establish a JV company in the first half of 2024 pending regulatory approvals that will begin a driverless ride service in Japan in early 2026.
For the new service, the jointly developed by GM, Cruise, and Honda and purpose-built Cruise Origin vehicle will pick up and drop off customers at destinations entirely through self-driving. Customers will use a dedicated smartphone app to complete the process from hailing to payment.
The Origin, a self-driving vehicle with no driver's seat or steering wheel, features a large cabin space that the partners say can be "as private as a personally owned vehicle" while allowing six people to ride simultaneously and face-to-face.
GM aims for the JV to help reach its vision of a future with zero crashes, zero emissions, and zero congestion. The company says that's why it's committed to safely deploying autonomous vehicles on a global scale and it invested in the San Francisco-based Cruise in 2016. The AV tech company's ridehail services in San Francisco, Austin, and Phoenix have gone 5 million driverless miles with over 100,000 "five-star" rides, with plans to launch autonomous vehicles in 12 additional announced markets in the U.S.
"The benefits of AVs—from safety to accessibility—are too profound to ignore, and through this important partnership with Cruise and Honda, we're bringing forward innovation that leverages our expertise in cutting-edge software and hardware to help more people around the world get where they need to go," said GM Chair and CEO Mary Barra.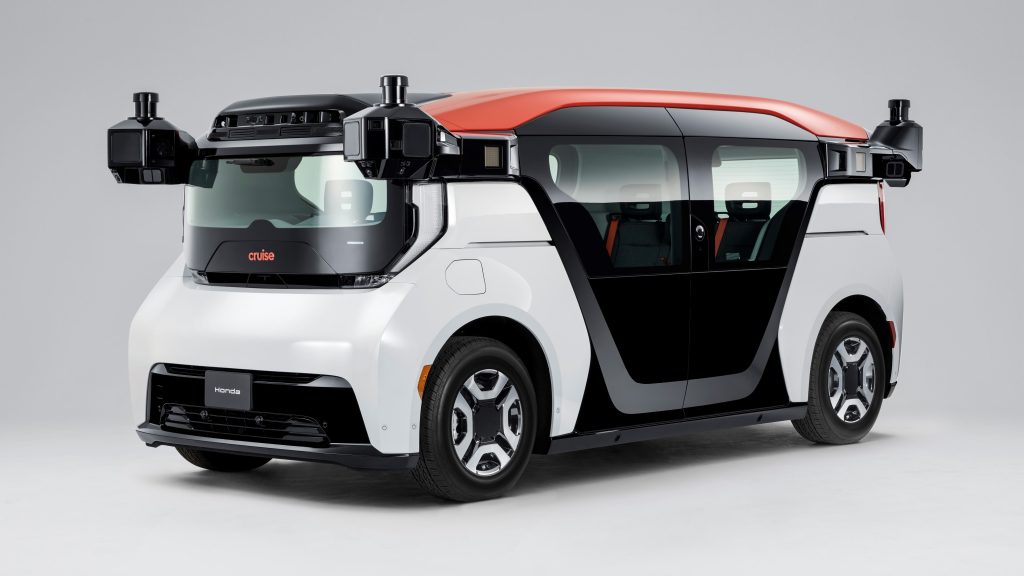 The opportunity for the ridehail service in Japan is huge, according to GM. The country has the potential to be one of the largest driverless ridehail markets in the world as large cities experience high demand for taxis. It also has a growing need for new forms of transportation, with ongoing driver shortages and an increasing need for accessible forms of transportation.
"There is an important and growing societal need for safe and accessible transportation in Japan that autonomous vehicles can provide a solution for," said Cruise CEO Kyle Vogt. "In addition to societal impact, the business opportunity is also exciting, as Japan represents one of the largest potential autonomous vehicle ridehail markets in the world, with many dense, highly populated cities that have high transportation needs."
The driverless ride service will offer a "new kind of mobility experience" in Japan, targeting a range of customers including businesspeople, families, and visitors. The companies plan to launch the service in central Tokyo in early 2026 with dozens of Origins, then expand to a fleet of 500, and then scale the service to areas outside central Tokyo. The JV company will work to strengthen coordination and collaboration with stakeholders including local municipal governments and transportation service providers.
"Through our driverless ride service with Cruise and GM, we will enable customers in Japan to experience a new value of mobility, improve the quality of their mobility experiences, and offer the joy of mobility," said Global CEO of Honda Toshihiro Mibe. "Providing this service in central Tokyo where the traffic environment is complex will be a great challenge; however, by working jointly with Cruise and GM, Honda will exert further efforts to make it a reality."
GM will manufacture Origins for the launch of the new JV at Factory ZERO Detroit-Hamtramck Assembly in Michigan, its "launchpad" for the company's multi-brand EV and AV future.
The Origin is scheduled to be on display for the first time in Japan in Honda's booth at the Japan Mobility Show 2023 at the end of this month.