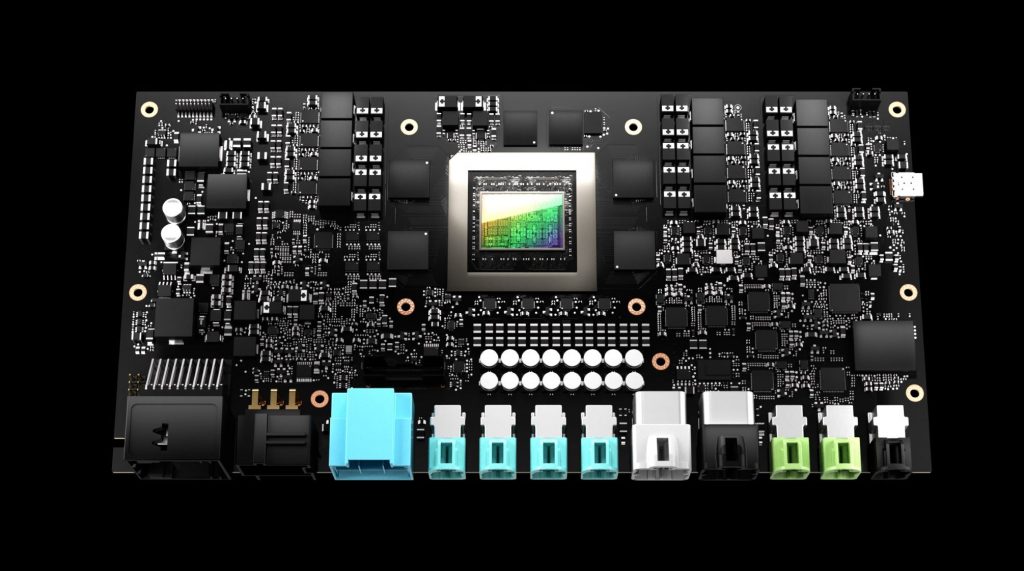 At the fourth annual Hon Hai (Foxconn) Tech Day in Taiwan today, Nvidia founder and CEO Jensen Huang and Foxconn Chairman and CEO Young Liu unveiled the latest move in their ongoing partnership to develop the next wave of intelligent EV (electric vehicle) platforms and to accelerate the industrial revolution with AI (artificial intelligence).
For the former, Nvidia will help Foxconn realize its EV vision with a range of Nvidia Drive solutions including the Drive Orin computer now and its upcoming successor Drive Thor. The latest announcement builds on the one from CES 2023 first announcing that Foxconn would manufacture Drive Orin computers as a Tier One supplier for the global automotive market and integrate the Drive Hyperion sensor architecture for its EV fleets. The new arrangement confirms Foxconn will manufacture ECUs featuring Drive Thor once available and will also be a contract manufacturer of highly automated and autonomous EVs featuring Nvidia's upcoming Drive Hyperion 9 platform, which includes Drive Thor and a "state-of-the-art" sensor architecture.
More than 25 global automakers have selected Nvidia's Drive Orin AI car computer to serve as the vehicle's AI brain to help satisfy the "enormous" computational requirements for highly automated and fully self-driving vehicles.
Drive Thor replaces the company's Drive Atlan and will be the follow-on to Drive Orin, which is currently in production and delivers 254 TOPS of performance. The new chip delivers an impressive 2000 teraflops of high-performance compute to enable functionally safe and secure intelligent driving.
It comes packed with the cutting-edge AI capabilities first introduced in the Nvidia Hopper multi-instance GPU (MIG) architecture, along with the Nvidia Grace CPU and the next-generation GPU. Drive Thor with MIG support for graphics and compute enables IVI and advanced driver-assistance systems to run domain isolation, which allows concurrent time-critical processes to run without interruption.
Available for automakers' 2025 models, it will accelerate production roadmaps by bringing higher performance and advanced features to the market in the same timeline. Geely-owned automaker Zeekr was one of the first to announce that it will integrate Drive Thor on its centralized vehicle computer for its next-generation intelligent EVs, starting production in early 2025.
Nvidia expects the shift to software-defined vehicles with a centralized electric/electronic architecture will drive the need for high-performance, energy-efficient computing solutions such as Drive Thor.
Unveiled at the company's GTC event last year, Drive Hyperion 9 is the latest evolution of Nvidia's modular development platform and reference architecture for automated and autonomous vehicles. The platform will be powered by Drive Thor and integrates a sensor architecture for SAE Level 3 urban and Level 4 highway driving scenarios. It can process large amounts of safety-critical data to enable vehicles to navigate their surroundings using a diverse and redundant array of high-resolution camera, radar, lidar, and ultrasonic sensors.
Another advantage of the platform is that it is compatible across generations, retaining the same compute form factor and Nvidia DriveWorks application programming interfaces, enabling the transition from Drive Orin to Drive Thor. It can help speed development time and lower costs for electronics manufacturers like Foxconn since the sensors available on the platform have cleared Nvidia's rigorous qualification processes.
For the other collaboration on AI factories, a GPU computing infrastructure will be built for processing, refining, and transforming vast amounts of data into AI models and tokens based on the Nvidia accelerated computing platform including its latest GH200 Grace Hopper chip and AI Enterprise software. Foxconn's Smart Manufacturing robotic systems will be built on the Nvidia Isaac autonomous mobile robot platform and its Smart City will incorporate the Nvidia Metropolis intelligent video analytics platform.
"A new type of manufacturing has emerged—the production of intelligence—and the data centers that produce it are AI factories," said Huang. "Foxconn, the world's largest manufacturer, has the expertise and scale to build AI factories globally."
Foxconn is expected to build a large number of systems based on Nvidia CPUs, GPUs, and networking for its customers looking to create and operate their own AI factories optimized with Nvidia AI Enterprise software. Among the Nvidia technologies Foxconn is using to create these custom designs are the HGX reference designs featuring eight H100 Tensor Core GPUs per system, GH200 chips, OVX reference designs, and networking.
With these systems, Foxconn customers can leverage Nvidia accelerated computing to deliver generative AI services as well as use simulation to speed up the training of autonomous machines including industrial robots and self-driving cars.