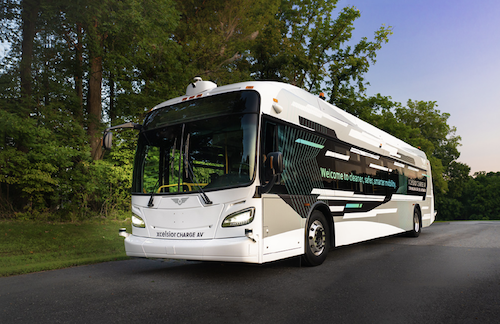 The largest bus manufacturer in North America, New Flyer, has unveiled North America's first automated heavy-duty transit bus, which it plans to put into service next year, the company announced on Jan. 29.
New Flyer partnered with Maryland-based Robotic Research to develop the Xcelsior AV. The bus is designed to achieve Society of Automotive Engineers (SAE) Level 4 autonomy—that is, able to act without any human intervention in the vast majority of situations. The 41-foot bus is designed to accommodate 40 seats.
"Our Xcelsior AV represents the anticipated future of safety in public transit and the latest leap forward for New Flyer," Chris Stoddart, president of New Flyer, said in a statement. "We committed to building an automated transit bus and within five years, we've delivered an industry-changing vehicle. The technology is real and it's here."
New Flyer aims to run its first self-driving transit buses in 2022 in a pilot project with the Connecticut Department of Transportation funded by the Federal Transit Administration's Integrated Mobility Innovation initiative. This will test three buses, marking the first time an automated heavy-duty transit bus will be deployed in revenue service in North America.

"In the future, we expect fleets of automated buses to improve road safety and with the potential to shorten commute times, increase energy efficiency and reduce congestion," Stoddart said in the statement. 
The new bus will use Robotic Research's AutoDrive self-driving technology as the eyes and brain of its autonomous system. LiDAR, radar and cameras will create 3D maps of the world to navigate routes, detect and avoid pedestrians, and respond to other vehicles. It will also employ Robotic Research's AutoDrive ByWire to control the steering, braking and throttle.
"Automated buses have the  potential to improve traffic patterns and reduce stop-and-go traffic, benefiting not only the users of mass transportation, but the whole infrastructure," Alberto Lacaze, president of Robotic Research, said in the statement. 
The bus is designed to operate day or night, regardless of lighting or weather events, and to run when GPS is unavailable, responding to real-time data and events as they occur instead of relying only on pre-mapped routes, buildings and infrastructure. It will also have the ability to communicate directly with other vehicles, allowing safe platooning, as well as with signalized intersections or other infrastructure-based alerts such as pedestrians and vehicle. This will assist in improving bus depot safety, efficiency and space usage through features such as self-parking, fueling and cleaning.
The Excelsior AV's autonomy technology will also help it precisely dock with bus platforms. The aim is to minimize gaps and allow level boarding for passengers with accessibility needs, as well as to reduce damage to buses and surrounding infrastructure.
"New Flyer just introduced the missing piece of a fully integrated, smart transportation solution," Lacaze said in the statement. "This vehicle unlocks a new era of transportation-as-a-service, leveraging technological advancements across industries to create a safer, cleaner, more efficient and more accessible transportation solution for the public."
The Xcelsior AV will employ New Flyer's Xcelsior CHARGE zero-emission battery-electric propulsion. New Flyer noted its CHARGE buses could reach a range of up to 225 miles on a single charge, and that with no internal combustion engine, transmission, intake or exhaust customers can save up to $125,000 in maintenance costs over the 12-year life of the bus.
"As standards and regulations are developed and implemented and automated buses are deployed across North America, we expect our Xcelsior AV to enable meaningful improvements in the public transit user experience, which will hopefully lead to increased ridership," Stoddart said in the statement. "Together with Robotic Research, we are leading clean, accessible, reliable mobility that's safer for all."
Photo courtesy of New Flyer.