Earlier this year, BMW Group and Qualcomm Technologies presented a cellular-to-everything (C-V2X)-equippped autonomous prototype vehicle in Las Vegas. C-V2X communicates directly with other vehicles and infrastructure without necessarily using a SIM card or connection to a cellular network.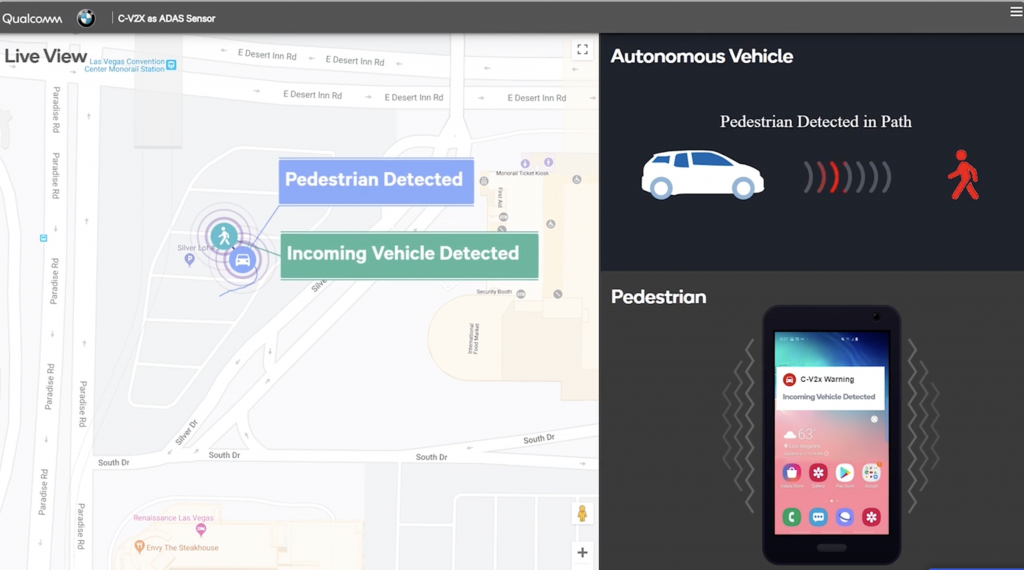 Qualcomm Technologies supports the integration of C-V2X technology into roadside infrastructure and vehicles for direct communication. C-V2X direct communication mode is designed to offer vehicles low-latency communications for Vehicle-to-Vehicle (V2V), Vehicle-to-Roadside Infrastructure (V2I) and potentially Vehicle-to-Pedestrian (V2P) by operating on designated and harmonized 5.9 GHz ITS spectrum. C-V2X is also designed to be globally compatible with 5G and complements other Advanced Driver Assistance Systems (ADAS) sensors, such as cameras, radar, and LIDAR.
In the demonstration at CES in January, when an autonomous BMWi3 approached a pedestrian carrying a Qualcomm Snapdragoon smartphone, the vehicle and the smartphone exchanged critical safety information via C-V2X sideline (PC5), even in non-line of sight situations. As the vehicle got closer to the pedestrian, a warning flashed on the smartphone. At the same time, the C-V2X sensor in the vehicle detected a pedestrian in its hazard zone. The demonstration showed the potential of C-V2X to make a significant impact in reducing pedestrian injuries and deaths. In the future, C-V2X technologies and platforms may be well-suited to cover other road users such as cyclists, e-scooters and motorbikes.
Now the University of Michigan Transportation Research Institute (UMTRI) has launched a related Smart Intersection project in Ann Arbor. The U.S. Department of Transportation (USDOT) announced a $9.9M award that will be matched by the project participants, including Qualcomm. UMTRI is deploying a network of more than 20 smart intersections throughout the city and a fleet of vehicles that communicate via C-V2X communications technology.

A safety-critical V2X communications infrastructure footprint has been expanded to the entire 27-square miles of the city of Ann Arbor. This upgraded deployment, known as the Ann Arbor Connected Vehicle Test Environment (AACVTE), is currently the world's largest operational, real-world deployment of connected vehicles and infrastructure. It is seen as a forerunner for nation-wide implementation.
In addition to providing technical support for the C-V2X implementations, QTI is proposed to provide Qualcomm Snapdragon Automotive 5G Platforms with integrated C-V2X direct communications technology solutions to be used in vehicles and infrastructure for advanced research. The 5G C-V2X communications may further improve connected vehicle features and help pave the way for connected autonomous vehicles.