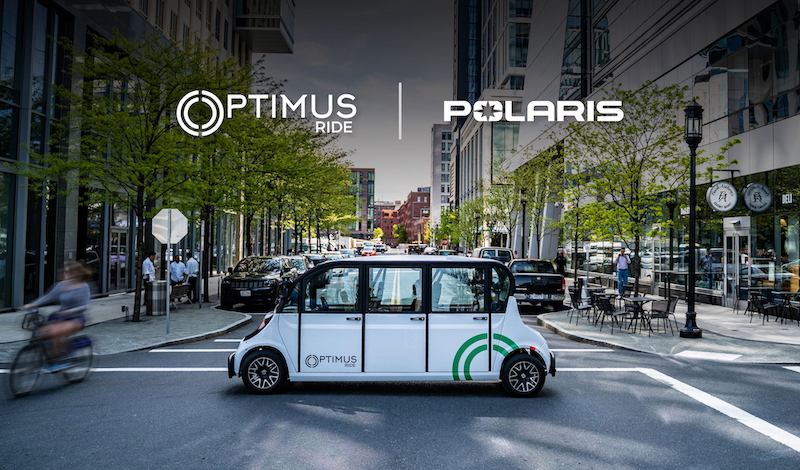 Self-driving technology company Optimus Ride is partnering with vehicle maker Polaris to bring fully autonomous electric low-speed vehicles to sites across the United States, the companies announced March 30.
Polaris makes so-called GEM (global electric motorcar) vehicles, which range in size between a golf cart and a van or truck. GEM vehicles, the company noted, offer greater comfort and more built-in safety features than a cart might, but their battery-electric design make them more environmentally friendly and economical than with the larger vehicles.
GEM is currently a leading brand in the LSV (low-speed vehicle) market, a class of vehicles with a top speed of 25 miles per hour that are street legal in 47 states. LSVs, Polaris noted, can offer a safety advantage over conventional vehicles—with mobile devices distracting them, pedestrian fatalities hit an all-time high last year, so operating high-speed vehicles in high-foot-traffic areas can prove hazardous.
The companies revealed that, over the past two years, MIT spinoff Optimus Ride has already successfully completed more than 75,000 autonomous trips with Polaris GEM vehicles across the country. Such tests helped transport passengers in geofenced areas such as a model smart city in Massachusetts, an office park in Virginia, a retirement community in California, an industrial park in New York and a waterfront development in Washington, D.C. Optimus Ride also noted it now has approval to test its autonomous vehicles on public roads in California, provided a safety driver is present.

Optimus Ride and Polaris now aim to work together over the next two years to bring new driverless vehicles to market by the second half of 2023. 
"Expanding our partnership with Polaris accelerates our pursuit to transform personal mobility by delivering on-demand, autonomous transportation services to communities across the country," Optimus Ride CEO Sean Harrington said in a statement. "Polaris is the ideal partner to bring these vehicles to market with their established leadership in the LSV space, ability to quickly scale production and their deep knowledge of and experience in urban mobility. We are excited to formally commit to transforming our mobility services to a fully autonomous experience."
The companies plan to fully integrate Optimus Ride's autonomous software and hardware suite into an exclusive line of Polaris GEM vehicles direct from the factory for deployment nationwide, at sites such as residential communities and corporate and academic campuses.
"As a leader in their industry, Optimus Ride is helping to shape the future of transportation with its turnkey autonomous mobility service and its focus on safety, reliability, convenience and sustainability. We share these priorities and, building off our equity investment from last year, Polaris is pleased to take our partnership to the next level by co-developing autonomous GEM vehicles," Keith Simon, vice president and general manager of Polaris Commercial, said in a statement. 
"We are committed to working together to promote the widespread adoption of autonomous GEM vehicles across the country," he added. "This partnership will bring trusted, safe and fully autonomous rides into the everyday lives of people on campuses, in cities and in communities for years to come."