Autonomous shuttles emerged as one clear winner at this year's up-and-down Olympic and Paralympic Games in Tokyo. Toyota tested 20 of its e-Palettes, first introduced as a concept vehicle in 2018. The company intends to commercialize the e-Palette soon, in collaboration with Amazon, Pizza Hut and Uber among other companies.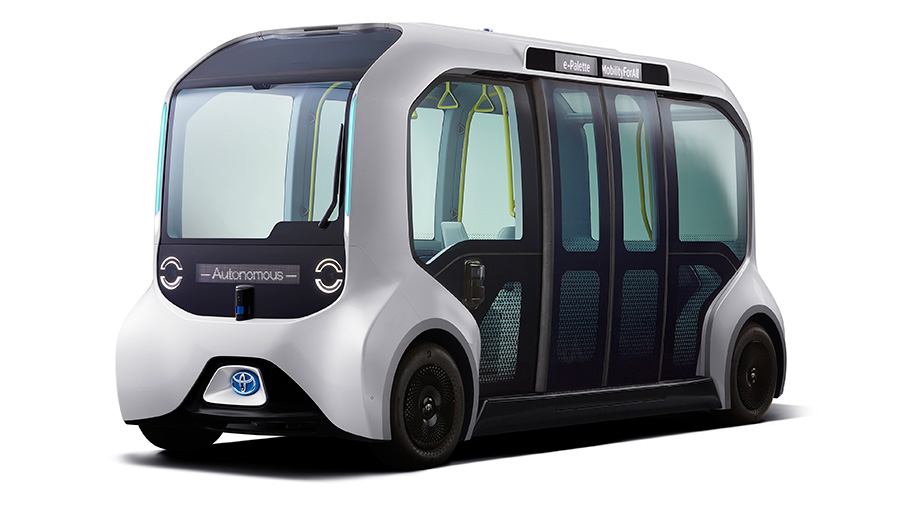 Athletic carry-alls in the Olympic Village provided "a range of lessons for development," according to the company, with real-world conditions including wheelchair users and exceptionally tall passengers like basketball players.
The Tokyo 2021 Version e-Palette featured large doors and electric ramps to allow groups of athletes, including Paralympians, to board quickly and easily. The vehicle was controlled by an automated driving system capable of operating up to 19 kilometers per hour at SAE level 4, supported by an on-board safety operator.
E-Palettes will also feature in the smart city that Toyota is building at the base of Mt. Fuji. There, they'll navigate autonomous vehicle lanes, provide shared transportation, deliver packages and act as mobile storefronts. Toyota sees e-Palettes functioning as roving offices in the future, allowing riders to work and watch the world go by.

Designed with front/rear symmetry, a distinctive cube shape, and wheels at the four corners, the vehicle offers expansive and comfortable interior space.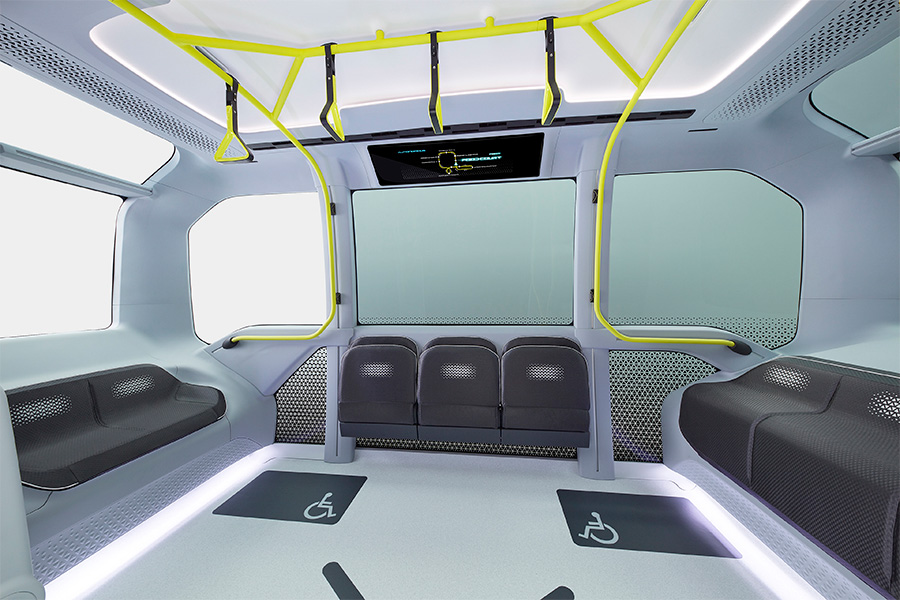 The e-Palette is equipped with a specially-designed automated driving system that includes control hardware, software, and advanced sensors such as cameras and LiDAR. Combined with high-accuracy 3D mapping and an operation management system, e-Palette features an external human-machine interface designed to assist communication with those around the vehicle, including pedestrians, during automated driving. Both front and rear exterior lights mimic eye contact to inform pedestrians of vehicle actions. The automated driving system constantly monitors for obstacles across a full 360-degree field of vision around the vehicle and operates at a speed appropriate and in accordance with the surrounding environment.
Length 5. 255 meters
Width 2.065 meters
Height 2.76 meters
Wheelbase 4 meters
No. of passengers: Up to 20 (including one operator)
*For wheelchairs: Up to 4 wheelchair + 7 standing passengers
Range approx. 150 km
Speed 19 km/h
Another aim of the e-Palette is to familiarize the market with autonomous vehicles and facilitate market entry of Toyota's autonomous passenger car, the LQ concept. The LQ includes two main features. Yui, which Toyota describes as an "onboard artificial intelligence agent" that monitors the driver to provide a "personal mobility experience." The car also features SAE Level 4 autonomous driving, which allows the car to operate itself within a geofenced area with no driver input.