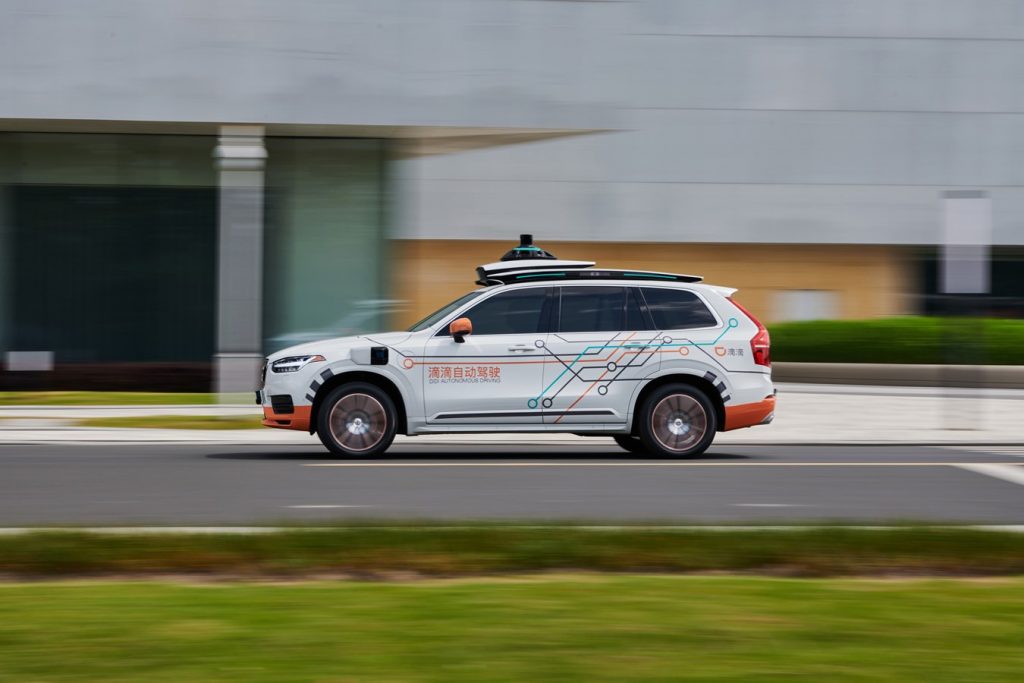 Volvo is teaming with China's top ride-hailing service, DiDi Chuxing, to develop autonomous vehicles for self-driving taxis, the companies announced April 18.
Although many in the West may not have heard of DiDi, Apple was impressed enough with it to invest $1 billion in the company in 2016, the same year DiDi acquired Uber China. DiDi now also operates in Japan, Australia, Russia, Africa and Latin America, and Reuters reports it is eyeing a valuation of at least $100 billion for its initial public offering (IPO), about the same as Uber's current market cap.
In the new partnership, Volvo will provide XC90 luxury SUVs for DiDi's driverless test fleet with the aim of using them for ride-hailing in DiDi's network. The cars are equipped with backup steering, braking and electric power systems to help bring the vehicles to a safe stop if any of the primary systems fails during a ride.
"This strategic collaboration with DiDi Autonomous Driving is further validation of our ambition to be the partner of choice to the world's leading ride-hailing companies," Håkan Samuelsson, Volvo Cars' chief executive, said in a statement. "Combining DiDi's expanding robotaxi program with our safe cars creates a great match to build trust among consumers for autonomous ride-hailing."

This partnership advances earlier collaborations between the companies, as DiDi sought to expand its autonomous test fleets across China and the United States to scale up its commercial robo-taxi operations. For example, in 2020, Volvo provided DiDi with Volvo XC60 compact SUVs for use in Shanghai's first pilot robo-taxi program, where customers could book robo-taxi trips in the DiDi app and be driven autonomously while the cars were monitored by a safety driver and engineer.
The new cars will be the first to incorporate DiDi Gemini, DiDi Autonomous Driving's new self-driving hardware platform, which employs multiple redundant layers of protection to enhance safety. For example, it will deploy up to 50 sensors on vehicles, including short, mid and long-range LiDARs, radars, automotive-grade cameras and a thermal imager, with a detection range of up to 300 meters away and operable in rain, fog, darkness or against sunlight.
DiDi Gemini's sensors are interconnected and back each other up to help provide the vehicle a comprehensive, constant understanding of its surroundings, regardless of a fault in any one sensor. The aim is to eliminate blind spots, so that even obstacles within 10 centimeters on the side will be clearly visible.
In addition, DiDi Gemini includes a backup system to respond within milliseconds in the event of a primary system's failure to further improve safety, which already is rated Automotive Safety Integrity Level D (ASIL-D), the automotive industry's highest level. DiDi's safety control center can also remotely offer assistance with the help of a 5G connection and fisheye cameras on all sides of the vehicle.
Furthermore, DiDi Gemini will add an interactive screen on top of the vehicles to help nearby bystanders easily understand their status. This may build on previous research from Volvo that sought to essentially give autonomous vehicles a kind of "body language" to communicate with people in their surroundings.
"DiDi Gemini, our new self-driving hardware platform incorporates critical hardware improvements from our test passenger service operations in Shanghai," Bob Zhang, CEO of DiDi Autonomous Driving and chief technology officer of DiDi Chuxing, said in a statement. "With Volvo Cars' leadership in safety, we look forward to achieving new milestones towards future autonomous transport services."