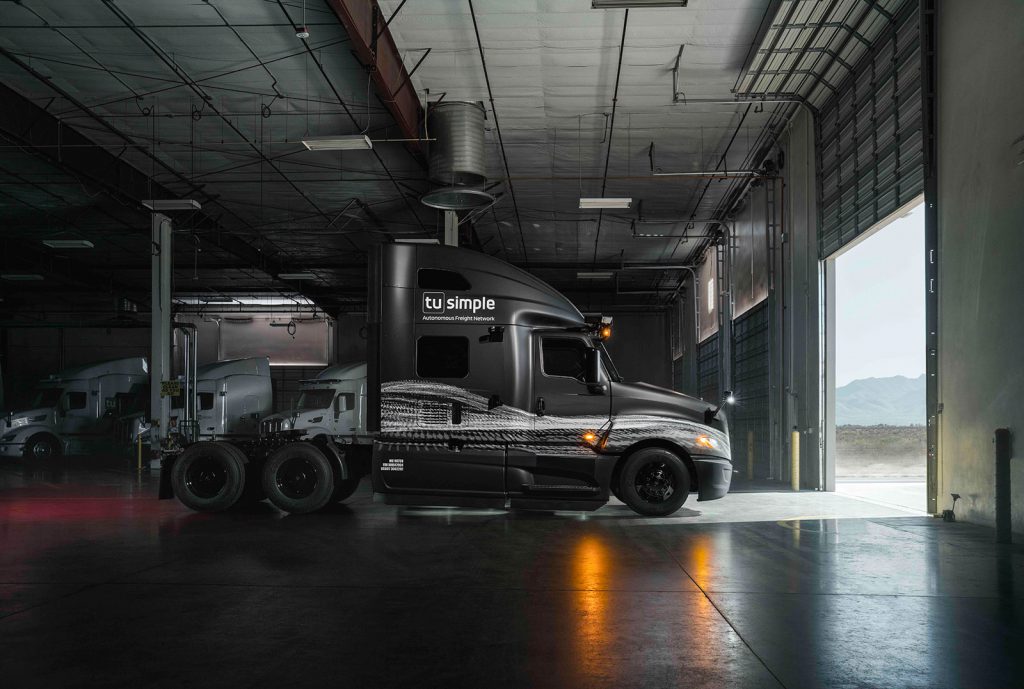 One of autonomous driving technology company TuSimple's self-driving trucks took just 14 hours to complete a trip a human driver would normally take 24 hours to finish, underscoring the kinds of benefits driverless vehicles could provide, the company announced May 19.
In partnership with the Giumarra Companies, an international network of fresh produce growers, distributors and marketers, and the Associated Wholesale Grocers (AWG), the largest cooperative food wholesaler in the United States, TuSimple tested its trucks on May 3 by shipping a load of fresh watermelons from Giumarra's facility in Nogales, Arizona, across four states to AWG's distribution center in Oklahoma City, Oklahoma.
The pickup and delivery of the produce, commonly referred to as "first mile" and "last mile," was done manually with a human driver, but the longest portion of the journey, also known as the "middle mile," from Tucson, Arizona, to Dallas, Texas, was done autonomously using TuSimple's self-driving technology. The company notes its autonomous driving technology makes it possible for trucks to see 1,000 meters away, operate nearly continuously and consume 10% less fuel than manually driven trucks. 
The autonomous portion of the truck's journey covered more than 900 miles. A human driver can finish the trip in 24 hours and six minutes, while TuSimple demonstrated its autonomous system could make this trip in 14 hours and six minutes, which is 42% faster.

"Autonomous trucking technology is a real game-changer for us, as its time and cost efficiencies provide us with an enhanced opportunity to supply fresher fruits and vegetables across the United States, particularly to food deserts and rural communities," Tim Riley, president of the Giumarra Companies, said in a statement. 
San Diego-based TuSimple noted produce deliveries are one of the most promising applications within the $4 trillion global truck freight industry.
"We believe the food industry is one of many that will greatly benefit from the use of TuSimple's autonomous trucking technology," Jim Mullen, chief administrative officer at TuSimple, said in a statement. "Given the fact that autonomous trucks can operate nearly continuously without taking a break means fresh produce can be moved from origin to destination faster, resulting in fresher food and less waste."
TuSimple has made a number of significant advances in the past year. For example, in April, it became the first autonomous driving company to list on a stock exchange. 
"The $1 billion of growth capital we raised through our IPO provides us with a substantial runway to focus on our technology and continue our industry leadership in autonomous trucking," Cheng Lu, TuSimple president and CEO, said in a statement. "With this capital, we are more confident than ever that we will achieve our mission to bring a reliable, low-cost trucking solution to market while setting a new standard for safety and efficiency."
In addition, in May, TuSimple announced it received 6,775 reservations for a new line of self-driving trucks with SAE level 4 autonomy—that is, the ability to act without any human intervention in the vast majority of situations—that will be manufactured by automaker Navistar beginning in 2024. 
"These early reservation numbers reflect the appetite surrounding self-driving technology in long-haul applications," Bob Walsh, vice president of emerging technologies, strategy and planning at Navistar, said in a statement. "We are happy to partner with TuSimple to offer this integrated autonomous solution to our customers."
Among the first customers to place reservations are major freight transportation companies such as Penske Truck Leasing, Schneider National and U.S. Xpress. "We have been working with TuSimple since 2019, and we see them as the clear leader in autonomous trucking technology, which is why U.S. Xpress is among the first in line for reservations," Eric Fuller, president and CEO of U.S. Xpress. said in a statement. "Autonomous technology is complementary to other investments we've made to broaden our portfolio of services across the supply chain."
Given the uncertainty surrounding autonomous vehicles, in May TuSimple also announced it was partnering with Liberty Mutual Insurance to compare the safety of human versus automated driving.
"We believe the benefits of autonomous vehicles are powerful and will play a vital role in reducing the number of truck-related fatalities in the future," TuSimple's Mullen said in a statement. "Given most accidents are caused by distracted, impaired and fatigued driving—factors that are eliminated by autonomous trucks—we expect the data to reveal significant safety advantages when TuSimple's autonomous driving technology is applied."