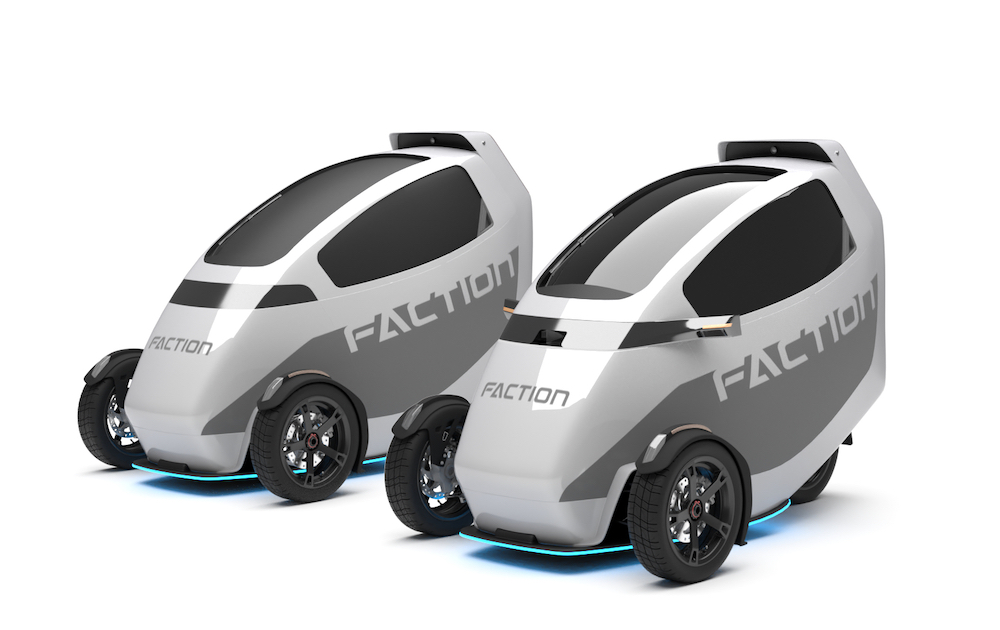 Faction Technology, which is developing three-wheeled autonomous vehicles with the speed and performance of cars but the cost of motorcycles, has raised $4.3 million for driverless deliveries, the company announced June 2.
Faction is targeting its autonomous vehicles for short urban trips to either move cargo or allow for a rider. As such, the company suggested that it makes no sense to simply retrofit conventional passenger cars, which in the United States weigh 3,000 pounds on average and get 30 miles per gallon—100 miles per gallon of gasoline-equivalent (MPGe) if electric—as most of their energy is used to transport the cars themselves instead of the passengers or cargo. 
Instead, Faction is designing light electric vehicles specifically for journeys usually only ranging three to five miles, leading to a significant boost in efficiency. The company's lightweight machines will typically weigh roughly 1,000 pounds and target over 150 MPGe.
"Deploying safety-forward driverless vehicles at scale requires developing from the chassis up," Faction CEO Ain McKendrick said in a statement. "Using legacy automobiles for driverless operations is great for development and research projects, but we feel smaller vehicles are the key to alleviating the ever-growing problem of urban gridlock. Faction combines autonomy with remote human tele-operation, which doesn't require us to wait for 100% autonomous technology. To us, autonomy is an optimization; driverless is a product."

The completion of seed funding round for San Francisco-based Faction was led by Trucks Venture Capital and Fifty Years, following an investment from Y Combinator.
"Faction is taking a unique approach to both driverless technology and lightweight vehicle systems that can dramatically impact how we move goods and people," Jeffrey Schox, general partner at Trucks Venture Capital, said in a statement. "Trucks is excited to support their vision for future transportation solutions."
"By building from the ground up with driverless in mind instead of retrofitting existing vehicles, Faction is set to radically improve urban and suburban transportation, cut down on emissions, and create massive economic value in the process," Seth Bannon, founding partner at Fifty Years, said in a statement.
Faction noted that it has completed its first prototypes. The company plans to launch customer trials for micro-delivery and ride-on-demand this summer. The delivery vehicles will have opaque canopies, whereas the rider versions will have glass canopies.