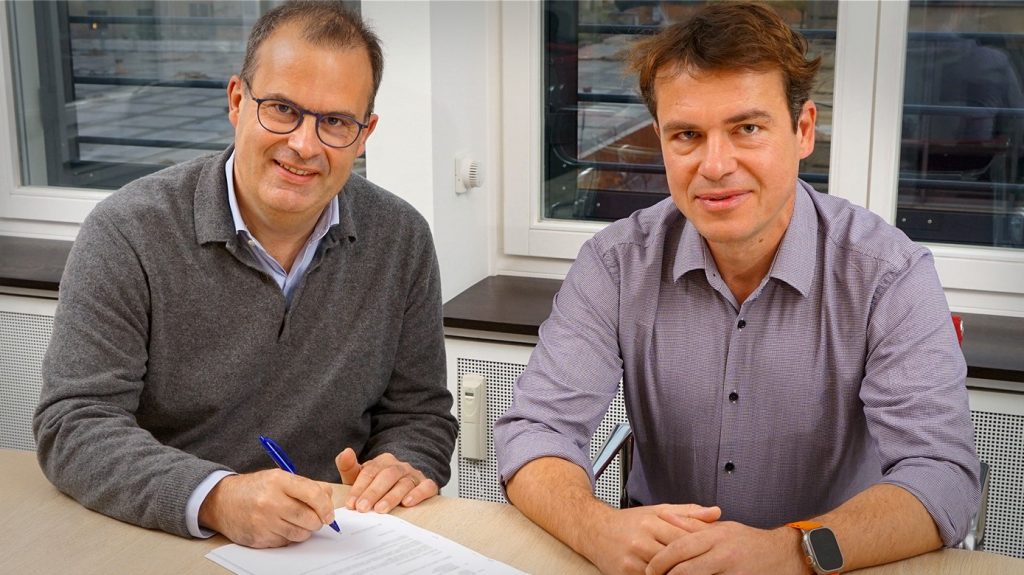 Stellantis N.V. is acquiring AiMotive, the two companies announced today. The acquisition is intended to enhance Stellantis' artificial intelligence and autonomous driving core technology, expand its global talent pool, and boost the mid-term development of the new STLA AutoDrive platform, the Level 3 system developed in partnership with BMW.  
"Acquiring AiMotive's world-class artificial intelligence and autonomous driving technology is an important contribution to becoming a sustainable mobility tech company," said Yves Bonnefont, Stellantis' Chief Software Officer. "AiMotive's class-leading expertise and startup spirit will accelerate our journey to deliver our Dare Forward 2030 goals."
Stellantis' software teams are already developing three new technology platforms—STLA Brain, STLA SmartCockpit, and STLA AutoDrive, that will be deployed at scale across four new STLA vehicle platforms—STLA Small, STLA Medium, STLA Large, STLA Frame, starting in 2024.

The software strategy, announced during Stellantis' Software Day in December 2021, is expected to generate about €20 billion in incremental annual revenues by the end of the decade as part of the Dare Forward 2030 strategic plan's bold objectives, backed by more than a €30 billion* investment in electrification and software announced in July 2021.
AiMotive is based in Budapest, Hungary, with offices in Germany, the U.S., and Japan, with over 200 employees worldwide. The company will operate as a subsidiary of Stellantis, which will establish a Board of Directors to oversee AiMotive while preserving its startup mindset of rapid innovation. Its team will be part of the Stellantis autonomous driving and artificial intelligence teams, with Founder László Kishonti remaining as CEO.
The startup has developed a portfolio of software, tools, and hardware products complemented by proprietary data management tools, enabling customers to rapidly develop and deploy production automated driving features. The company's lightweight execution stack and sensor-agnostic, reusable data pipeline is aimed at accelerating its customers' time to market.
Its technology product portfolio is focused on four key areas: AiDrive, an embedded software stack for autonomous driving; AiData, for artificial intelligence operations and data tooling; AiWare, expertise and intellectual property for silicon microchips; and AiSim, software simulation for the development of autonomous driving. It will continue selling three areas of its current technology product portfolio—AiData, AiSim, and AiWare—to other partners.
At the end of last month, AiMotive announced a joint virtual solution with Foretellix for the validation of ADAS and AV perception and planning. The joint solution combines Foretellix's Foretify and AiMotive's AiSim platforms for an end-to-end virtual solution focused on enabling verification and validation of perception and planning functions for trucks, commercial vehicles, and passenger vehicles. Central to the solution is the native support of the recently approved ASAM OpenSCENARIO 2.0.0 (OSC2). The standard uses a language and domain model for scenario-based testing and paves the way for large-scale generation and testing (million simulations/day) required for the safe deployment of ADAS and AV vehicles.
Earlier, AiMotive and indoor mapping and connected vehicle services company, Parkopedia, announced a partnership to offer scalable, autonomous parking solutions that don't rely on the presence of additional infrastructure within parking facilities. The solution will provide indoor turn-by-turn directions to selected parking locations such as pre-booked parking spaces, EV (electric vehicle) charging points, or the closest available parking space to desired destinations or exit points. It could minimize overall journey time, maximize range, save time, and reduce driver frustration—while also enabling 'find my car' convenience and safety services.