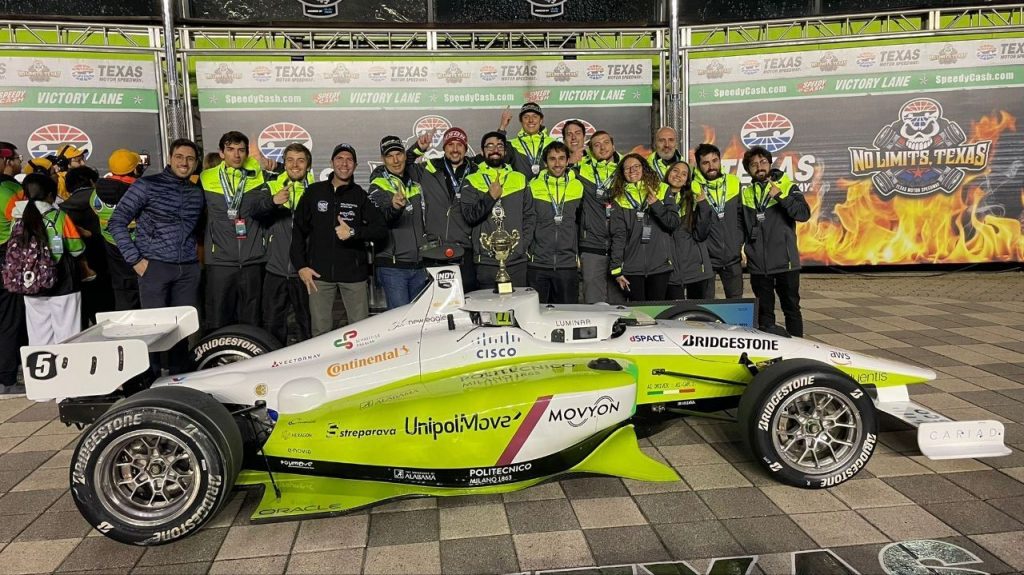 The PoliMOVE Autonomous Racing Team from Politecnico di Milano in Italy was the winner of the latest Indy Autonomous Challenge (IAC) at the Texas Motor Speedway last week. The Crimson Autonomous Racing (CAR) Team of the University of Alabama collaborated with the PoliMOVE team for its second win at the event in Texas. Taking second place was AI Racing Tech, a collaboration of University of Hawai'I, UC San Diego, UC Berkeley, and Carnegie Mellon.
The time trials resulted in six teams qualifying for the racing competition. In addition to PoliMOVE and AI Racing Tech, the other teams making the cut were FTM Institute of Automotive Technology TUM, Korea Advanced Institute of Science and Technology, TII EuroRacing, and MIT-PITT-RW—a group effort of MIT Driverless, Robotics and Automation Society at Pitt, RIT Autonomous Racing, and Waterloo Autonomous Racing.
The student competition's return to racing in Texas on November 11th was preceded at the speedway on Sept 28th for an initial week of practice. Then teams returned for more practice from October 24th through race day. The event comes after a competition at the Indianapolis Motor Speedway last October and making history at the Consumer Technology Association's CES 2022 show in January with the world's first-ever, head-to-head autonomous racing competition.
The IAC, backed by the IEDC (Indiana Economic Development Corporation), organizes racing competitions among university-affiliated teams from around the world to program fully autonomous racecars and compete in a series of history-making events at iconic tracks. Its goal is to bring together universities and technology thought leaders to support the next generation of engineers that will develop innovative solutions for autonomous vehicles that can handle edge-case scenarios in real-world environments. By tapping into collegiate engineering programs, the challenge seeks to explore the feasibility of large-scale unmanned vehicle racing while offering a platform for students to excel in STEM (Science, Technology, Engineering and Math) and inspire the next generation of innovators.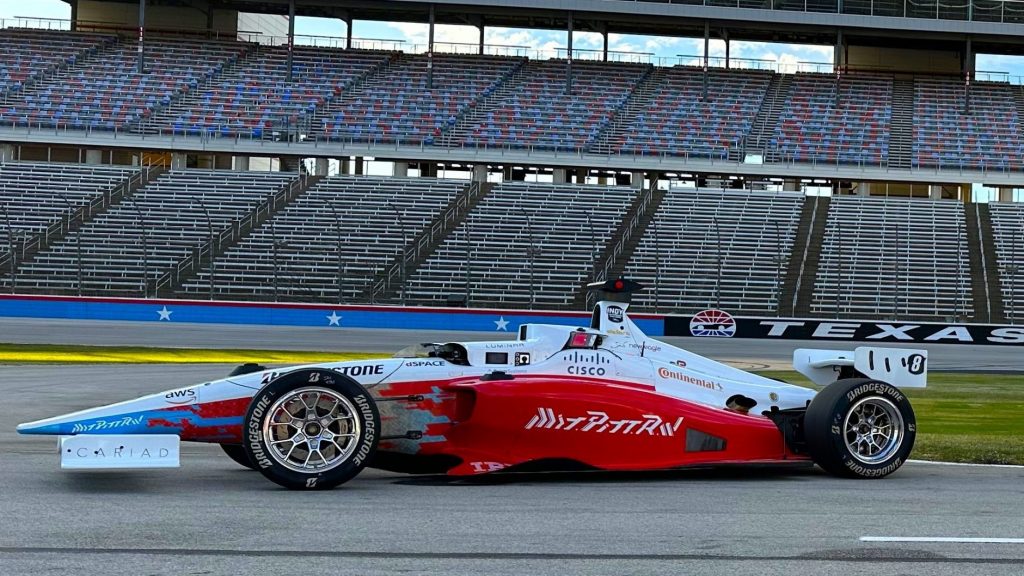 Event presenting sponsor Cisco Systems, Inc. enabled critical in-vehicle and car-to-trackside connectivity with the teams' Dallara AV-21 racecars using ultra-low-latency wireless technology for the head-to-head autonomous racecar competition where nine IAC teams competed.
"Our goal is to bring the brightest minds and top innovators of our time together at iconic racetracks around the world to push autonomous driving technology forward," said Paul Mitchell, President, Indy Autonomous Challenge. "Through complex problem solving and first-of-its-kind engineering, our teams work with leading industry sponsors like Cisco to advance technology that will speed the commercialization of fully autonomous vehicles and deployments of advanced driver-assistance systems (ADAS)."
The teams used an autonomous racecar equipped with a boosted engine package capable of delivering 30% more power than the last time they raced. With the upgraded engine package, the IAC racecar programmed by the PoliMOVE team and the University of Alabama set a new land-speed world record of 192.2 mph at the Kennedy Space Center in April, prompting the adoption of refreshed technology on all IAC racecars moving forward.
Cisco powered the in-vehicle networking and connectivity to and from the vehicles for race safety, telemetry data offload, and GPS timing alignment. The connectivity infrastructure included the company's Ultra-Reliable Wireless Backhaul for highly reliable mobile connectivity and Catalyst Industrial Ethernet switches to connect in-vehicle sensors and onboard compute. The same technologies are used to connect and secure critical systems and improve operations across industries like manufacturing/industrial automation, roadways, and ports.
"We are committed to driving the future of connectivity forward for every type of automated industry, and you couldn't ask for a more ideal testing and proving ground to push the boundaries of innovation than the Indy Autonomous Challenge," said Wes Sylvester, Vice President, Cisco Industry Solutions Group.
The competition is advancing the autonomous driving industry by working with industrial partners, two of which recently provided a little more detail in the lead-up to the Texas event.
dSPACE supported the IAC as the event's Exclusive On-Vehicle Computer Technology Sponsor. It provided the AUTERA AutoBox in-vehicle prototyping and data recording system that acts as the central computer in all vehicles, enabling fully autonomous operation of the cars on the racetrack.
The high-performance computer reads and processes sensor data from lidar, radar, and cameras, as well as from automotive buses and networks. The AUTERA hardware is said to be unique in its combination of high computation power and best-in-class data bandwidth of 50 Gbit/s in a compact form factor.
"dSPACE is proud to provide the 'brain' of the IAC racecars with AUTERA and looks forward to seeing how the solution proves itself in the very demanding racing environment," said Peter Waeltermann, President of dSPACE Inc. "At the same time, it is exciting to experience how the student teams perform in this unique development lab in digital engineering, everyday testing, and in the races."
VectorNav Technologies, the exclusive supplier of GNSS/INS systems for the IAC, supplied its VN-310 dual-antenna GNSS/INS with RTK (real-time kinematic) positioning for integration in the Dallara racecars for precision navigation and attitude estimation. Comprised of three-axis gyroscopes, accelerometers, and magnetometers, as well as two GNSS receivers that enable GNSS-Compassing, the VN-310 provides milliradian-level heading, pitch, and roll estimates at rates of up to 400 Hz. The RTK positioning receivers enable position estimation down to centimeter-level accuracy. 
"We are thrilled to be a part of the IAC competition," said Jeremy Davis, VectorNav Director of Engineering. "IAC's work is pushing the boundaries of autonomous vehicle capability and we are confident our inertial navigation systems will contribute to that mission while providing education and entertainment to fans worldwide."
"Localization and state estimation are the foundation of each team's autonomy software," said Mitchell. "With VectorNav's tactical-grade GNSS/INS systems, teams can operate at high speeds while performing complex maneuvers."
Since its founding in 2008, VectorNav has provided systems integrators in the military, aerospace, marine, and robotics industries with SWaP-C optimized, high-performance navigation systems. The company applies the aerospace heritage of digital filtering and sensor calibration techniques to the state-of-the-art in inertial and GNSS technology, redefining what's possible in today's inertial navigation technology.
Other IAC partners include Luminar (Exclusive Lidar Sensor Technology Sponsor), CARIAD (Partner Company), Amazon Web Services, Inc. (Exclusive Cloud Computing, Streaming, and Sports Data Analytics Technology Sponsor), Bridgestone Americas, Inc. (Exclusive Tire Technology Sponsor, Continental (Exclusive Radar Sensor Technology Sponsor), New Eagle (Exclusive Low-Level ECU Technology Sponsor), and Tallysman (Exclusive GNSS Antenna Technology Sponsor). Vehicle Sponsors are NineTwelve, Prism Systems, Schaeffler Paravan Technologie GmbH & Co. KG, TD SYNNEX, and Valvoline Inc.
The Texas competition was broadcast live via Twitch in partnership with Amazon Web Services. The next stop for the competition is the Autonomous Challenge at CES 2023 on January 7th at the Las Vegas Motor Speedway.