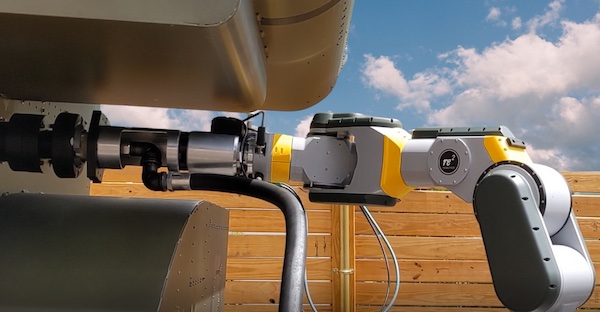 RE2 Robotics, a leading developer of intelligent mobile manipulation systems, and PickNik Robotics, a leader in robotics software and engineering services, today announced a strategic partnership to accelerate the development of RE2's autonomous robotic systems using PickNik's MoveIt™ Studio software.
This partnership formalizes RE2 Robotics' long-standing, mutually beneficial, relationship with PickNik Robotics and helps both companies continue to lead in their respective market spaces.  RE2 uses MoveIt Studio, PickNik's motion-planning software, to speed the integration of its RE2 Sapien™ and RE2 Sapien Sea Class intelligent robotic arms for new applications across multiple markets. MoveIt Studio provides state-of-the-art motion planning software with an intuitive user interface that allows robot operators to remotely manage complex robotic arms using supervised autonomy.
"At a rapid rate, businesses in the construction, aviation, and energy industries are turning to robotics to increase productivity and enhance worker safety as they continue to adjust to the challenges that are being presented by both widespread labor shortages and the COVID-19 pandemic," said Jorgen Pedersen, president and CEO of RE2 Robotics. "As the market demand for our technology continues to soar, formally partnering with PickNik Robotics allows us to focus on our computer vision and autonomy algorithms, RE2 Detect™ and RE2 Intellect™, knowing that we have a trusted solution for motion planning."
"Using our MoveIt Studio software, companies such as RE2 Robotics can speed up development of complex motion planning in their robotic arm applications," said Dr. Dave Coleman, CEO of PickNik Robotics. "We are really impressed by the capabilities of RE2's robot arms and the variety of applications they are tackling. It is exciting to partner with them, bringing our advanced software and expertise to help them meet the high demand for their technology."   

MoveIt Studio is based on PickNik Robotics' open-source MoveIt 2 platform, an industry standard for robotic arm control through the Robot Operating System (ROS 2).  RE2 Robotics is using MoveIt Studio for advanced trajectory planning and collision avoidance to augment its RE2 Detect™ computer vision software and RE2 Intellect™ autonomy software.
"PickNik Robotics' deep knowledge of robotics software has been a valuable component in the development of our autonomous systems," said Dr. Amanda Sgroi, director of computer vision and autonomy, RE2 Robotics. "MoveIt Studio enables us to optimize the motion planning of our mobile manipulators on a highly efficient level for combinations of fine manipulation tasks and large, open-space moves."