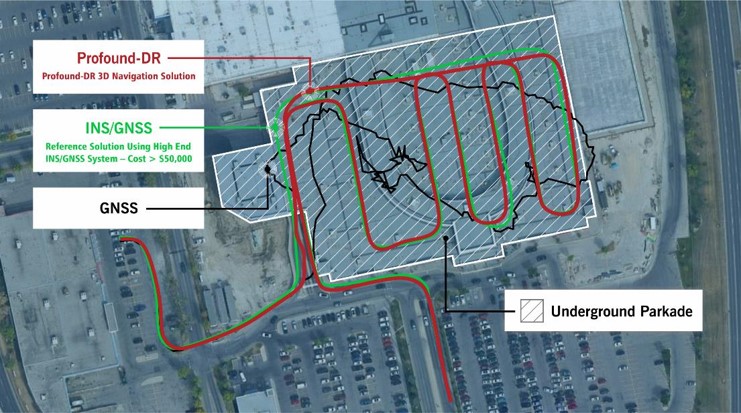 Vehicle navigation demands rapid decimeter-level resolution, regardless of where a vehicle is or the conditions under which it operates. Poor continuity due to bad weather, satellite and base station obstruction, or lack of base station infrastructure have traditionally made this an elusive goal for navigation technology. Similar issues arise from errors in GNSS information and poor integration between GNSS and dead reckoning and/or other sensor systems. The cost of some successful solutions also has been a limiting factor.
Ask around Profound Positioning Inc., a maker of navigation and positioning software based in Calgary, and the answer for these concerns is the company's Instant Vehicle Tracking (IVT) solution. Using advanced multisensor fusion, Profound Positioning spokespersons say IVT achieves continuous decimeter-level accuracy, offering the cost-effective performance now demanded for safer, more efficient driving, everywhere vehicles go.
According to Dr. Naser El-Shiemy, CEO at Profound Positioning, the company and IVT arose from research being conducted at the University of Calgary, which has been involved with inertial research for the last 55 year and pioneered inertial navigation software. All that has helped give the company what El-Shiemy described as a "global leadership" in GNSS. "Inertial navigation and precision navigation has been our focus from Day 1," El-Shiemy said.  Now the company offers what a statement calls a "next-generation solution," currently concentrating on solving land-navigation challenges.
"We have been focusing on 'continuous, reliable and accurate,' which is the key for successful adoption—along with low cost," El-Shiemy said.

How it Works
The product is built around a firmware library that El-Shiemy said can be adapted to any navigation platform. The IVT uses combined precision point positioning (PPP), dead reckoning (DR) and radar technologies in an integrated solution. The result is that decimeter-level positioning accuracy, as well as information on orientation and velocity. Most eye-opening is the claim that it can deliver this capability in a global solution that performs even in tunnels, in dense urban environments and at multilevel highway junctions.
Furthermore, errors are said to be less than one percent of distance traveled.
This is accomplished, El-Shiemy noted, by making use of consumer-grade sensors; for example, the technology already built into many vehicles. Several companies, he acknowledged, have inertial systems to take over when GNSS is unavailable. Still, El-Shiemy said his company has "our secret sauce" to deliver affordability for the automotive market.
The company is a software library provider, El-Shiemy explained, and, thus is not married to a specific hardware. "So, we can do well with any automotive radar, and those are coming to market this year," he said. The company has already gone through testing with a radar from China and one from Europe, he added
Radar will be key to vehicle navigation, El-Shiemy believes, because it can operate in all weather conditions. The combination of inertial and radar means "we can work anywhere in all weather, and even underground." 
Applications for Instant Vehicle Tracking, according to El-Shiemy, include: driver assistance, mobility and taxi, autonomous vehicles, geofencing, fleet tracking, insurance, connected driving, and driving and safety management. Profound Positioning Inc. is currently making its Instant Vehicle Tracking solution available to automotive companies, integrators and solution providers.