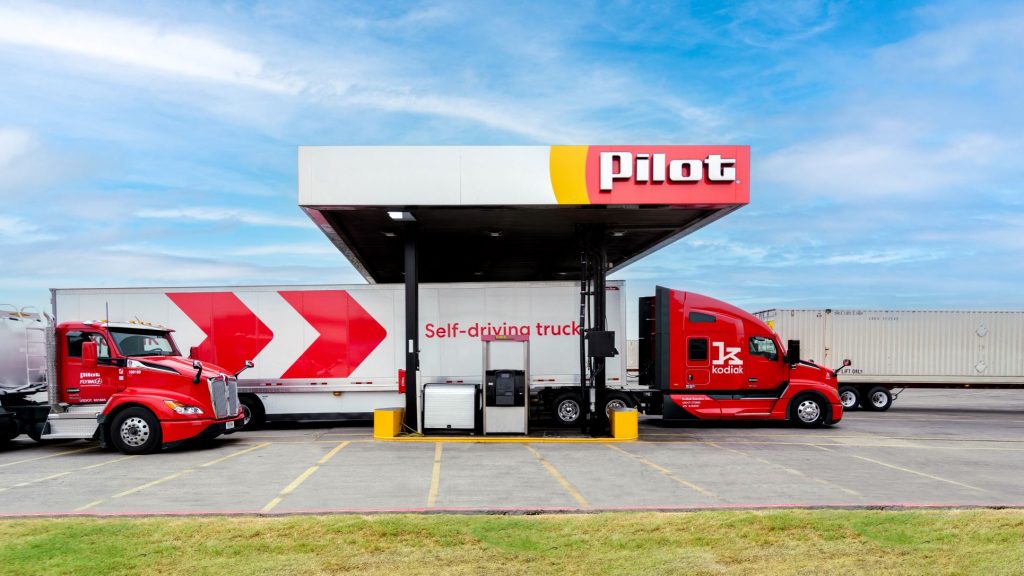 Pilot Company, the largest operator of travel centers in North America, announced today a strategic partnership with self-driving trucking company Kodiak Robotics, Inc. to develop autonomous truck services at Pilot and Flying J travel centers. 
The partners are in the process of creating an autonomous truck port in the Atlanta area to evaluate potential service offerings and explore scalable solutions. The possibilities include spaces to pick up and drop off autonomous trucking loads; conduct inspections; maintain and refuel trucks; and the ability to transfer data for processing for feature development and mapping. 
As part of the partnership, Pilot Company has made a strategic investment in Kodiak and will join the company's Board of Directors.
"Pilot Company is committed to providing best-in-class service to its customers today and going forward," said John Tully, Vice President of Strategy and Business Development at Pilot Company. "In making this strategic investment, we understand that our customers have a need for real solutions that help address the growing demand to move goods and Kodiak is a strong leader in the autonomous trucking space. As we explore the future of autonomous trucks and how we can best support these customers, we will continue to be the travel center network that the trucking industry and professional drivers can count on for the services and care they need." 

The partners say that combining Pilot Company's nationwide network of travel centers and services with Kodiak's technology will play a crucial role in the deployment of autonomous trucks, especially as Pilot Company looks to integrate autonomous truck services into its operations. The partnership will further define service and maintenance requirements, operational necessities, facilities planning, and more to meet the needs of autonomous trucks. 
"Pilot Company's industry-leading network of highway-adjacent travel centers provides unprecedented geographic reach for the launch and scale of Kodiak's fast-growing network of autonomous trucking lanes," said Don Burnette, Founder and CEO of Kodiak Robotics. "Their customer-first approach, with a focus on technology, scale, and infrastructure, makes Pilot Company an ideal partner to support the service and maintenance of self-driving trucks nationwide."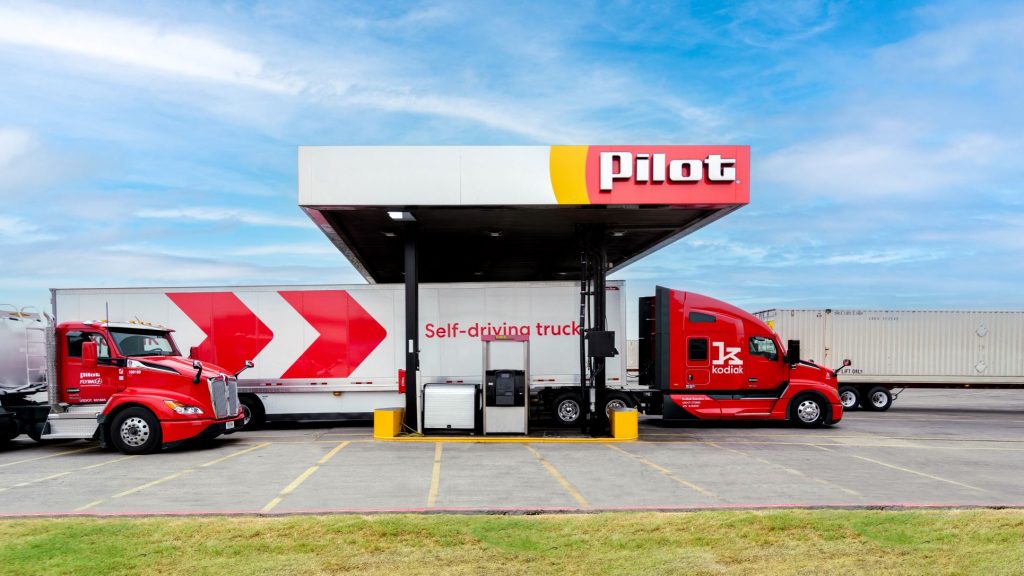 Burnette added that the partnership is significant for Kodiak and for the industry because it establishes players like Pilot and its travel centers as the premier location for facilitating the services that autonomous trucks are going to need when they're in production and deployed commercially. In addition, the Pilot centers will be access points for transferring data.
"We need to be able to get data from our trucks into our data center so that we can analyze that for development, so we can use it for mapping, so we can keep the software up to date," said Burnette. "And their facilities provide us infrastructure space and access to all of those different, very critical services."
Even though Kodiak autonomous trucks are communicating with its operations center for remote monitoring, the data bandwidth is limited. The company can only do so much over an LTE or 5G network. For example, the physical Pilot center locations can help with raw sensor data downloads from truck cameras, LiDARs, radars, IMUs, and GPS.
"That's a pretty heavy footprint," said Burnette. "But there's also decision-making data—so what is happening internally in the computer system, in the software. Our embedded hardware safety computer is monitoring over a thousand diagnostics in the truck—everything from sensor health to computer health, to software algorithm integrity to data integrity. Are they intact, is there any corruption?"
Add to that the monitoring of the platform for parameters like the engine status, fuel status, tire pressure, tire, temperatures, oil, and temperatures.
"All of that data is being logged, and that's something that we also would offload at the end site," concluded Burnette.
The Pilot partnership is just the latest development in Kodiak's accelerating growth phase in 2022, with significant expansion coming in its service footprint and partner network.
In July, the company announced a partnership with 10 Roads Express, a provider of time-sensitive surface transportation for the U.S. Postal Service, expanding the company's service to Florida. To launch that partnership, Kodiak completed a round trip consisting of four commercial deliveries including a coast-to-coast commercial run. A Kodiak autonomous truck carried 10 Roads Express freight nearly 5600 mi (9000 km) from San Antonio, TX; to the San Francisco Bay Area; to Jacksonville, Florida; and back to San Antonio. The route was completed in just 114 h. Using its unique lightweight mapping solution, Kodiak mapped more than 5400 new miles in a single mapping run to bring the new route online.
Earlier this year, Kodiak announced a new route between Dallas and Oklahoma City with CEVA Logistics and a route between Dallas and Atlanta with U.S. Xpress. The company has been delivering freight commercially since 2019 and currently has six routes that run regularly between Dallas and Houston, Austin, San Antonio, Atlanta, Oklahoma City, and Jacksonville, Florida.