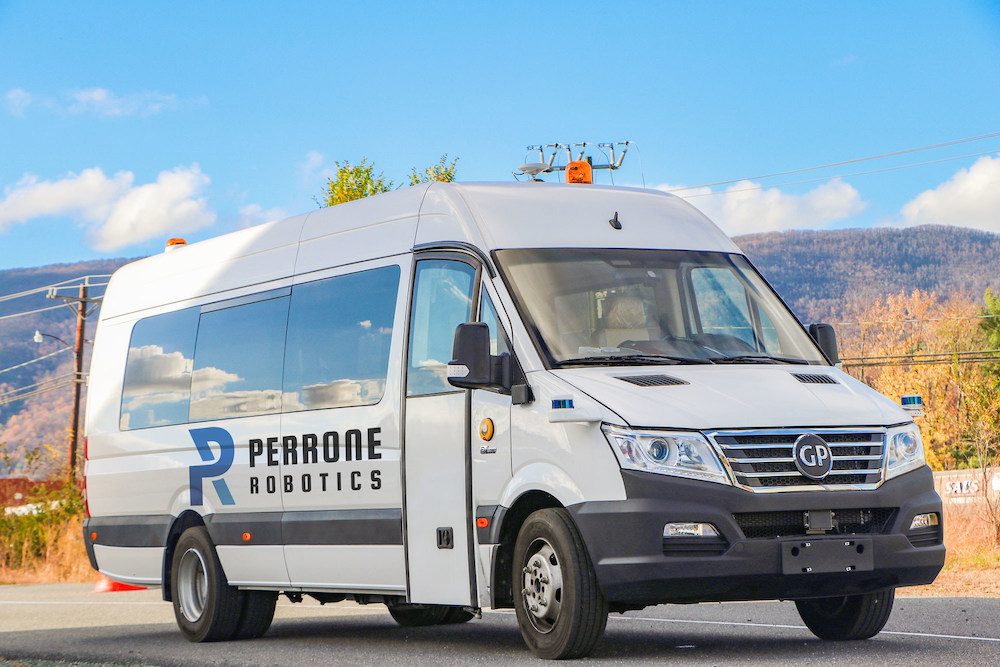 Perrone Robotics recently completed autonomous vehicle (AV) demonstrations on public roads in Maryland and Virginia. 
The company performed the first series of demonstrations in Westminster, Maryland, as part of an event hosted by the Mid-Atlantic Gigabit Innovation Collaboratory (MAGIC) Autonomous Corridor Project, according to a news release. The demonstrations were conducted with GreenPower Motor Company's AV Star, a fully autonomous, all-electric, ADA compliant, FMVSS certified and Buy American shuttle integrated with Perrone Robotics' autonomous vehicle retrofit kit, TONY.  
The team developed the complex operational design domain (ODD) route with the approval of the Maryland Department of Transportation, the City of Westminster Police Department, county government officials and other public stakeholders. The AV shuttle successfully navigated through a designated neighborhood, left and right turns, around a city park, a 4-way stop and through a historic city neighborhood.
"Perrone was able to deploy its AVs over a two-day period across Westminster, Md., in an impressive proof of concept demonstration," MAGIC Executive Director Graham Dodge said, according to the release. "The vehicles performed flawlessly on our public roads and represent a promising milestone for autonomous transportation."

A week later, the team moved on to conduct back-to-back public road tests for customers deploying the GreenPower AV Star zero-emission transit shuttle and the Low Speed Vehicle (LSV) neighborhood electric vehicle (NEV) in the Charlottesville, Virginia, area. Both vehicles are integrated with Perrone Autonomy and have deployments planned for municipal and university transit applications later this summer. 
The AVs traveled through multiple roundabouts, a stop-off at a post office, busy town intersections and county roads.
Perrone's Autonomy, used in both demos, provides a scalable solution built around a patented full-stack platform, MAX, the TONY (short for "TO Navigate You") retrofit kit and a safety certifiable framework, Perrone's Safety Watchdog. The retrofit kit "integrates seamlessly into any vehicle for any job applications for use in the autonomous transit of people and goods in geo-fenced and localized operations."