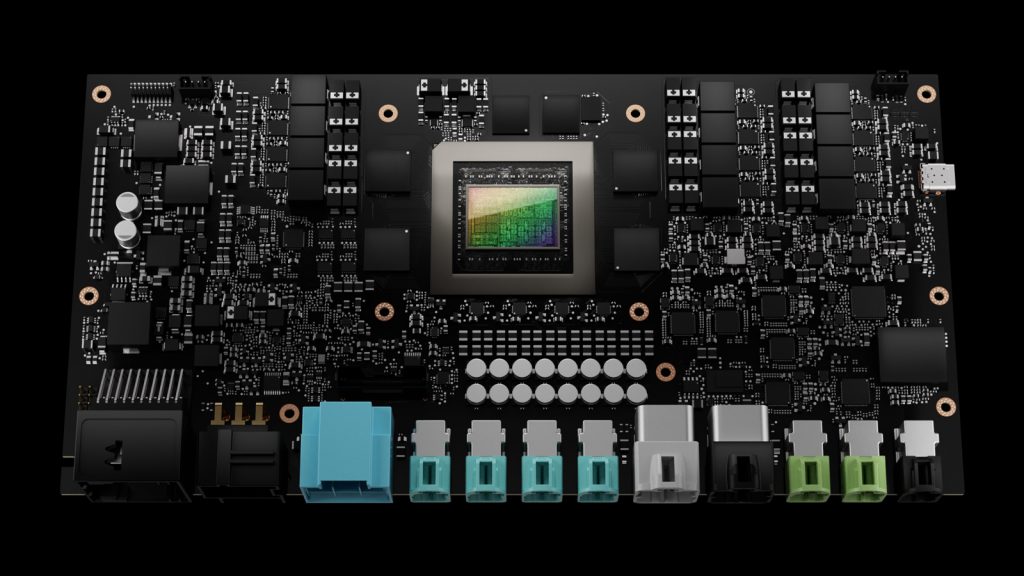 At its GTC event today in Santa Clara, CA, Nvidia introduced its next-generation centralized computer for autonomous vehicles with up to 2000 teraflops of performance. The new Nvidia Drive Thor replaces the company's Drive Atlan and will be the follow-on to Drive Orin, which is currently in production and delivers 254 TOPS of performance. It unifies intelligent functions—including automated and assisted driving, parking, driver and occupant monitoring, digital instrument cluster, in-vehicle infotainment (IVI), and rear-seat entertainment—into a single architecture for greater efficiency and lower overall system cost.
The next-generation superchip comes packed with the cutting-edge AI capabilities first introduced in the Nvidia Hopper multi-instance GPU (MIG) architecture, along with the Nvidia Grace CPU and next-generation GPU. Drive Thor with MIG support for graphics and compute enables IVI and advanced driver-assistance systems to run domain isolation, which allows concurrent time-critical processes to run without interruption. Available for automakers' 2025 models, it will accelerate production roadmaps by bringing higher performance and advanced features to market in the same timeline.
"Advances in accelerated computing and AI are moving at lightspeed," said Jensen Huang, Founder and CEO of Nvidia. "Drive Thor is the superhero of centralized compute, with lightning-fast performance to deliver continuously upgradable, safe, and secure software-defined supercomputers on wheels."
Geely-owned automaker Zeekr announced it will integrate Drive Thor on its centralized vehicle computer for its next-generation intelligent electric vehicles, starting production in early 2025.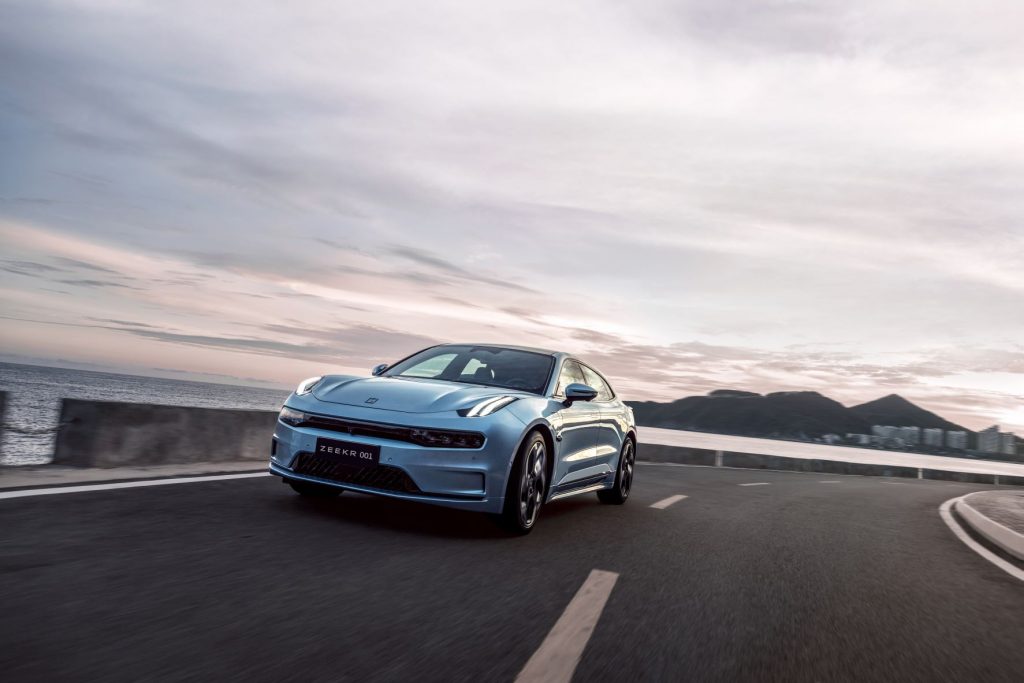 "ZEEKR users demand a luxury experience that includes the latest technology and safety features," said Zeekr CEO An Conghui. "Nvidia Drive Thor will support our mission of providing cutting-edge technology that fulfills the needs of our customers and ensures ZEEKR remains at the forefront of tomorrow's innovations."
Supporting multi-domain computing
According to Nvidia, dozens of electric control units typically are distributed throughout a vehicle to power individual functions. With Drive Thor, manufacturers can efficiently consolidate many functions on a single system-on-a-chip (SoC), which eases supply constraints and simplifies vehicle-design development, resulting in significantly lower cost, less weight, and fewer cables.
The company says that Drive Thor is the first AV platform to incorporate an inference transformer engine, a new component of the Tensor Cores within Nvidia GPUs. With this engine, Drive Thor can accelerate the inference performance of transformer deep neural networks by up to nine times, which is key for supporting the massive and complex AI workloads associated with self-driving.
Another advantage of Drive Thor is its 8-bit floating point (FP8) capability. Typically, developers lose neural-network accuracy when moving from 32-bit FP data to 8-bit integer format. Drive Thor features 2000 teraflops of FP8 precision, allowing the transition to 8-bit without sacrificing accuracy.
The new superchip also uses the latest NVLink-C2C chip interconnect technology while running multiple operating systems. The advantage of the NVLink-C2C is its ability to share, schedule, and distribute work across the link with minimal overhead. This equips automakers with the compute headroom and flexibility to build software-defined vehicles that are continuously upgradeable through secure, over-the-air software updates.
Nvidia claims it is the only company with a unified safety approach across its entire system, from the data center to the fleet. Drive Thor is designed for the highest levels of functional safety, with its SoC (system on chip) and AGX board developed to comply with ISO 26262 standards. The software stack is designed for both ISO 26262 and ASPICE (Automotive Software Process Improvement Capability dEtermination) compliance. The SoC and software are also designed and produced in alignment with ISO 21434, which provides the pathway for compliance with regulatory security such as UN ECE Regulation 155.
Fitting into the ecosystem
Drive Thor is part of Nvidia's broader Drive ecosystem, its end-to-end platform for autonomous vehicle development and deployment. The open solution helps vehicles get smarter over time as their software is trained for new tasks and tested, validated, then updated over the air. This software-defined architecture starts with the AI factory in the data center, processes data, trains the AI, simulates the digital twin, and maps the world.
Nvidia operates fleets of data-collection vehicles along with its customers. The data is fed into its AI development pipeline, which includes DGX data center solutions, Drive Map, Drive SIM on Omniverse, and Drive Replicator for synthetic data generation. AI models are trained using Nvidia AI and DGX.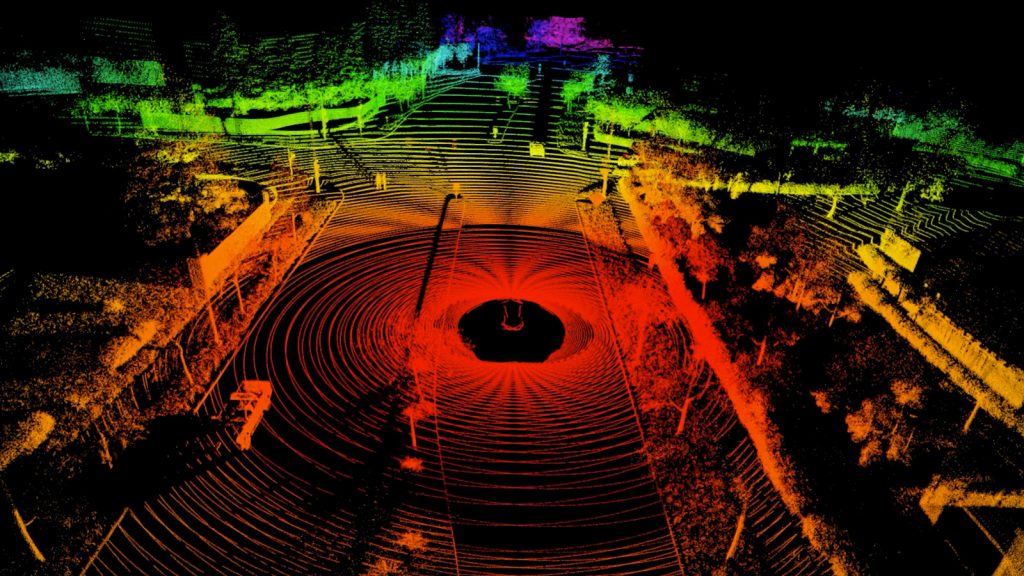 Inside a car, Drive spans the full-stack driving and in-cabin AI applications, in-vehicle compute, and the Drive Hyperion reference architecture. Nvidia's in-car computer processes the sensors to perceive the environment, stay clear of obstacles, and drive the car to its destination—with the ultimate goal of making mobility safer, more efficient, and more convenient.
AI is used at all stages of the real-time computing pipeline, from perception to mapping and localization, to planning and control. It involves continuous integration and development effort.
Meeting the AV challenge
According to Nvidia's VP of Automotive Danny Shapiro, safety is the company's number one priority in developing AVs, with an end-to-end safety approach that extends from the AI factory to the fleet. He briefed the media on the company's new automotive offerings just before the start of GTC.
"No one else offers this complete solution, from the cloud to the car and back," said Shapiro. "It's backed by more than 15,000 Nvidia engineering years invested in safety systems and processes. We have over 5 million lines of code that have been safety assessed, and our Drive chips and platforms are designed for ASIL-D operation and ISO 26262 safety."
According to Shapiro, autonomous vehicles are one of the most complex computing challenges of our time. To achieve the highest possible level of safety, he says that the industry needs diverse and redundant sensors and algorithms that require massive compute.
That's why the company last year extended its roadmap with the Atlan 1000-TOPS centralized car computer designed for 2025 production cars. However, with the autonomous vehicle industry's needs advancing at an accelerating rate, during the GTC keynote CEO Huang announced that Drive Atlan is being replaced with Drive Thor.
The new supercomputer will deliver twice the compute and throughput along with new features and capabilities, but with the same 2025 start-of-production for car makers.
"The advances we've made across accelerated computing, AI, and deep learning are moving at light speed, and we wanted to bring all this new innovation to the transportation industry," said Shapiro. "Drive Thor will come packed with cutting-edge capabilities introduced in our Grace CPU, our Hopper GPU, and our next generation GPU architecture."
While advanced driver assistance systems, parking, driver monitoring, camera mirrors, digital instrument, cluster, and infotainment use different computers distributed throughout the vehicle, in 2025 these functions will no longer be separate computers, according to Shapiro.
"Drive Thor will enable manufacturers to efficiently consolidate these functions into a single system, reducing overall system cost," he said. "This ultimately equips automakers with the compute headroom and flexibility to build software-defined autonomous vehicles that are continuously upgradeable through secure over-the-air updates."
Drive Thor is also the first AV platform to incorporate an inference transformer engine, he added. With this engine, Thor can accelerate the inference performance of transformer DNNs, which is vital for supporting the massive and complex AI workloads in self-driving. Thor also performs multi-compute domain isolation, which lets concurrent time-critical processes run without interruption. On one computer, customers can simultaneously run Linux, QNX, and Android operating systems and apps.
Existing Drive Orin customers can take advantage of the scalable Drive architecture to easily transition current development efforts to Drive Thor once ready. The company is doing this to ensure that developers can reap the benefits of their software investments across multiple product generations as they design for their future.