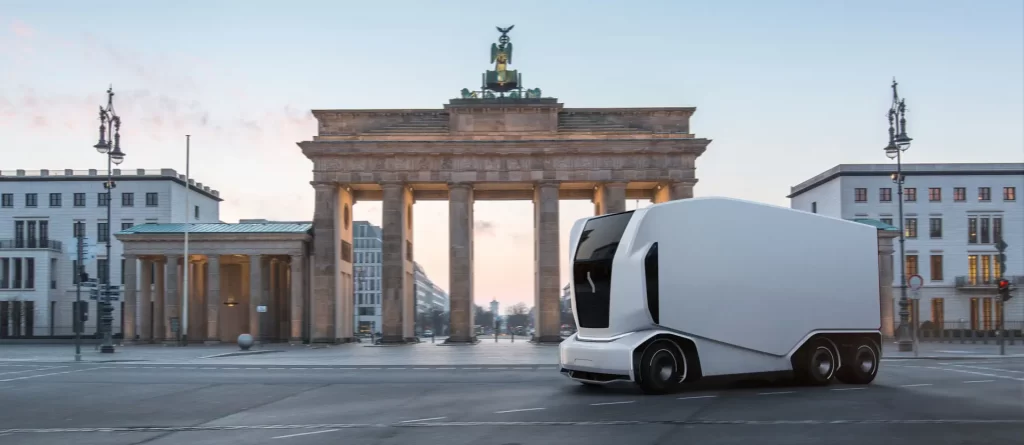 Autonomous and electric truck company Einride is now launching in Europe's largest transportation market, Germany.
Founded in 2016, Einride currently operates Europe's largest fleet of electric trucks. In 2019, Einride became the first company to deploy an autonomous electric freight vehicle on a public road, in Sweden. In June, Einride received the first approval for a remotely monitored autonomous electric truck designed to operate without a driver onboard to drive on public roads in the United States.
Now Einride is setting up a new regional office in Berlin, and will build logistical hubs in Hamburg and the Ruhr Area in Germany. The company will also implement a charging grid along Germany's most important commercial routes and neighboring trade regions to enable customers and partners to seamlessly electrify transportation.
"Germany is in the driving seat of Europe; where it goes others follow suit," Robert Falck, founder and CEO of Einride, said in a statement. "We have the opportunity and technology to bring the biggest change to the freight industry since the invention of the internal combustion engine and are ready to join forces with local partners to make transportation history."

Einride is partnering with home appliance giant Electrolux for its German launch, following a successful partnership in Sweden. Operations with Electrolux are expected to reduce carbon dioxide emissions by 92 percent compared to driving with diesel. Other Einride partners have seen a similar decrease while matching the cost of diesel.
"The German road freight sector is facing its biggest challenge to date — with rising fuel and energy costs, a driver shortage and the government demanding emissions be cut in half by 2030," Robert Ziegler, general manager Europe of Einride, said in a statement.
Einride is scheduled to conduct a public road pilot in the third quarter of 2022 with its autonomous electric transport vehicles, called Pods, at a manufacturing facility belonging to GE Appliances, a Haier company. Pods do not possess room for a driver on board and is instead remotely monitored by an operator from a distance.
The U.S. test will see the Pods operate on public roads with mixed traffic while executing real life workflows. This will include the movement of goods and coordinating with teams at various warehouses for loading and unloading. A human operator will remotely monitor the vehicle at all times, a role that Einride sees critical in safely scaling autonomous vehicles by keeping humans in the loop and creating jobs to fulfill a future way of shipping.
"We know that through digitalization, automation and electrification we can dramatically reduce costs, delivery times and emissions," Ziegler said in a statement. "Now it's time for German shippers to adopt a new generation of freight technology and future-proof their business."