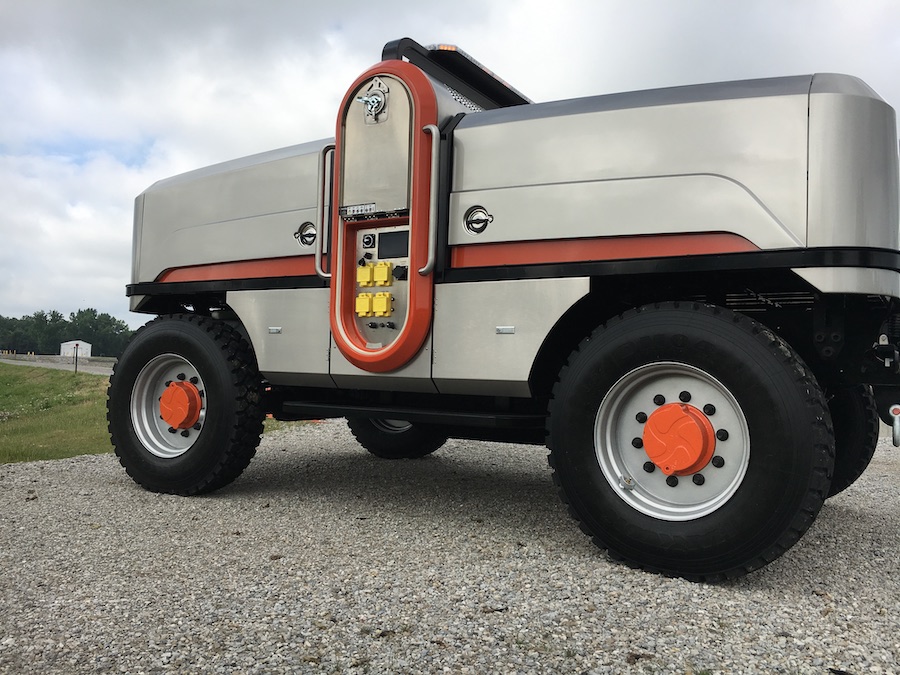 Autonomous systems firm Robotic Research is partnering with heavy-duty equipment company Dannar to develop a self-driving off-road mobile power station, the companies announced June 29.
The Dannar 4.00 mobile power station's base configuration comes standard with 125 kilowatt-hour BMW i3 lithium-ion batteries. It can easily be upgraded to up to a total of 504 kilowatt-hours of onboard electricity, enough to charge six Chevy Volts, power a cell tower for 12 days, supply an urgent care center for a day, and more. Other options include a 60 kilowatt Cummins tier-four diesel generator that can supply 600 kilowatt-hours of continuous export power and battery recharging, and a solar canopy that can provide extended sustainable energy.
The Dannar 4.00 can also be ordered with an operator cab or platform. Its base model comes standard with dual flat beds to accommodate a range of work functions, including scissor lifts, forklift masts, dump beds, water tanks, electric water pumps, portable light units and mobile telescoping cell towers. It accommodates all standard Caterpillar, Bobcat or John Deere attachments and carries Type I, II and III hydraulic tool circuits.
Built on a heavy-duty steel ladder frame, the Dannar 4.00 is all-wheel drive, has four-wheel, multi-mode steering and is submersible in up to four feet of water. It weighs approximately 15,000 pounds can carry a payload of 15,000 pounds.

"We are excited to be working with Dannar," Edward Mottern, chief operating officer at Robotic Research, said in a statement. "They produce off-road, heavy-duty, all-electric platforms that are already very versatile. Now add to them our robust autonomy solutions, and you have a platform that's clean, intelligent, and ready to tackle a host of missions at home or abroad."
Clarksburg, Maryland-based Robotic Research and Muncie, Indiana-based Dannar recently exhibited their fully autonomous Dannar 4.00 at the Electric & Unmanned Logistics Demo Day on June 23 at Marine Corps Air Station Miramar in San Diego. 
"The Electric & Unmanned Logistics Demo Day and Electric Mobility Symposium were about showing the art of the possible," Mottern said in a statement. "We believe that autonomy has a major role to play in both civilian infrastructure and the modern battlefield."
During the demo, the companies showed how an unmanned Dannar 4.00 can serve as both an unmanned logistics vehicle and mobile power station to deliver supplies and energy. They suggested it could one say serve as the fuel truck of the electrified battlefield.
"Given their utility, our MPS (mobile power station) vehicles are often deployed in environments that are not always safe for operators," Gary Dannar, president and CEO of Dannar, said in a statement. "The autonomous capability available through Robotic Research gives our customers yet another way to achieve their goals while keeping personnel safe."