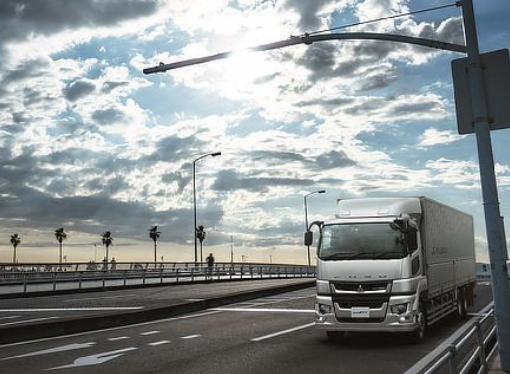 Toyota subsidiary Woven Alpha and truck and bus manufacturer Mitsubishi Fuso are partnering to explore how automated mapping can help support advanced driver assistance systems (ADAS) and improve the safety of commercial vehicles, the companies announced June 23.
Joint research will start this year using Woven Alpha's automated mapping platform with Mitsubishi Fuso's heavy-duty Super Great trucks. These were Japan's first heavy-duty trucks fitted with Society of Automotive Engineers (SAE) Level 2 autonomy, meaning they could steer, brake and accelerate to assist drivers.
Initially the research project will explore how data from the automated mapping platform can support Mitsubishi Fuso's entering curve speed warning system, which predicts the safest speed for a vehicle and gives advance warning on how it should approach an upcoming sharp curve, based on the vehicle's condition. The ability of this feature to anticipate road and lane conditions ahead is particularly important for commercial vehicle drivers in order to avoid accidents, Woven Alpha noted.
This work is the first test of the automated mapping platform with heavy-duty commercial vehicles, said Mitsubishi Fuso, which is more than 89% owned by Daimler.

"I am delighted to collaborate with Mitsubishi Fuso Truck and Bus Corporation, one of the leading truck and bus makers in Japan, perfectly suited to push the envelope on the safety of commercial vehicles," Mandali Khalesi, Woven Planet's vice president of automated driving strategy and mapping, said in a statement. "Our work is not only about getting people and goods from A to B, it is about saving people's lives and reducing the burden on the driver."
This collaboration will also explore what advantages using high-definition (HD) maps might bring compared to conventional navigation maps. Vehicle safety systems that use mapping technology employ such maps due to their relatively low cost, but they often possess a number of drawbacks:
* Their lack of real-time updates mean such maps are usually months out of date, especially with regards to regular changes to road markings, road geometry or construction work, which can be dangerous for vehicles with higher level of autonomy.
* Such maps are only accurate on the order of meters, making it difficult to develop precise applications that operate safely at the lane level. 
* Such maps do not contain semantics — that is, the relationship between road objects, such as lanes on a road. 
* Although it is relatively straightforward to deploy survey vehicles to generate initial mapping data, the instruments are highly specialized and often expensive to operate. This makes map maintenance costly and time-consuming, further reducing the updates that can be deployed economically to end-users.
Woven Alpha's automated mapping platform aims to automate the fusion of near real-time data from vehicle fleets and wide-area-coverage satellite and aerial imagery. The goal is to generate highly accurate semantic HD maps that can get updated automatically, frequently and inexpensively. 
"We are building the platform to be highly scalable and open to future collaboration with global manufacturers of all size," Khalesi said in a statement. "This is the first step in our commitment to helping maximize safety for commercial vehicles."
In 2020, Toyota established Woven Planet, a subsidiary dedicated to developing autonomous vehicles and other advanced mobility technologies. Woven Alpha is a company operating under Woven Planet to explore new business opportunities and incubate innovative projects."We at Mitsubishi Fuso Truck and Bus Corporation approach automated driving assistance technology, and the autonomous driving technology beyond that, as a strategic point of focus in producing safer commercial vehicles. We are doing the utmost to develop these technologies, because we believe that they will soon be indispensable in our world," Hironobu Ando, Mitsubishi Fuso Truck and Bus Corporation's head of product engineering, said in a statement. "Woven Alpha's automated mapping platform has the potential to be an important part of this future, and we are therefore convinced that the joint research will prove to be mutually beneficial. We hope to participate in active knowledge-sharing with our partners to the maximum extent possible, for the ultimate goal of safer roads everywhere."