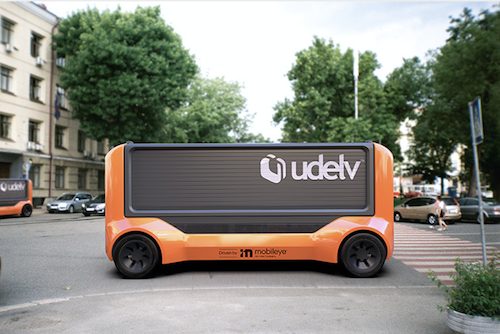 Udelv's next generation of autonomous delivery vehicles will feature the Mobileye Drive self-driving system. Mobileye is an Intel company. 
The Udelv Transporters will begin operations in 2023, with more than 35,000 vehicles expected to be produced between 2023 and 2028, according to a news release. 
The Mobileye-driven Transporters are expected to improve the efficiency of last- and middle-mile delivery services for a variety of industries, from groceries to auto parts to medical supplies. Commercial fleet management company Donlen recently became the first customer, pre-ordering 1,000 Transporters. 
"We are thrilled to be the first customer for the Udelv Transporter," Donlen President Tom Callahan said, according to the release. "The combination of Udelv's zero-emissions Transporter and automated delivery management system with Mobileye Drive™ will enable sweeping delivery cost reductions, make our roads safer, and lower carbon emissions across America."

Mobileye Drive features the EyeQ™ system-on-chip-based level 4 (L4) compute, sensors and software, the company's proprietary Road Experience Management™ AV mapping solution and Responsibility-Sensitive Safety-based autonomous driving policy. Udelv will integrate Mobileye Drive into its Delivery Management System, and Mobileye will handle technical oversight as well as over-the-air software support.
The Transporters will be capable of L4 self-driving, point-to-point operation. Udelv's proprietary tele-operations systems will make it possible to maneuver vehicles at the edges of mission in parking lots, loading zones, apartment complexes and private roads. 
"Mobileye is the only company providing a full-stack self-driving system with commercial viability and scale today," Udelv CEO and Founder Daniel Laury said, according to the release. "The readiness of Mobileye Drive™, along with its vast map coverage of North America, Europe and Asia, will allow us to ramp up the production and deployment of Udelv Transporters and rapidly offer the service at scale to our expanding list of customers."