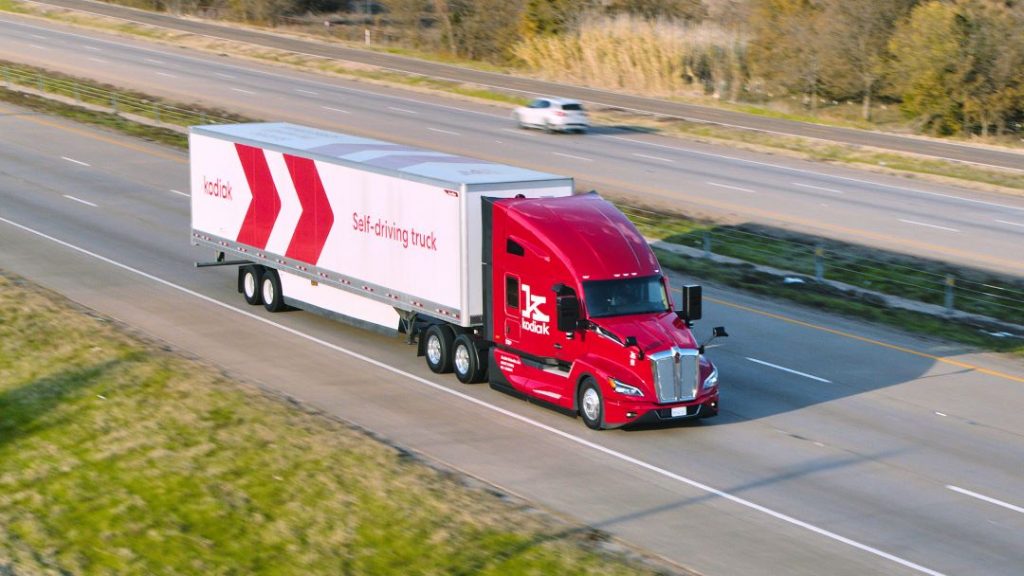 Self-driving vehicle startup Kodiak Robotics debuted its fifth-generation autonomous truck hardware platform earlier this month, which increases the number of it sensors for added redundancy and boosts its computing performance, the company noted.
A key modification Kodiak made was replacing the roof-mounted "center pod" sensor suite with Kodiak's proprietary SensorPods, located on the left and right side-mounted mirrors. Instead of just one front-facing Luminar Iris LiDAR and wide field-of-view camera, there are now two, one for each SensorPod.
By integrating sensors into the SensorPods, and eschewing the "unibrow" sensor suite common in the autonomous trucking industry, Kodiak noted it simplified the build process. Moreover, by having sensors located in an easy-to-reach location, customers avoid having to access the roof to maintain sensors. An on-the-fly replacement of SensorPods, which are compatible with any truck platform, can be performed in as little as 10 minutes, maximizing uptime and customers' revenue generation due to increased asset utilization. The damaged SensorPod can then be returned to Kodiak for evaluation and repair. In addition, the company noted placing sensors at the same height as a driver maximizes road safety and improves perception. The SensorPods also offer a better dual vantage point than a roof-mounted sensor suite, as they provide redundancy and visibility on either side of the truck, as opposed to the single vantage point above the cab. In the event of a sensor damage, such as a rock or other piece of debris damaging a sensor, offering dual-redundant front-facing sensors increases resiliency.
All in all, the new fifth-generation Kodiak truck increases the total number of sensors on-board from 14 to 18, including 10 cameras. The new sensor additions make the Kodiak fifth-generation truck the most fully redundant platform in the industry.
Kodiak's long-range sensor suite includes the following, split evenly between the two side-mounted mirror SensorPods — four ZF full-range radars for redundancy; two Hesai 360-degree scanning LiDARs for side- and rear-view detection; two Luminar Iris LiDAR sensors; and eight cameras, which include both wide and narrow field-of-views. Altogether, LiDAR coverage at long range has doubled for the Kodiak Driver, the company's self-driving technology. Two wide-angle cameras were added to the hood-mounted mirrors to cover blindspots.
Furthermore, the new truck includes the recently announced Ambarella CV2 perception system-on-chip (SoC) which handles all camera data processing. The Ambarella CV2 SoC improves image quality for longer range detections and unlocks improved dynamic range for nighttime driving.
"Customers and OEMs aren't sensor experts, and they shouldn't have to be, which is why they constantly tell us they love our modular approach that solves one of the biggest barriers to servicing and maintaining autonomous trucks," Don Burnette, Founder and CEO of Kodiak Robotics, said in a statement. "We took a platform that our customers already love and made it better by adding more visibility, more power, and more flexibility, ultimately moving us closer down the path towards driverless deployment. By removing the sensors from the top of the truck and incorporating them at a human driver's line of sight, we have designed a system for the real world. Additionally, having sensors on top of the cab is actually very difficult to service while on the road and requires specialized equipment, which is nearly impossible to find roadside."
In addition, Kodiak's new fifth-generation truck improves its system's computing capabilities, with 130% more GPU processing power, 60% more central processing power, and additional system redundancy. The company also reduced the system's power consumption, allowing for a 50% reduction in the size of the fifth-generation power system and decreased cooling needs.
Kodiak is taking a modular approach to building its computing system, simplifying the integration of the system into the truck and making it easier to manage when the trucks are incorporated into a customer's fleet. Kodiak has consolidated its in-house compute system, networking, and power distribution into one physical unit, which can be built to accommodate the unique specs of each customer, giving more options for integration. This computing hardware is manufactured by Crystal Group, a global leader in manufacturing military and ruggedized computers, and is designed to handle the heavy and persistent vibrations onboard long-haul trucks.
Founded in 2018, Kodiak recently announced a 24-month United States Department of Defense project to help automate future U.S. Army ground vehicles, as well as partnerships with Ikea and more.