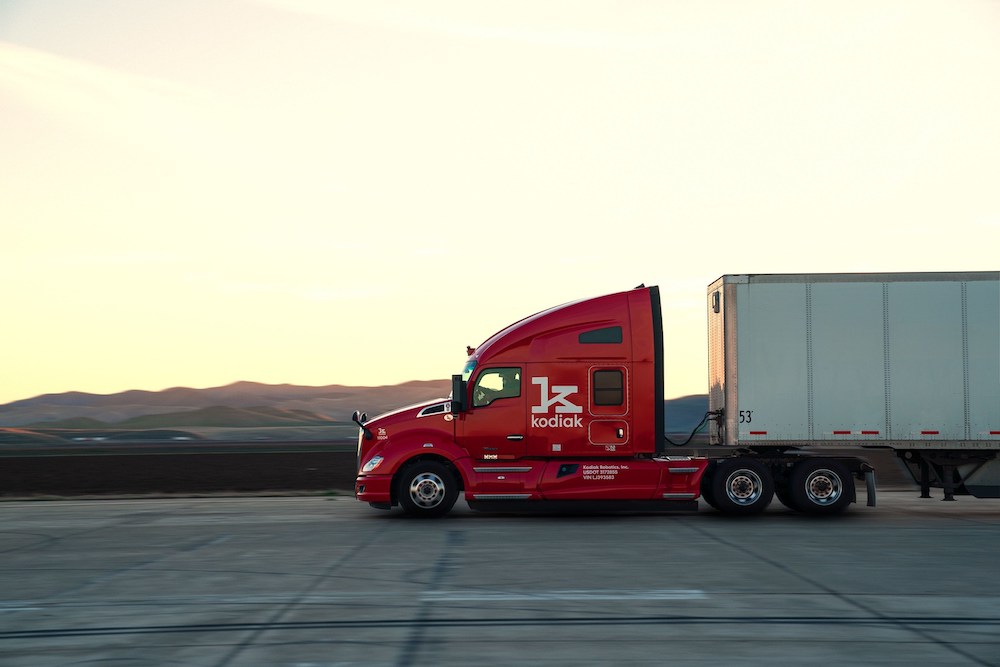 Autonomous vehicle startup Kodiak Robotics and major tire manufacturer Bridgestone are partnering to incorporate smart tires onto driverles trucks, the companies announced June 16.
Kodiak's self-driving trunks are capable of Level 4 autonomy, meaning they have the ability to act without any human intervention in the vast majority of situations. In January, Kodiak became the first autonomous trucking company to accomplish "disengage-free" highway trips, meaning journeys where the safety driver never disengaged the self-driving system to manually take control, and also made the first fully autonomous deliveries in Texas history, navigating 205-mile freight runs between Dallas and Houston.
"Automated vehicles offer a number of benefits to commercial fleet customers and society, including safer roads with fewer unexpected incidents, and upwards of 20% savings in fuel and efficiency," Paolo Ferrari, Bridgestone Americas' president said CEO, said in a statement.
As part of the new partnership, Bridgestone Americas has made a minority investment in Kodiak. The plan is to incorporate Bridgestone's technology into Kodiak's self-driving trucks, such as smart tires that possess sensors that can measure tire wear, pressure and temperature, as well as whether a truck's weight is evenly distributed among its wheels and axles.

"After an extensive diligence process, Bridgestone has chosen Kodiak as an autonomous trucking partner," Don Burnette, Kodiak Robotics co-founder and CEO, said in a statement. "Bridgestone's investment is a huge moment for Kodiak and a great validation of our industry-leading autonomous system."
Bridgestone noted the data from its smart tires can help autonomous vehicles predict maintenance issues before they occur and optimize tire lifespan, hopefully improving trucking fleet safety and productivity.
"Advancements in tire-centric technologies are critical to unlocking greater innovation in mobility, while also delivering significant sustainability benefits," Ferrari said. "This investment will enable Bridgestone and Kodiak to work together to co-develop advanced mobility solutions with speed and precision that will revolutionize commercial trucking."