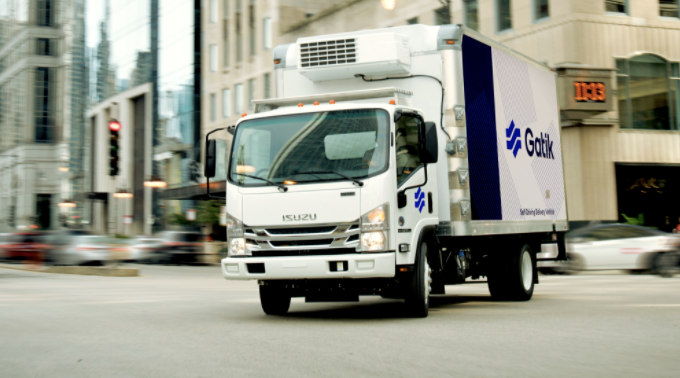 Autonomous delivery startup Gatik and automaker Isuzu are partnering to develop and commercialize fully self-driving medium-duty trucks, the companies announced April 6.
Gatik and Isuzu plan to deploy the first products of this partnership later this year. These will integrate Gatik's autonomous driving technology with Isuzu's medium-duty N-Series trucks to provide Level 4 autonomy—that is, the ability to act without any human intervention in the vast majority of situations.
"Isuzu has been at the forefront of automotive evolution for over a century, with their N-Series trucks having been best-sellers in their class in the North American market for 35 consecutive years, making them an ideal fit for Gatik's core commercial-grade autonomous technology solution," Gatik's CEO and co-founder Gautam Narang wrote in a post.
The new Isuzu platform will have redundancies for mission-critical components such as steering, braking, engine control, wiring harnesses, compute and electrical power, "along with crash-imminent braking that includes a backup perception system as an additional layer of safety," Narang added. 

Both companies recently announced other partnerships to promote autonomous and other advanced technologies. In March, Isuzu reported collaborating with Toyota to develop autonomous driving technologies, electronic platforms, battery electric systems and fuel-cell electric systems for small commercial trucks, and in February, Gatik revealed it was partnering with Walmart and Via on all-electric autonomous truck deliveries. 
This new partnership on medium-duty trucks reflects Gatik's focus on autonomous short-haul delivery. "The 'middle mile' market presents the greatest opportunity to safely and rapidly scale an autonomous delivery solution, while offering attractive, near term economic results," Narang wrote. "There is strong consensus in the industry that goods movement is a much more viable market than passenger transportation, with short-haul B2B applications commercializing and scaling faster than long-haul trucking."
As customer requirements for the medium-duty trucks evolve at an increasingly quick pace, given rapidly increasing e-commerce sales and a well-documented driver shortage, "having the ability to collaborate with Gatik, an industry leader in autonomous technology, is very exciting for our team," Takashi Sadaoka, president and CEO of Isuzu North America Corporation, said in a statement.