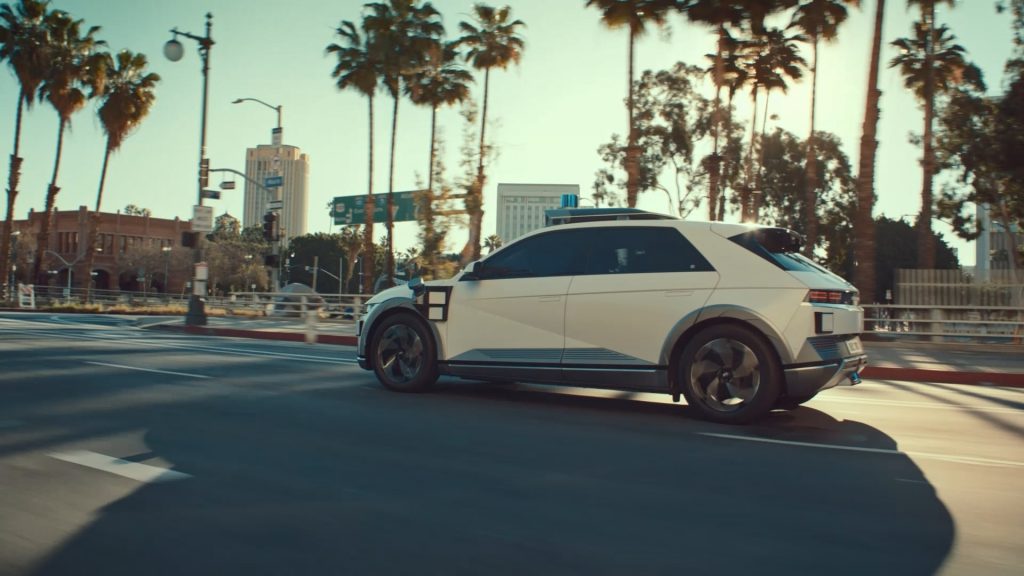 Hyundai Motor Co. has launched a global campaign called "Innovation Begins, from Very Human Things" to share its vision for "self-driving" robotaxis. In line with the vision of "Progress for Humanity," the brand's aim for its robotaxis is to go fully autonomous while retaining a humanistic touch.
Its parent company's automated driving joint-venture with Aptiv called Motional will work in partnership with ride-hailing services to deploy SAE Level 4 autonomous vehicles across major U.S. cities starting in 2023. To make robotaxis a reality, the partners have equipped Hyundai's new all-electric Ioniq 5 with an array of hardware and software to provide safe and secure driverless operation.
Hyundai's vision for the technology and customer experience is "a mobility solution with humanity inside—not just without a human driver."
This narrative is the theme of two campaign videos attempting to emphasize the humanistic qualities of robotaxis, showing how they adopt safe driving behaviors and care for passengers. The first episode emphasizes the robotaxi's actions resembling those of a careful, considerate driver, and the second episode focuses on the robotaxi taking care of passengers from teenagers to disabled and elderly.

Hyundai and Motional plan to begin transporting public passengers in Ioniq 5 robotaxis starting in Las Vegas and then expanding to major cities in the U.S. and globally.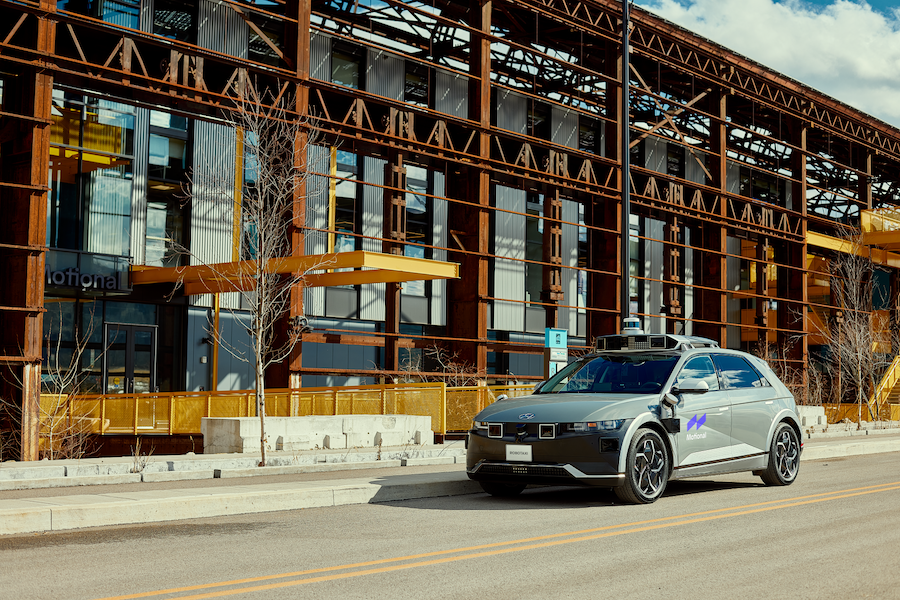 First foray into autonomous delivery
However, Motional's AVs are not just about transporting people. The supplier announced yesterday that it is now conducting end-to-end food autonomous deliveries on the Uber Eats network in Santa Monica, CA, using its Ioniq 5 vehicles.
"Autonomous delivery signifies the next phase of Motional's commercial roadmap," said Abe Ghabra, Motional's Chief Operating Officer. "This service will provide the learnings and experience needed to make Motional the trusted AV provider for on-demand delivery networks."
"We're thrilled to begin piloting with Motional in California and are eager to see how their promising autonomous technology will begin to change how people and goods move throughout the world for the better," added Noah Zych, Global GM for Uber's Autonomous Mobility and Delivery Business.
Motional and Uber announced their partnership in December, signaling important firsts for both companies: the first on-road AV (autonomous vehicle) pilot on the Uber Eats network and Motional's entry into the autonomous delivery market. Motional and Uber see an opportunity for AVs to benefit the on-demand delivery space by providing safe, cost efficient, and reliable service.
The companies aim to use customer feedback to jointly develop an automated delivery model that could quickly scale to more areas across Los Angeles and other cities. The goal of the pilot is to create the groundwork for future commercial activities between Motional and Uber.
The Motional Ioniq 5-based vehicles used for the service have been adapted to enable autonomous deliveries. Since it is the company's first time transporting commercial goods, its teams spent months studying the touchpoints between restaurants and end customers and conducted extensive testing in the Los Angeles area.
In general, a participating merchant will receive a notification when the AV arrives, meet the vehicle at a designated pick-up location, and place the order in a specially designed compartment in the backseat. Upon arrival at the drop-off location, the customer will receive an alert, securely unlock the vehicle door via the Uber Eats app, and then collect his/her order from the backseat.
The service will allow Motional and Uber to study the integration of their technologies, consumer demand, the user interactions with the AV, and additional features needed to enable autonomous deliveries. It will be used to help inform broader applications of Motional's AV fleet. Uber sees AVs playing a long-term role on its platform, across a variety of use cases, and plans to be an accelerator in bringing this innovative technology to its customers.
Strengthening safety with TÜV SÜD
In preparation for commercial deployments of its Ioniq 5-based robotaxis, Motional is undergoing a multi-year safety evaluation process to demonstrate that the vehicle, including its driverless systems and supporting technology, is safe for automated operation on public roads. The company has deepened its relationship with TÜV SÜD to be part of the process, leveraging its expertise in assessing safety architectures, functional safety, and cybersecurity.
TÜV SÜD's teams will work with Motional's engineers to review their processes, system designs, and analytical data. This level of independent review will put the company's safety standards under a higher degree of scrutiny and strengthen transparency in support of its mission to improve road safety globally.
"The safety of our passengers and other road users is at the core of our technology development," said Dean Degazio, Head of Safety at Motional. "By choosing to work with TÜV SÜD on the Ioniq 5 robotaxi evaluation, we're once again going above and beyond industry norms, and are setting a new standard on AV safety."
TÜV SÜD is striving to inspire trust in new mobility technologies through its holistic safety evaluations.
"This will be important in the journey towards safe deployment of highly automated vehicles like the IONIQ 5 robotaxi from Motional," said Bijoy Bhaskaran, Head of Highly Automated Driving at TÜV SÜD North America.
Motional is proud of its safety best practices, with a claimed driving record of over two million autonomous miles and over 100,000 public rides with zero at-fault incidents.
In 2020, Motional said it was the first AV company to earn an endorsement from TÜV SÜD to operate its vehicles with an empty driver's seat over its operational design domain. During an 18-month engagement, TÜV SÜD's experts reviewed detailed safety architecture designs, analyzed testing processes results, scrutinized training procedures, and reviewed the qualifications and skill of the team.
Motional first fully driverless ride-hail service moving passengers in the Ioniq 5 robotaxis starting in 2023 will launch in partnership with Lyft. As operators of the world's most established public self-driving service, Motional and Lyft have over four years of experience optimizing commercial robotaxi rides.
While the service will be fully driverless, Motional will still have humans in the loop through its RVA (Remote Vehicle Assistance) technology. In the event a vehicle encounters an unusual scenario, a remote operator will connect to the vehicle and provide assistance such as directing it to a new path.
The company believes that having RVA capabilities can help it deploy its vehicles more broadly, bringing the benefits of AVs to communities faster.
Building to scale
Motional was able to leverage its close partnership with Hyundai Motor Group early on in the engineering and design process for the Ioniq 5 robotaxi. The AV company's global hardware, software, and autonomy teams were able to design a robotaxi platform that features fully integrated, automotive-grade hardware.
To build a commercially viable product, Motional set out to design a hardware set that not only meets technical requirements for its initial deployment but also one that can scale broadly in the future. The company opened a state-of-the-art vehicle build facility in Pittsburgh, where engineers and fabricators work in a "Formula 1-style" garage to develop and test its technology.
Having parent companies of Hyundai and Aptiv allowed the team to source components and prepare to launch at scale. Some of its sensors and components are sourced from Aptiv and Hyundai Mobis. In total, Motional is working with more than two dozen suppliers from around the globe to source the best-possible hardware technology.
The robotaxi's hardware suite includes more than 30 sensors and related tech including radars, lidars, cameras, microphones, speakers, GPS, antennas, and LED lights. Long-range lidar provides a full 360-degree view and up to 300 m (980 ft) down the road, short-range lidar is for around-the-car coverage, long- and short-range radars works with the automatic emergency braking system, and cameras provide different lenses and fields-of-view. When a sensor becomes dusty or occluded, they can be cleaned autonomously using air and water.
Powering the robotaxi's AV stack is a high-performance onboard compute system allowing the vehicle to process the terabytes of information coming in from its sensors. This combination of hardware and software, which operates with the power of a small server farm, will allow the robotaxi to safely drive by calibrating and syncing new data with every sweep, and processing it through a cloud infrastructure.