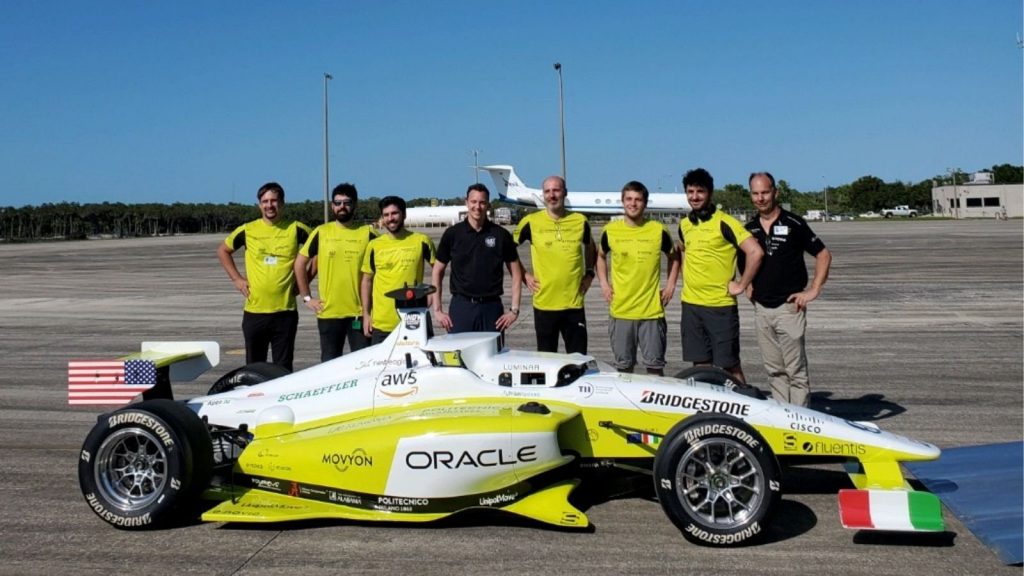 A fully autonomous race car has for the first time driven faster than 300 kilometers per hour, a new world record for driverless cars, scientists announced April 28. 
The record-setting drives employed the AV-21 from Italian race car manufacturer Dallara, the platform used by all teams in the Indy Autonomous Challenge competitions. They occurred on the Space Shuttle airstrip at NASA's Kennedy Space Center in Cape Canaveral, Florida.
The new tests on April 27 reached a peak speed of 193.8 miles per hour (311.9 kilometers per hour). They achieved an average speed of 192.2 miles per hour (309.3 kilometers per hour) over 1 kilometer in two consecutive attempts in opposite directions, in order to eliminate the effects of wind. The previous autonomous world land speed record was 175.49 miles per hour (282.42 kilometers per hour).
The world's fastest autonomous race car was programmed by the PoliMOVE Autonomous Racing Team and the University of Alabama. They won the Indy Autonomous Challenge in Las Vegas on January 7, the first head-to-head race between cars driven by artificial intelligence, which pit five teams from five countries against each other for a $150,000 grand prize.

"Congratulations to the PoliMOVE team for making the Dallara AV-21 the fastest autonomous racecar in the world," Andrea Pontremoli, CEO and general manager of Dallara, said in a statement. "This record run sets a new bar for the top speed capabilities of autonomous competition vehicles, and we are thrilled to be a part of this future. Dallara is also very proud to partner with leading software and engineering industries working together with the best universities of the world to contribute towards the development of fully autonomous transportation."
PoliMOVE is part of Milan Technical University's research group mOve, which has investigated automatic controls in all kinds of land vehicles, from electric bicycles to cars and even tractors, for 20 years.
"Yesterday we saw what the future holds for autonomous vehicles and credit goes to the entire PoliMOVE team, especially Dr. Brandon Dixon of the University of Alabama," Sergio Savaresi, leader of mOve and a professor at Milan Technical University, said in a statement. "We were running a car operating on algorithms alone, where precision is paramount, and any small prediction error could have created a completely different outcome. This test run was exhilarating, and we are thrilled with the world record, but we're also excited by the fact that this data will be made available to all, and the industry will benefit from our work and learnings."
The new tests set out to push the limits of a boosted engine package that was capable of delivering 30 percent more horsepower than previous models. This package will be on all Indy Autonomous Challenge race cars moving forward.