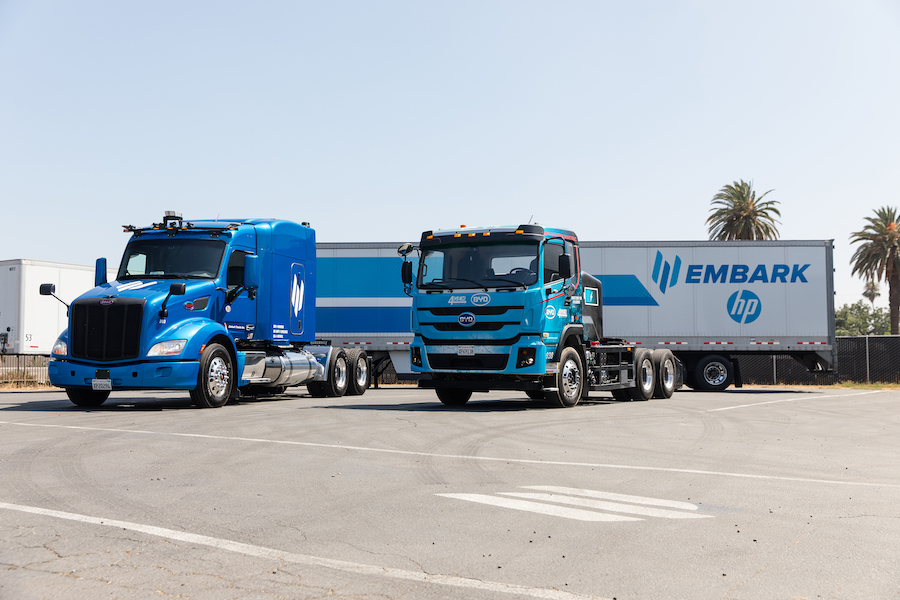 Tech giant HP and self-driving trucking software company Embark Trucks are teaming up to develop autonomous electric trucks, the companies announced Sept. 14.
The companies launched an electric truck drayage pilot in the Los Angeles area. Drayage is short-distance transport—local loads will get hauled to and from Embark's highway-adjacent transfer points using BYD Motors' 8TT electric trucks operated by human drivers, while the longer middle segment of the haul is completed autonomously by trucks equipped with the Embark Driver software.
This pilot project will give HP the ability to explore how to leverage electric trucks, which currently have a driving range best suited for drayage operations, in a meaningful way within its supply chain. It will also showcase the efficiency boosts that Embark-equipped autonomous trucks can provide, which Embark noted are 10% more fuel-efficient than human-operated trucks. 
"We're combining the best of both worlds with this partnership, pairing the middle-mile strengths of autonomous trucks with the sustainability benefits of electric trucks in urban road settings," Alex Rodrigues, CEO of Embark, said in a statement. "Autonomous and electric trucks represent a powerful tool for companies like HP to help the trucking industry reduce harmful diesel emissions while continuing to deliver goods to the businesses and consumers who need them."
Embark's transfer point model, with its short first-mile and last-mile legs in urban environments, offers opportunities for shippers such as HP to utilize BYD's electric trucks, eliminating smog, diesel-emitted nitrogen dioxide and carbon dioxide emissions in cities.
"BYD is excited to be part of this creative solution to decrease emissions from freight movement that pollute the air and harm vulnerable communities," Vincent Pellecchia, strategic account manager of BYD Motors, said in a statement. "As the global leader in the deployment of medium- and heavy-duty electric vehicles, BYD is committed to reducing air pollution and fighting climate change. By working with Embark, we're giving storied companies like HP the tools they need to create sustainable supply chains end-to-end."
Adopting both long-haul autonomous trucks and electric truck drayage enables HP to remove up to 50,000 tons of carbon dioxide and other pollutants from its distribution network over the next 10 years, according to preliminary research by Embark. 
"HP's goal is to achieve net zero greenhouse gas emissions across our value chain by 2040," Jessica Kipp, global head of worldwide logistics at HP, said in a statement. "We're driving innovative solutions with the support of partners like Embark and BYD to reduce the environmental impact of traditional trucks within our supply chain while increasing speed and efficiency for customers."
Such improvements are welcome in California. The greater Los Angeles area is a leading emitter of greenhouse gases and is especially affected by harmful diesel emissions. San Bernardino, home to much of Southern California's trucking and warehouse infrastructure, had 130 bad air days for ozone pollution in 2020. In California's South Coast Air Basin, heavy-duty vehicles such as trucks contribute 32% of mobile-source nitrogen oxide emissions that react in the atmosphere to form ozone and particulate matter, pollutants that are linked to respiratory and cardiovascular problems and other adverse health impacts that lead to serious medical conditions and premature deaths.
"We're excited to see innovative companies like HP, Embark and BYD step up to help the state of California meet its ambitious emission reduction goals," California assembly majority leader Eloise Gomez Reyes said in a statement. "With zero-emissions short-haul and autonomous long-haul trucks working in tandem, we're improving air quality in California's disadvantaged communities and addressing the climate crisis head-on."
Headquartered in San Francisco since its founding in 2016, Embark is America's longest-running self-driving truck program, and aims to commercialize autonomous trucks by 2024. The company partners with some of the largest shippers and carriers in the nation, collectively representing over 30,000 trucks, and aims later in 2021 to become a publicly traded company listed on the NASDAQ.