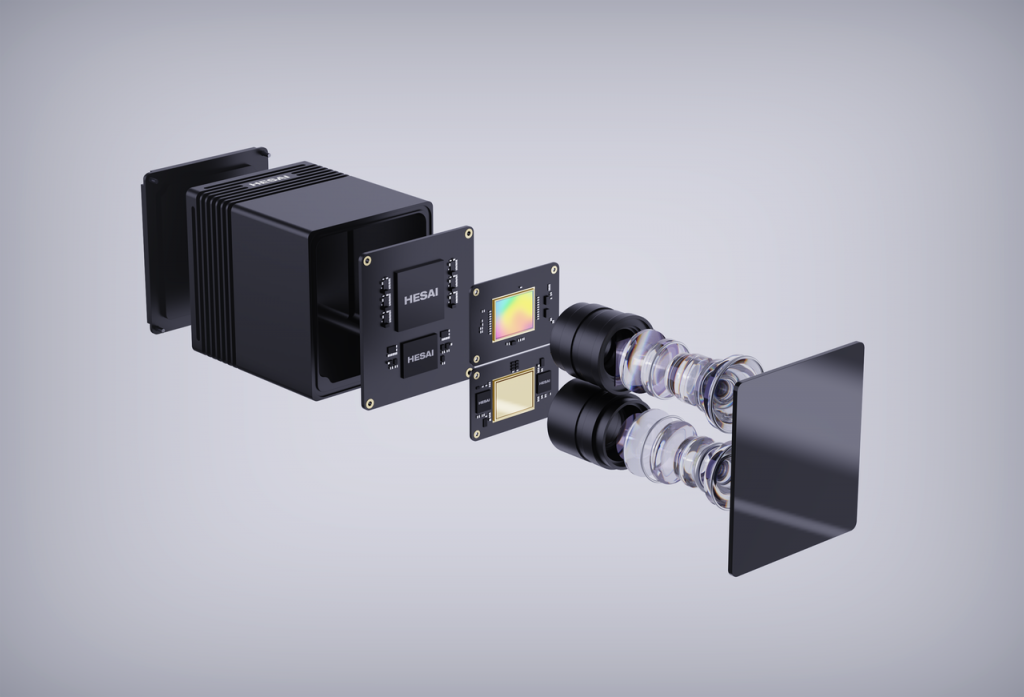 Lidar-powerhouse Hesai Technology announced earlier in January a design win with SAIC Motor's new global EV (electric vehicle) brand called Rising Auto (formerly known as the R brand) and Feifan in China. The new Rising Auto model will use Hesai's AT128 long-range automotive lidar.
As a self-described user-oriented and data-driven automotive technology company, Rising Auto is committed to creating a "mid- to high-end pure electric intelligent mobile space" using technology for "green and intelligent" travel.
The AT128, an automotive-grade, long-range lidar designed for ADAS (advanced driving assistance system)-focused production vehicles, has won over several million units of expected volume from 10 leading OEMs. Beginning mass production and delivery in 2022, it has been shipped for various car models, with a monthly delivery of over 20,000 units.
The lidar's long-distance perception provides sufficient reaction time for an ADAS system, helping the vehicle to identify risks and make safe decisions in complex road conditions. It has a ranging capability of 200 m, with 10% reflectivity and a 1200 x 128 overall resolution. With a point frequency of over 1.53 million per second, it can conduct ultra-high-precision scanning of the environment, forming consistent and unstitched point clouds that help vehicles to "see" the 3D world clearly in real time.

The Rising Auto announcement comes on the heels of Hesai's launch of a new fully solid-state lidar at CES 2023. The FT120 debuted along with a series of automotive lidars to showcase the company's market progress with OEM and autonomous mobility partners globally.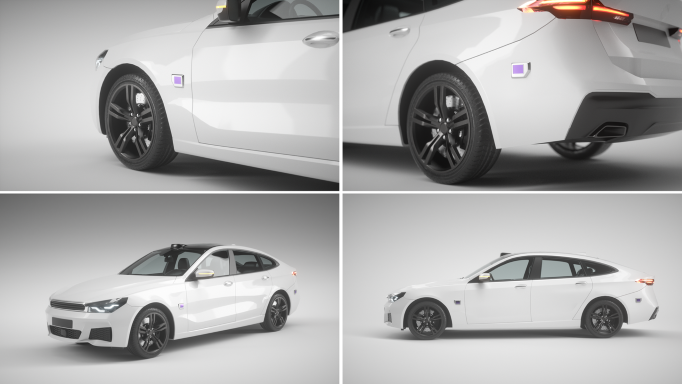 To accommodate the challenges that AVs (autonomous vehicles) face with perception, the new lidar is intended to fill a gap for near-range blind-spot coverage, boasting a 100° x 75° ultra-wide FOV (field of view). Its maximum detection range is 100 m, data rate per second is 192,000 points (in single return mode), and overall resolution is 160 (H) x 120 (V).
"We have received pre-orders of FT120 with one million units from top automotive OEMs, and will begin deliveries in the second half of 2023," said Bob in den Bosch, Senior VP of Global Sales of Hesai.
The FT120 helps vehicles accurately identify small objects while turning, passing, and parking. Combined with Hesai's AT128 long-range hybrid solid-state lidar, the company says that the two sensors form a complete automotive-grade lidar perception solution.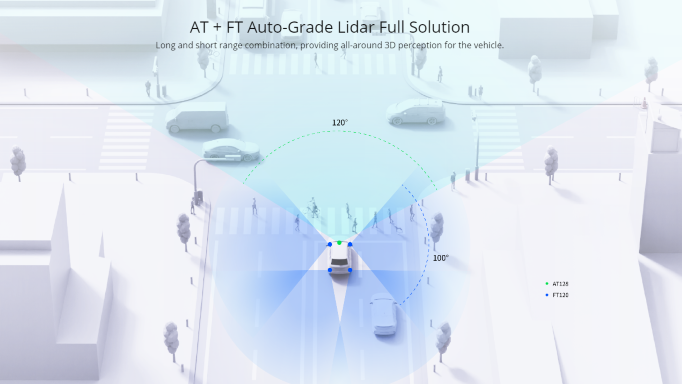 Founded in 2014 by Chief Scientist Kai Sun, CEO Yifan Li, and CTO Shaoqing Xiang, Hesai has become a global leader in lidar technology for autonomous driving and ADAS with a vision to empower robotics and elevate lives through high-performance, reliable, and low-cost 3D sensors. Last year was a high growth year for Hesai, and the company achieved a record lifetime milestone of 100,000 lidar units delivered. Its partner ecosystem expanded in the U.S. with companies such as Nvidia, Zoox, and Nuro.
For 2023, the company's new intelligent manufacturing center will begin operation in the summer. The addition of the Maxwell manufacturing center for automotive production in Shanghai will enhance mass production and delivery capabilities to over a million units per year.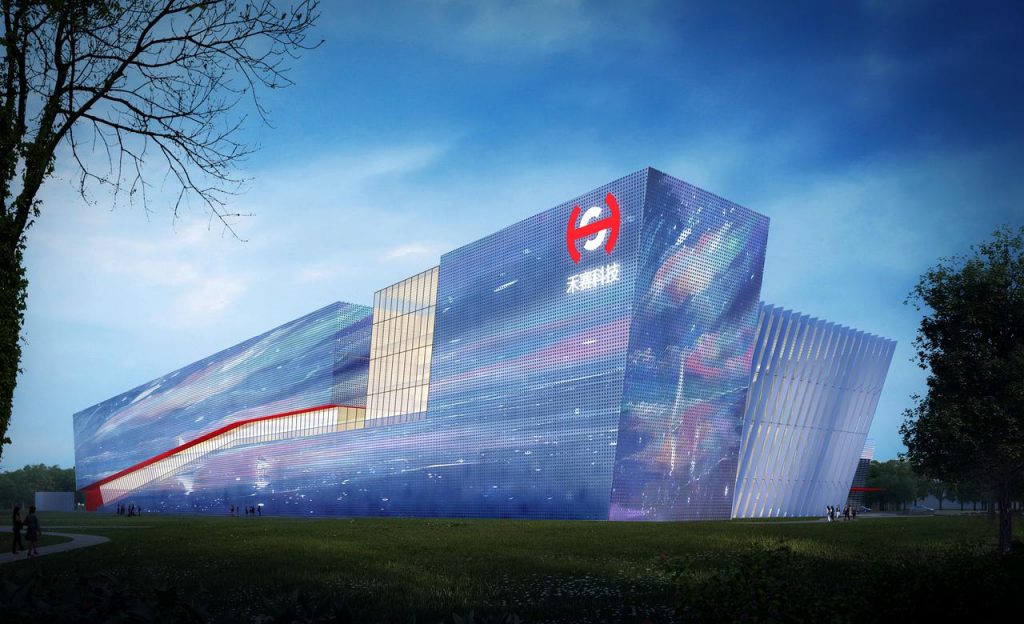 According to a report from strategic consultancy Yole Intelligence, on the market share of leading lidar manufacturers in automotive and industrial applications, the strong emergence of the intelligent driving industry in China means that Chinese manufacturers such as Hesai have become important players in the global market.
"Among the lidar manufacturers, Hesai ranks first in ADAS design wins, L4 autonomous driving LiDAR market share, and total revenue for automotive lidar," wrote Pierrick Boulay, Senior Technology & Market Analyst at Yole Intelligence.
Hesai is said to represent 27% of the existing design wins, with its AT128 sensor contributing significantly with multiple contracts from the world's leading automakers with officially disclosed partners like Li Auto, JiDU, HiPhi, and Lotus. The market research & strategy consulting company estimates that in 2022, more than 200,000 lidars will be manufactured and delivered, among which 20% are from Hesai, following just after Valeo.
The lidar market is projected to grow to $6.3 billion by 2027, and the growth will not be limited to automotive applications, according to Yole's research.
"Lidar can not only empower self-driving cars but also enable a wider range of industrial applications," said in den Bosch. "We have numerous collaborations with clients in various fields."
At CES, the company displayed Geocue's drone and Outsight's sensor to showcase how its products help clients gain a competitive advantage.