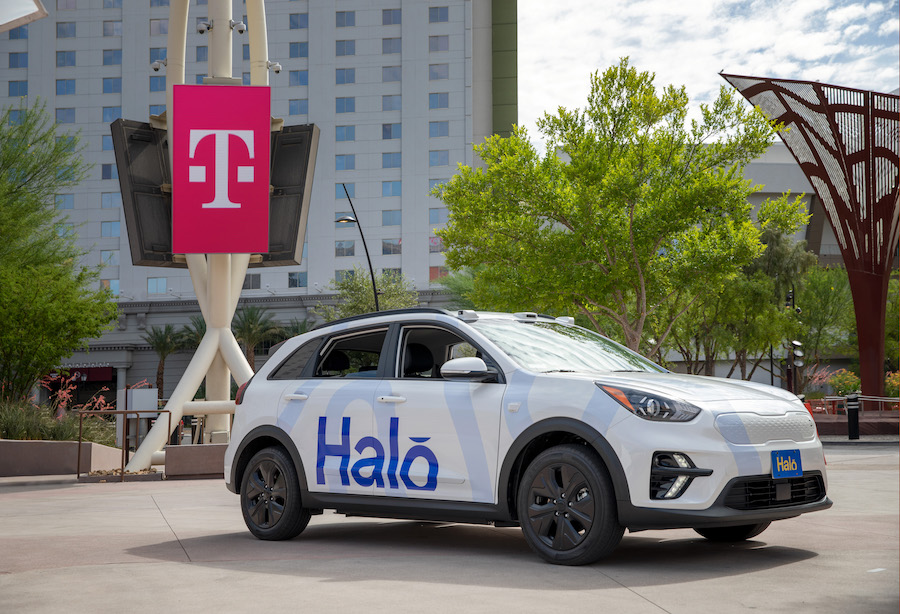 A new remote-controlled taxi service from autonomous vehicle startup Halo running on T-Mobile's 5G network is coming to Las Vegas later this year, the companies announced July 8.
Halo, a graduate of the 5G Open Innovation Lab co-founded by T-Mobile, was founded by executives from Uber, Cruise Robotics, Proterra, Amazon and more. It has operated on the T-Mobile 5G network since it began driving on Las Vegas' public roads earlier this year. 
"Driverless cars! Fueling this kind of startup innovation is part of why we've built the biggest, fastest and most reliable 5G network in the country," Mike Sievert, CEO of T-Mobile, said in a statement. "I can't wait to see what comes next as we work with startups, developers and entrepreneurs like Halo building the next big thing in 5G!"
Halo expects to first offer rides in urban parts of the Las Vegas Valley. When fully deployed in the city, the company hopes to replace the need for thousands of personally owned cars, for less traffic, air pollution and carbon emissions.

To use the service, riders will summon an electric vehicle (EV) via a mobile app. A Halo driver will remotely operate the car over T-Mobile's 5G network, sending it to the pickup location. 
"Driverless vehicles require a network with high capacity, broad coverage and low latency, making T-Mobile 5G a perfect match for developers such as Halo," John Saw, executive vice president of advanced and emerging technologies at T-Mobile, said in a statement. "There is a lot of work to do on the path to full autonomy, and Halo is taking a unique and intelligent approach to get there."
Upon arrival at the rider's destination, no parking is needed — the car will move to its next rider. Halo has developed an "advanced safe stop" mechanism enabling its cars to immediately come to a full stop if a potential safety hazard or system anomaly is detected. 
Although Halo's vehicles are currently remote-controlled, the company noted it has artificial intelligence software learning from the human operators in the background. The goal is for the AIs to achieve level 3 automated driving over time, meaning they can drive autonomously but will need a human driver to take control if the system demands. 
"Full autonomy is a massive challenge from both a technical and social trust perspective that won't be solved for years to come," Anand Nandakumar, the founder and CEO of Halo, said in a statement. "But Halo has been designed to address these challenges by building automation over time starting with a solution that consumers will feel comfortable using today."