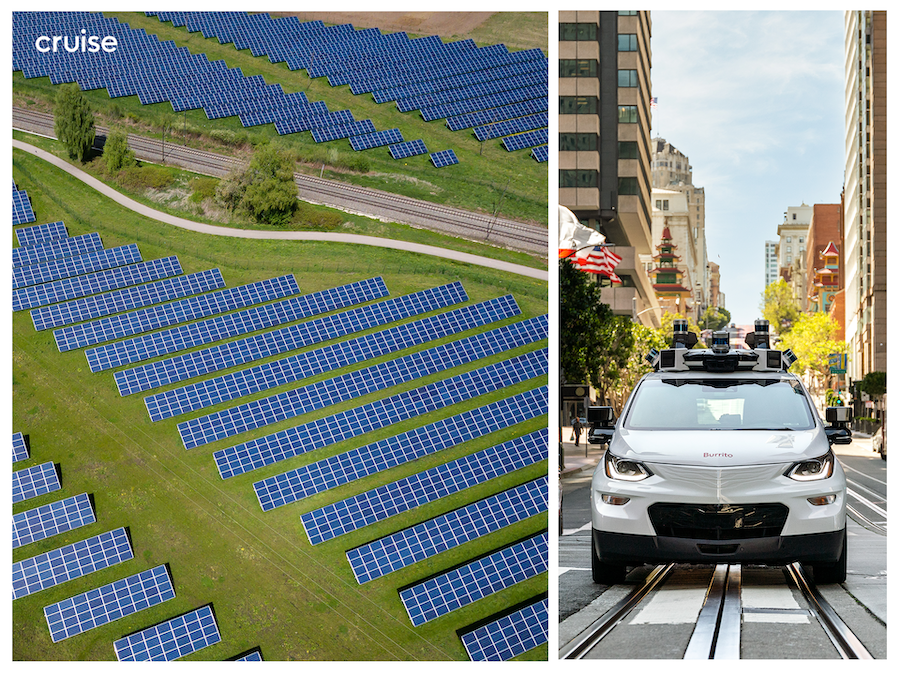 General Motors' self-driving subsidiary, Cruise, is launching a new project to help power its autonomous vehicles with solar power, the company announced August 25.
In the new program, called Farm to Fleet, Cruise will purchase renewable energy credits directly from family-owned farms in California to power its fleet of all-electric self-driving vehicles in San Francisco.
"This program is another step towards our vision of a cleaner transportation future for all — a future that, at scale, could equate to removing 2.9 million gas-powered cars from our roads while providing sustainable revenue and jobs for California's farms," Rob Grant, senior vice president of government affairs and social impact at Cruise, said in a blog post. "Farm to Fleet is a vehicle to rapidly reduce urban transportation emissions while generating new revenue for California's farmers leading in renewable energy."
Founded in 2013, San Francisco-based Cruise was acquired in 2016 by GM. Other key investors in Cruise include Honda and Microsoft, although GM retains a majority stake.

Cruise began sourcing solar renewable energy credits from farms in California's Central Valley that generate their own solar power on-site earlier this spring — farms such as Sundale Vineyards, a third-generation table and wine grape farm outside Tulare, and Moonlight, a family-owned fruit orchard near Fresno. 
"Sundale has installed 2 megawatts of solar capacity to, in part, power their 200,000 square feet of cold storage — the same panels that generate the renewable energy credits that Cruise uses to power its fleet," Grant said in the post. "Meanwhile, to power its state-of-the-art sorting and storage facilities, Moonlight has installed a combined 3.9 megawatts of solar arrays and two battery storage systems, offsetting electricity use by over 50 percent and generating renewable energy credits that Cruise purchases."
Through this initiative, "every mile that Cruise drives in California helps to directly generate economic opportunity for farmers," Grant said in the post. "And, this program could not be more timely. As California faces increasingly harsh droughts and water shortages exacerbated by climate change, Farm to Fleet provides an avenue for rural communities to create sustainable new revenue streams that are not dependent on crop yields or market price benchmarks."
Cruise worked with clean energy technology company BTR Energy to measure the potential impact Farm to Fleet would have on carbon emissions and on our economy. They found that even under moderate vehicle miles traveled, an all-electric ridehailing fleet charged by renewables could reduce California carbon dioxide emissions by 5.5 million metric tons per year by 2030. 
"That's 22 percent of the estimated total needed to reach California's emission reduction target," Grant said in the post. "Initial revenue projections from Farm to Fleet ranged from $13.3 million to $22.5 million in 2025, but rapidly scaled to $74.4 million to $104.2 million by 2035, gains that could go to renewable energy credit-producing farms like Moonlight and Sundale."
"As we strive for a greener, more sustainable future, creative approaches to electrification like Farm to Fleet can expand the benefits of clean energy for all," Grant said in the post. "We can invite everyone into this vision and create new jobs in the process — and we'll be better for it."
Photo courtesy: Cruise.