The roadways can be a dangerous place. Distracted drivers, congestion and unexpected obstacles all contribute to traffic accidents and even deaths—with more than 32,000 people in the U.S. losing their lives in car accidents in 2010, and another 2.4 million sustaining injuries, according to the World Health Organization.
The Insurance Institute for Highway Safety strives to reduce those numbers, and make the roads a safer place to travel. Since they first opened the Vehicle Research Center (VRC) in 1992, they've focused on testing and then rating vehicles on a variety of safety features, information consumers often use when deciding which car to buy.
The IIHS is the organization behind those famous crash test dummy videos that helped bring the importance of vehicle safety to the public's attention. But as the technology in today's cars evolves, so must the organization's methods of testing.
For the last two years, IIHS has worked with Virginia-based Perrone Robotics and the Australian firm Locata to develop a way to test autonomous collision avoidance features. Already available in cars today, collision avoidance systems can warn drivers when they're getting too close to another car or drifting out of their lane. Some vehicles also have automatic braking to avert accidents.
"More and more automakers are fitting cars with systems that intend to help drivers avoid crashes," said David Zuby, IIHS's executive vice president and chief research officer. "Our organization has a long history of promoting advancements that reduce car crashes, so we want to be in a position to evaluate these systems as they become more available on the marketplace."
IIHS is now entering the production phase of the Autonomous Vehicle Test System or AVTS, which uses robotics to conduct the precise, repeatable tests necessary for evaluating and comparing these emerging technologies. The AVTS, which itself should be ready for testing by the end of 2015, is designed to accelerate IIHS's evaluations and ensure that vehicle collision avoidance systems can safely and predictably operate on the roadways, said Paul Perrone, founder and CEO of Perrone Robotics.
AVTS Components
The Autonomous Vehicle Test System consists of four key elements—the Test Vehicle Drop-In Actuator Kit (DAK), target robots, AVTS software and a positioning system provided by Locata.
Using robotics for testing is more efficient because the IIHS staff will be able to know, without a doubt, that each test is performed in the exactly the same way, every time, Zuby said. Human drivers simply can't do that.
"The main goal is to enable us to carry out repeatable and precise tests of the crash avoidance technology that's in the cars we drive," Zuby said. "These tests will help us understand how these systems work and eventually enable us to offer guidance to consumers and to the auto industry about which systems work better than others."
The Robotics
The DAK, one of two robotic platforms that make up the AVTS, can be installed in any car in 30 minutes or less, Perrone said. The kit attaches to the steering wheel, brake and throttle and allows the test driver to sit in the passenger seat as the robot steers the car.
The DAK ties into a box that can be stored in the trunk, back seat or passenger seat, he said. That box houses the electronics that provide the data from various sensors, including speed sensors, the Locata positioning system as well as a heading sensor that lets testers know where the vehicle is so it can navigate according to a pre-defined path or a sequence of maneuvers.
The second robot is basically a dummy car, Perrone said, or balloon car that test vehicles can crash into without sustaining damage. This target robot is a mobile platform that carries a soft, crashable target and presents itself to the test vehicle as another automobile.
This dummy car can support collisions of up to 55 mph and if the test car and target robot collide, the test vehicle simply bumps into the soft target and drives over the robotic platform.
"You can have any number of robotic vehicles or test vehicles, IIHS can set up any kind of test they want at actual highway speeds in their outdoor track or on the expanded indoor track they're building," Perrone said. "The vehicles can communicate their positions to one another and modulate their speed based on information from the other vehicles."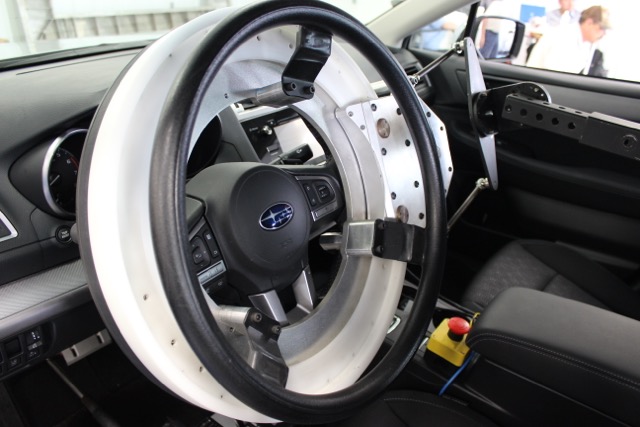 Perrone Robotics