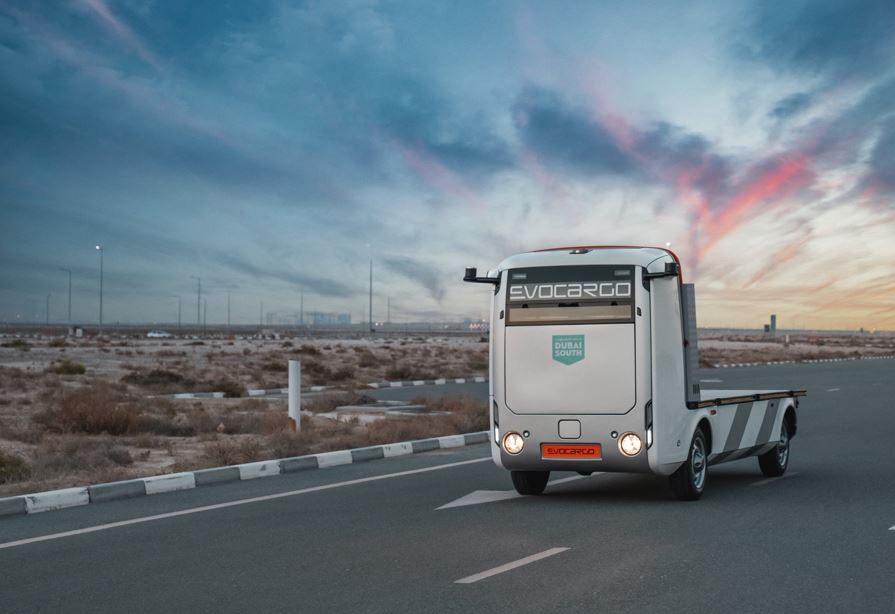 The first autonomous truck trials for cargo in the United Arab Emirates have launched, officials announced Dec. 14.
The new trials will see Dubai-headquartered logistics company Evocargo's unmanned electric logistics vehicle, EVO1., navigate the logistics district in Dubai South, an emerging 145-square-kilometer city situated within the emirate of Dubai. Located between Dubai and Abu Dhabi, Dubai South is home to the now-operational Al Maktoum International Airport, designed to be the largest airport in the world when complete.
"We are delighted to enter into a strategic agreement with Evocargo to launch the UAE's first autonomous trials, setting new global benchmarks and consolidating the leadership status of the country's logistics sector," Mohsen Ahmad, CEO of Dubai South's logistics district, said in a statement. "Besides improving operational efficiency, our partnership will help scale supply chain operations and achieve sustainability. At the logistics district, we are mandated to support the industry and accelerate the UAE's rapidly advancing logistics sector."
The driverless platform has a lifting capacity of 2 metric tons, and it can accommodate up to six standar European pallets moving at 25 kilometers per hour for up to 200 kilometer. Charging one of the vehicles for a full day's operation takes 40 minutes to six hours, depending on the outlet.

During the trials, a remote operator will be stationed onsite in a control center to manage the platform. The center, located in Dubai South's logistics district, includes a software suite to monitor the EVO.1's operation, check the serviceability of the sensors, and identify any errors.
The trials will take place from December 2022 to February 2023. A key objective of the trials is to enable Evocargo to modify and redesign EVO.1 specifically for the Middle East and North Africa.
"This is Evocargo's first venture into autonomous vehicles in such a global multimodal logistics platform," Andrey Bolshakov, founding CEO of Evocargo, said in a statement. "This trial is a significant milestone for the company as it unlocks opportunities to expand our products in the strategic Middle Eastern and Asian markets."
Officials noted the autonomous trucks should increase freight transportation efficiency and significantly reduce truck downtime. Automation and using electricity and hydrogen fuel cells instead of conventional fuel also offers cost efficiencies, they noted.
All in all, Dubai officials noted its autonomous transport strategy, which encompasses metros, trams, buses, taxis, marine transport, cable cars and shuttles, may help reduce transportation costs by 44 percent, saving Dh1.5 billion through the reduction of environmental pollution and Dh18 billion through raising the efficiency of the transport sector by 20 percent.