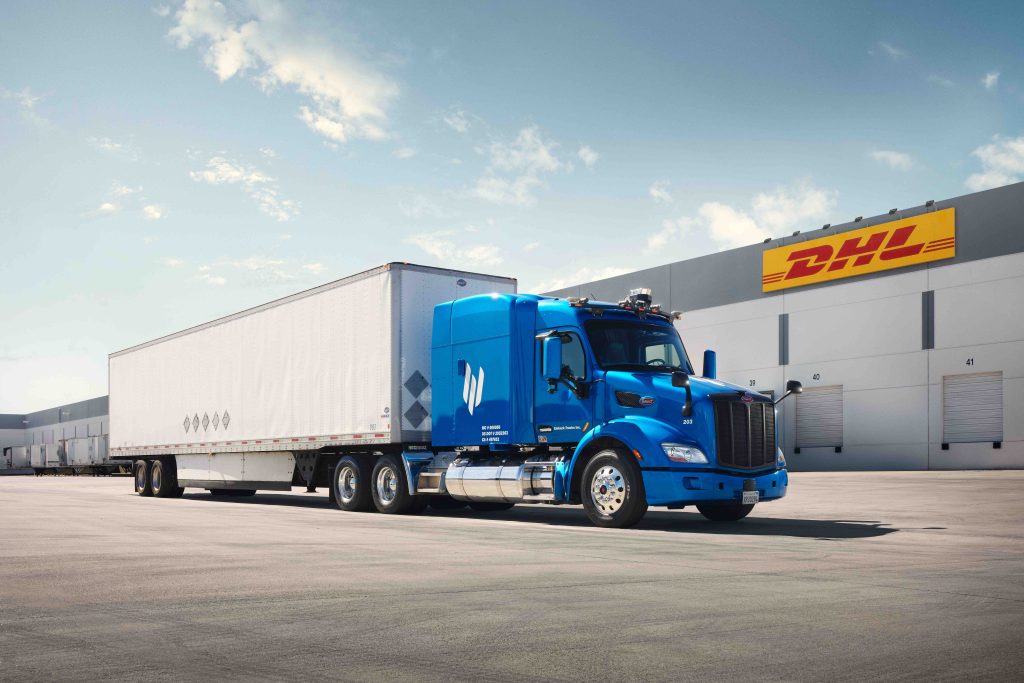 DHL and driverless trucking technology company Embark Trucks are partnering to deploy a fleet of autonomous trucks starting in 2024, the companies announced Oct. 28.
Headquartered in San Francisco since its founding in 2016, Embark is America's longest-running self-driving truck program. So far it has received more than 14,200 reservations for autonomous trucks equipped with the Embark Driver software, whose commercial launch is planned for 2024.
"The logistics industry relies on advanced technology solutions like automation to adapt to growing demand and increased expectations around speed," Jim Monkmeyer, DHL Supply Chain's president of transportation, said in a statement. "DHL joined Embark's Partner Development Program to prepare for and mold the deployment of autonomous trucks across its network. We're thrilled to work together so that our end-customers can unlock the efficiencies of autonomous freight."
DHL and Embark noted they have conducted a detailed network analysis to begin planning for key factors in deployment, such as determining which lanes to prioritize, where delivery times could be accelerated, and calculating truck volume needs, among other considerations. This planning is intended to ensure that DHL is able to derive maximum value from autonomous trucks once they are commercially deployed.

"We are excited to deepen our partnership with DHL, defining where and how autonomous trucks can best slot in alongside other modes of transportation to deliver incremental value to DHL customers," Alex Rodrigues, CEO of Embark, said in a statement. "DHL and Embark are methodically identifying the best-suited lanes and customers for early deployment, building the groundwork ahead of 2024 commercial deployment."
Looking ahead, DHL and Embark noted that they plan to work through a number of key questions, such as which DHL facilities to map directly into Embark's coverage map to support point-to-point movements, where autonomous trucks may provide an opportunity to grow total miles traveled, and how to prepare the broader DHL workforce for this transformation.
In September, Embark and Ryder similarly announced they are partnering to launch up to 100 transfer points nationwide to support autonomous trucking. Embark plans to establish a network of strategically located transfer points for Ryder where freight is moved from driverless long-haul trucks to driver-enabled trucks for first- and last-mile delivery, while Ryder aims to serve as the transfer point operator, managing the logistical operations throughout the yard, performing pre- and post-trip inspections, and providing maintenance services for the vehicles as well as the autonomous hardware.
These recent partnerships come ahead of Embark's planned debut as a public company valued at $5.2 billion. The deal, first announced in June and set for November 9, will involve merging with Northern Genesis 2, a special purpose acquisition company (SPAC). SPAC mergers are an increasingly popular way for companies to go public compared with the traditional method, an initial public offering (IPO). Similarly, autonomous driving technology startup Aurora, which acquired Uber's autonomous vehicle technology in December, announced in July that it would soon go public via a SPAC merger, a deal valued at $13 billion.