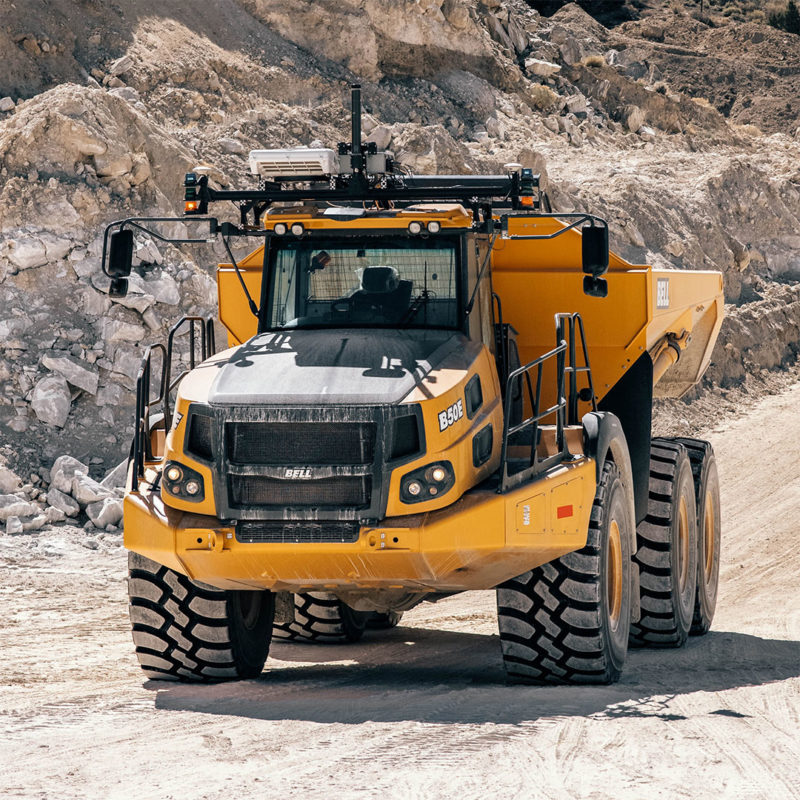 Bell Trucks America is teaming up with Pronto AI to develop what they say will be the first commercially available off-road truck featuring Society of Automotive Engineers (SAE) Level 4 autonomy, the ability to act without any human intervention in the vast majority of situations, the companies announced Feb. 24.
The companies are working on a self-driving articulated dump truck to haul weighty loads. In a traditional so-called rigid dump truck, the chassis is one single piece of metal. In contrast, an articulated dump truck has a chassis divided into two sections—a front section called the tractor, which contains the cab, and a back section called the trailer, which carts loads. These sections can move independently, giving an articulated dump truck a much tighter turning radius than a rigid dump truck. 
Articulated dump trucks experience better handing and control than rigid dump trucks, proving especially handy in tight corners and on rugged terrain. As such, articulated dump trucks often find use in construction and mining.
The self-driving E-series articulated dump truck from Pronto and Bell—the first in North America—combines Pronto's plug-and-play AI hardware and software with Bell's autonomous-ready platform. Bell and Pronto have tested a B50E truck on several mine sites on the West Coast since November 2020, where it has performed autonomously through full load and haul cycles over and over again.
"We're excited about the partnership for many reasons, but we're most excited for the same reasons we chose Pronto – not only is their technology the best, but it can be deployed at a fraction of the cost and time required to deploy any competitive technology," Mitch Nevins, CEO of Bell Trucks America, said in a statement. "We already think we sell the best articulated trucks in the market, and now we're able to provide our customers with the most technologically-advanced trucks as well."
Pronto's self-driving technology is the only system to date that has successfully driven coast-to-coast—San Francisco to New York—without any driver input into a vehicle's controls. Now Pronto is applying that technology to less congested and more predictable off-road operations, providing multiple layers of safety protections.
"We're thrilled and honored that Bell Trucks America has chosen Pronto as its exclusive autonomous technology partner," Anthony Levandowski, CEO of Pronto, said in a statement. "We started Pronto out of a desire to build real applications for autonomous technology today, and our partnership with Bell Trucks America is confirmation that our technology and strategy are providing valuable solutions to real world problems."
The new partnership establishes Pronto as the exclusive provider of autonomous and advanced driver-assistance solutions (ADAS) technology for Bell. As part of the collaboration, Pronto will make its technologies available to all Bell customers in the United States and Mexico on both new Bell truck purchases and existing fleets via Bell's network of more than 25 dealerships and service centers.
"The opportunity to bring this technology to the market with a partnership between Pronto AI and Bell is extremely exciting for us," Nevins said in a statement. "This is new ground for our dealers and customers to explore, and for many we see this as a game changer in cost per ton haulage. Autonomy provides consistency in every area of the job scope — production, safety, operation, and maintenance — and provides flexibility in operations to ensure a competitive edge and increased profitability."