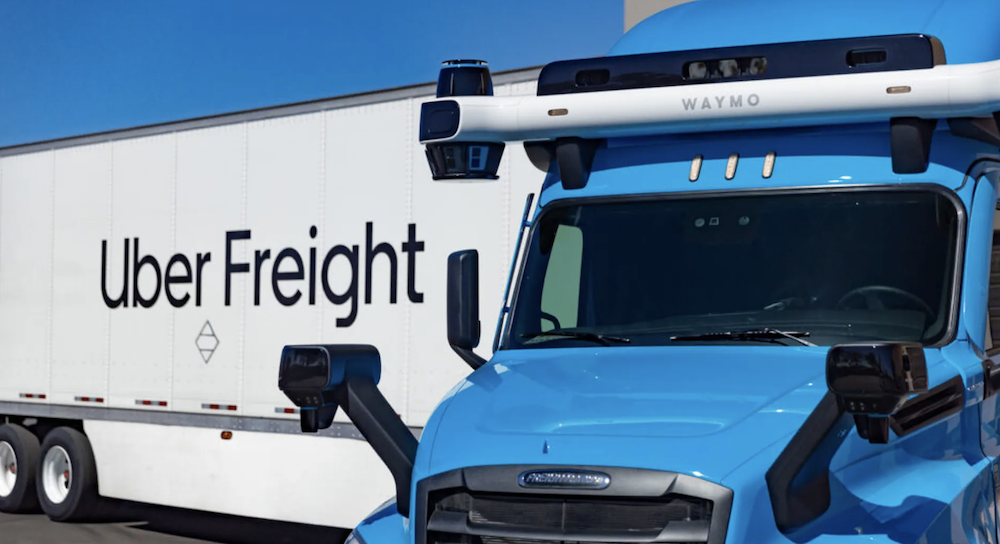 Google's sibling company Waymo is partnering with Uber to deploy autonomous trucks on the Uber Freight network, the companies announced June 7.
Uber Freight's app matches carriers with shippers, much in the same way Uber's ride-hailing app connects drivers with those looking for a ride. The companies noted this alliance united Waymo's autonomous driving system, the Waymo Driver, with the scale of Uber Freight's network to help bring self-driving trucks onto roads across the United States.
For example, carriers that purchase trucks equipped with the Waymo Driver in the future will be able to opt in to Uber Freight's marketplace through user-friendly applications letting them seamlessly deploy their autonomous assets on the Uber Freight network.
"Uber Freight's extensive, efficient, and reliable digital network is essential to making autonomous trucks a reality," Lior Ron, head of Uber Freight, said in a statement. "We are uniquely positioned to be the preferred network for autonomous trucks, with the scale and the marketplace expertise to deploy autonomous trucks in a way that benefits the entire industry."

Waymo's autonomous delivery division, Waymo Via, also intends to reserve billions of miles of its goods-only capacity for the Uber Freight network. The aim is to help unlock capacity at a time when shippers need it most.
"Uber Freight's network of shippers, carriers, and marketplace technology is a great match for the Waymo Driver," Charlie Jatt, head of commercialization for trucking at Waymo Via, said in a statement. "Through this partnership, we can empower carriers to fully utilize their investments in the Waymo Via solution through Uber Freight and create a great experience for shippers, while keeping our focus on developing the core Driver technology. We're really excited to see how this partnership can impact the logistics industry and solve critical challenges over the next decade and beyond."
The companies noted the scale and depth of this partnership means that Uber Freight, alongside its logistics subsidiary Transplace, will be able to integrate autonomy seamlessly into shipper networks and advise on how best to adjust their supply-chain strategies for a hybrid network future, where autonomously-driven trucks and human-driven trucks operate side by side to move freight more efficiently and safely. 
Additionally, the companies will explore what the transfer hub model could look like with Uber Freight's universal trailer pool program, Powerloop, for easy and fast transfers between autonomous trucks and human drivers, streamlining operations between the first, middle and final mile.
"Partnering with Uber Freight opens up really interesting opportunities for us to help scale the Waymo Driver," Boris Sofman, head of engineering for trucking at Waymo Via, said in a statement. "By combining the Waymo Via solution with the Uber Freight platform, we'll be able to apply proven marketplace technology to help carriers dynamically deploy the Waymo Driver where it's most valuable and most capable. We can't wait to see what else comes from this deep collaboration."
In December, autonomous driving startup Aurora similarly noted it was partnering with Uber Freight to explore moving freight with self-driving trucks. Aurora, which was founded in 2017 and debuted as a public company in November, acquired Uber's autonomous vehicle technology at the end of 2020. As part of the deal, Uber acquired a 26% stake in Aurora.