Hyundai Motor Group wheeled out its new driverless freight carrier, the Transforming Intelligent Ground Excursion Robot (TIGER).
In other developments, Hyundai Motor Group walked out its new driverless freight carrier, the Transforming Intelligent Ground Excursion Robot (TIGER).
TIGER can operate either as a four-wheel drive vehicle or a four-legged walking machine. The company's second Ultimate Mobility Vehicle (UMV) and the first designed to be uncrewed, TIGER is destined to carry various types of payload over challenging terrain.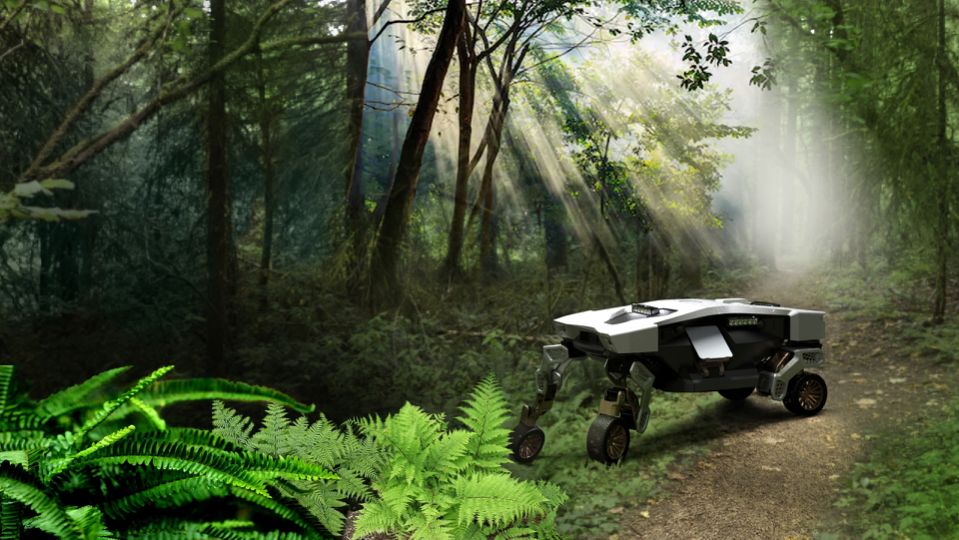 Based on a modular platform architecture, its features include a sophisticated leg and wheel locomotion system, 360-degree directional control, and a range of sensors for remote observation. Designed to function as a mobile scientific exploration platform in extreme, remote locations, it can also connect to unmanned aerial vehicles (UAVs), which can fully charge and deliver TIGER to inaccessible locations.
A large load bay housed within its body means TIGER can carry goods for delivery, or be deployed to deliver aid packages in emergency situations. Leg-wheel articulation enables TIGER to tackle a range of extreme situations while keeping payloads more level than a typical ground vehicle.
The current project version measures roughly 20 by 12 by 7 inches, approximately the size of a carry-on bag. It could conceivably be scaled up to larger size. 
With its legs retracted, TIGER drives like an all-wheel drive vehicle and is in its most efficient mode because it moves by rolling traction. But when the vehicle gets stuck or needs to travel over terrain that is difficult or impassable for wheels alone, it uses its walking ability to get unstuck or more easily travel over that terrain.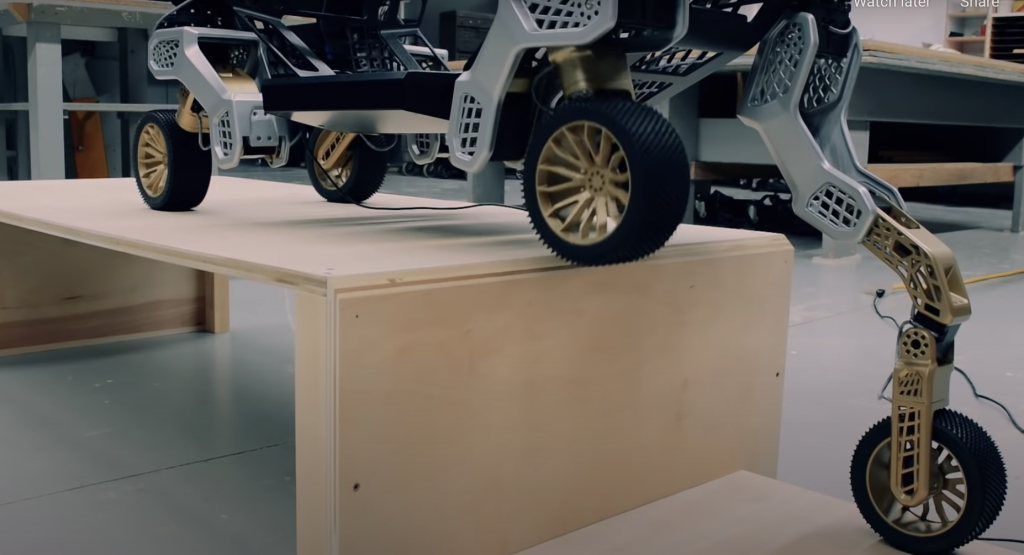 The prototype TIGER X-1 brings together the technological and design expertise of Hyundai Motor Group's New Horizons Studio, Autodesk engineering design software company and external concept design experts Sundberg-Fera. The teams have been working together to create a lightweight but incredibly strong structure, with the legs and certain chassis elements created using carbon fiber composite additive printing.
TIGER X-1 can deliver and retrieve critical payloads across rugged terrain, such as areas struck by natural disaster or the surface of another moon or planet. TIGER is related to Hyundai's earlier ELEVATE vehicle, also four-legged and four-wheeled but designed to carry passengers and requiring a human driver.
"TIGER is a modular platform design allowing different bodies to be attached to the chassis for unique applications such as cargo delivery or surveillance in locations not suitable for humans," said David Byron, Manager of Design and Innovation Strategy at Sundberg-Ferar. 
Hyundai's New Horizons Studio is headquartered in Mountain View, California. Autodesk software and services harness emerging technologies such as additive manufacturing (3D printing), artificial intelligence, generative design, and robotics. Sundberg-Ferar was founded in 1934 and is based in Detroit.
A showcase video of TIGER X-1 is available at Hyundai Motor Group's official YouTube channel.