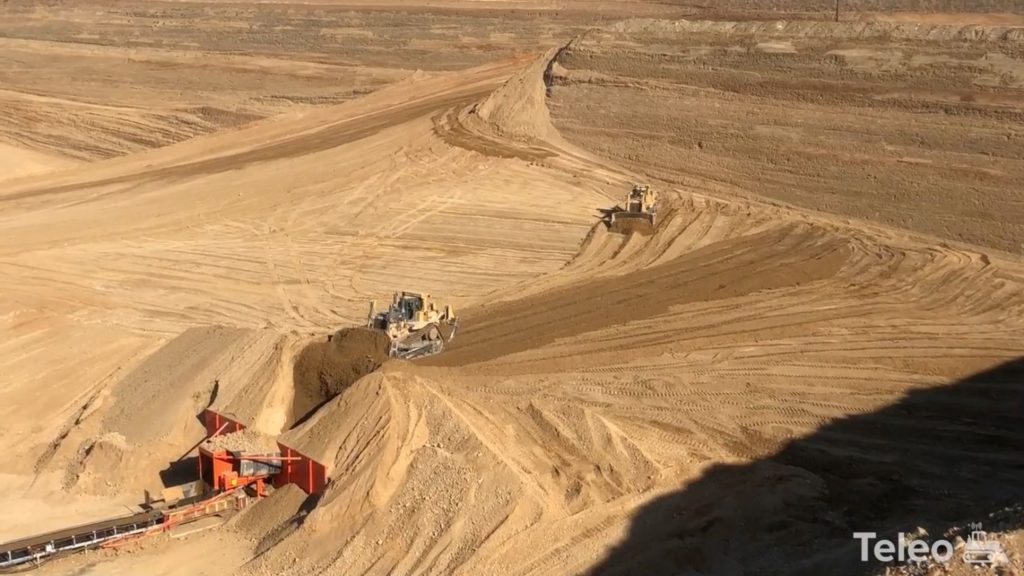 One of the biggest challenges facing heavy civil and mining contractors today is the shortage of skilled labor. Finding and retaining operators to run heavy equipment like bulldozers, excavators, trucks, and wheel loaders are becoming increasingly difficult.
To address this challenge, Palo Alto, CA-based startup Teleo is developing autonomous vehicle technology that retrofits contractors' existing heavy equipment and turns the machines into semi-autonomous robots. The company's solution lets construction and mining contractors run their heavy equipment without an operator in the cabin. Instead, Teleo Supervised Autonomy technology enables the operator to control multiple pieces of equipment while sitting at a remote-control station, which it says significantly enhances both safety and productivity.
The company was founded in 2019 by Lyft autonomy alumni CEO Vinay Shet and CTO Rom Clement. Shet was previously Director of Product Management at Lyft Level 5, leading the mapping, data, and knowledge efforts for Lyft's self-driving car initiative. Prior to Teleo, Clement was the Head of Hardware Engineering at Lyft, directly responsible for the design, manufacturing, and operation of Lyft's self-driving cars. They lead a team with expertise in building autonomous vehicles and developing foundational technologies, coming from companies like Tesla, Google, Zoox, Archer, Amazon, and BAE Systems.
One of Teleo's first big breaks came in January 2021, when Deere & Company added four companies to its 2021 Startup Collaborator program, with Teleo getting the nod with other startups Nori carbon removal marketplace, NVision Ag for managing nitrogen loss, and Scanit Technologies for autonomous airborne pathogen detection.
The year-long Deere program was launched in 2019 to provide flexibility for Deere and startup companies to test innovative technologies with customers and dealers without a more formal business relationship. Startups also gain affiliation with and mentoring from a world-class leader in technology for agricultural and construction equipment.
"The Startup Collaborator program is one way we can continue the innovative spirit that has helped define John Deere for more than 180 years," said Julian Sanchez, Director, Emerging Technology for John Deere. "We are excited to welcome these companies into the collaborator program and look forward to them helping us drive better returns for our customers."
Since the Deere boost, others have taken notice of Teleo.
The company announced in June that it had raised a $12 million Series A investment, the round led by UP.Partners, with Adam Grosser, Chairman and Managing Partner at UP.Partners, joining Teleo's Board of Directors. New investors F-Prime Capital and K9 Ventures joined the round. Trucks Venture Capital, which led Teleo's seed round, participated again.
"We believe [Teleo's] approach to bringing human supervised autonomy to the heavy equipment market is incredibly insightful and important," said Grosser. "Teleo's technology positively impacts the ROI of operation, while both upskilling the operator community and increasing safety levels."
Many contractors currently use a mixed fleet of heavy equipment from a variety of OEMs including John Deere, Caterpillar, and Komatsu. Teleo's proprietary technology works across all heavy equipment types and brands.
With Teleo Supervised Autonomy technology, the remote operator can set a machine into autonomy mode for certain use cases or actions, choosing which machines to control and which to allow to operate autonomously. The technology offers live feeds and advanced analytics to enhance contractor insight and improve performance, often providing better visibility and control than is possible for an operator sitting in the cab.
Teleo's leaders say they believe the latest advancements in engineering should be leveraged to improve people's lives in the near term. It's why they're building toward autonomy incrementally and offering Teleo products through heavy equipment distributors. 
One of those distributors is RDO Equipment Co., which offers Teleo Supervised Autonomy technology to contractors in relevant market areas. RDO is a Fargo, ND-based construction equipment and technology supplier and one of John Deere's largest dealerships.
Partnering with RDO will allow Teleo to scale the deployment of its systems while offering customers service and support. Teleo supplies OEM-agnostic technology to RDO, which provides integration, supports operator training, and maximizes uptime for contractors.