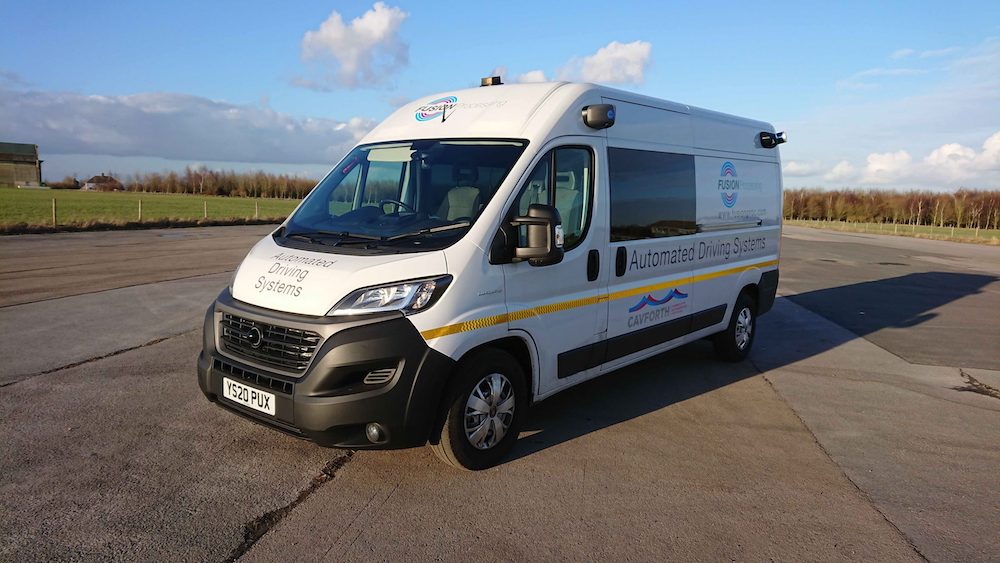 British autonomous technology company Fusion Processing is experimenting with a self-driving version of the Fiat Ducato, Europe's most popular motorhome, as it ramps up work on an autonomous bus fleet, the company announced March 10.
Fusion heads Project CAVForth, which seeks to build, test and deliver a scheduled passenger bus service over a roughly 30-mile route with five buses operating with Level 4 autonomy—that is, the ability to act without any human intervention in the vast majority of situations. The consortium running the project includes Stagecoach, the United Kingdom's largest bus operator; Alexander Dennis, the United Kingdom's largest bus manufacturer; and highway management authority Transport Scotland.
Fusion equipped a Fiat Ducato with Level 4 autonomy using Fusion's CAVstar AI sensor and control system. "It's been amazing to see how quickly the engineering team have taken a stock Fiat Ducato and upgraded it to a fully autonomous vehicle," Fusion Processing marketing director Jim Fleming said in a statement.
The company will employ this automated driving system (ADS) for Project CAVForth in five Alexander Dennis E200 single-decker 43-seater buses. Stagecoach will operate the service over a 28-mile round-trip on the outskirts of Edinburgh, mostly on motorways controlled by Transport Scotland. 

"We needed a vehicle on which to install the automated driving system developed for CAVForth, and although we have a full-size bus in our Bristol facility, the Ducato crew van serves as a more convenient test platform to take on the road and measure the system performance," Fleming said.
The main purpose of the new autonomous motorhome "is to support the CAVForth project, but it's also now very clear that it makes a great showcase to demonstrate how Fusion's CAVstar automated driving system may be used to convert a regular vehicle to Level 4 autonomy," he said.The buses are currently undergoing track tests. The autonomous bus service is expected to start in the second half of 2021, with the vehicles required to safely interact with other traffic in a live road environment, negotiating junctions and bus stops while carrying fare-paying passengers at speeds of up to 50 miles per hour.