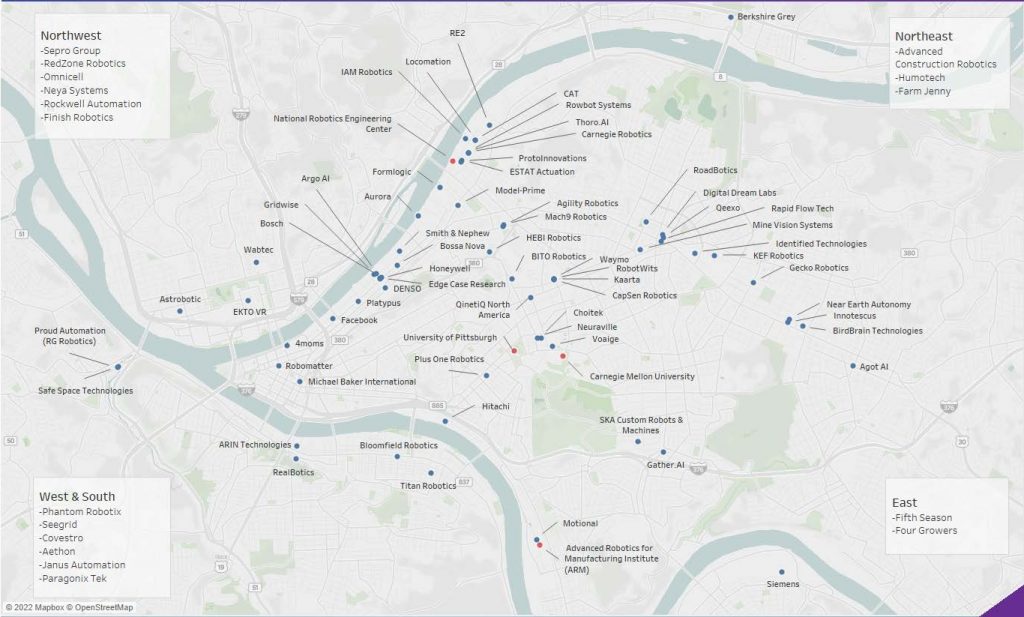 The Pittsburgh robotics ecosystem is getting a big boost with the launch of the Robotics Factory led by Innovation Works with the support of the Pittsburgh Robotics Network and other regional partners like the Allegheny Conference on Community Development. The factory's set of programs is part of the $63 million Build Back Better Regional Challenge grant awarded by the U.S. Economic Development Administration (EDA) to the Southwestern Pennsylvania New Economy Collaborative.
The Robotics Factory is aimed at creating, accelerating, and scaling robotics startups in the Pittsburgh region. Its Accelerator Program kicks off first, with applications opening the month for startup companies in robotics, "robotics-adjacent sectors," and other advanced technologies related to robotics.
The regional EDA grant allows southwestern Pennsylvania to seize a once-in-a-generation opportunity to further the regional robotics and autonomy cluster—a sector for which Pittsburgh's expertise and leadership are globally recognized. It is funding five regional projects including the Robotics Factory that are designed to provide long-term opportunities for individuals, businesses, and communities to become involved in this burgeoning sector, especially those who have been excluded from opportunities for employment, wealth creation, and innovation generated by robotics and autonomy.
"The Robotics Factory will further the region's efforts to grow robotics startups and link them to industry and manufacturing capabilities," said Ven Raju, President & CEO of Innovation Works. "What captured the attention of the EDA and made the southwestern Pennsylvania application stand out for the competitive Build Back Better grant was the region's cohesive approach to building and leveraging the workforce and capabilities of robotics industries."

With four-year support from the EDA, the Robotics Factory is being led by Innovation Works, which will match a portion of the $12 million provided by the EDA with additional operating and investment capital to provide seed funding to selected startups to help them grow. It is comprised of three programs: Create, Accelerate, and Scale.
The Create Program will drive innovation by bringing entrepreneurs, technology experts, and researchers together with specific industry experts to define existing and emerging problems and identify solutions. Innovation Works and the Pittsburgh Robotics Network will convene and facilitate multiple workshops per year, each focused on a specific industry/customer segment such as agriculture, construction, and aviation. Entrepreneurs, technology experts, and researchers from southwestern Pennsylvania will be selected to meet with industry leaders to understand their pain points and collaborate on developing innovative solutions to these problems/defined needs.
The Accelerate Program is an opportunity for up to six pre-seed robotics startups to receive up to $100,000 in funding from Innovation Works, mentorship, and resources to take their companies to the next stage of growth. Similar to Innovation Works' AlphaLab accelerators, the Robotics Factory accelerator is an intensive, seven-month program, during which companies will move into the Robotics Factory's co-working space, have access to manufacturing and robotics resources including a production-grade prototype shop and a robot lab, and receive coaching and support tailored to their specific business needs.
They will also have access to mentorship opportunities with other Pittsburgh-based robotics companies and national and global industrial partners via the Pittsburgh Robotics Network. Startup companies can apply for the accelerator this month. To find out more about the Robotics Factory, sign up for a February 15th webinar on its Accelerate Program.
The Scale Program provides expertise in product prototypes and services to help startups develop production-ready products with in-house design for manufacturing, supply chain management, prototyping assistance, and access to the region's manufacturing resources. The Robotics Factory includes a production-grade prototype shop with staff to support product development and low-rate production, as well as focusing on the production of complex physical products.
Building on a legacy
As with most robotics initiatives in southwestern Pennsylvania, the nonprofit Pittsburgh Robotics Network is firmly behind the project, assisting Innovation Works in marketing the programs of the Robotics Factory.
"Pittsburgh is a world leader in robotics and automation, and the Robotics Factory helps take this to the next level by providing the mentorship, resources, and connections needed to take new innovative concepts from the idea stage to a commercial solution that can be deployed at scale," said Joel Reed, President & CEO of the Pittsburgh Robotics Network. "The Robotics Factory provides an opportunity for aspiring entrepreneurs to learn how to develop successful solutions to pressing industry challenges."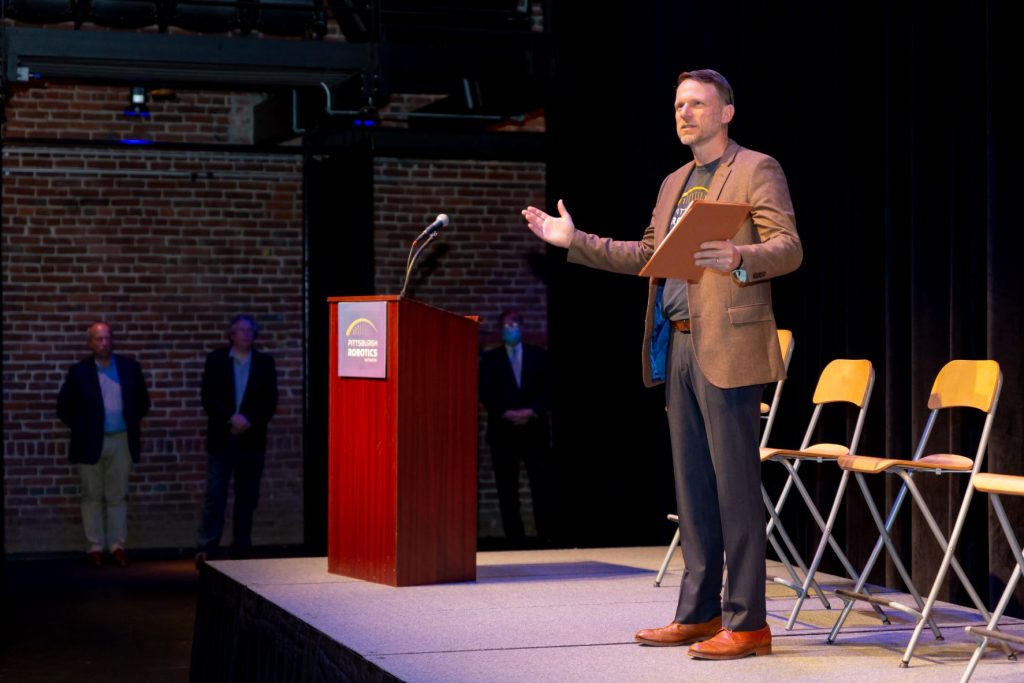 Founded by Board Chairman Kevin Dowling, who also is CEO at 3D models and maps SaaS (software-as-a-service) company Kaarta, the Pittsburgh Robotics Network represents the companies and leaders who make up the Pittsburgh robotics ecosystem, which is anchored by Carnegie Mellon University and driven by local robotics organizations. Its mission is to accelerate the adoption of robotic solutions by making connections, expanding collective knowledge, and positively influencing the advancement of robotic and artificial intelligence technologies.
The Pittsburgh Robotics Network is carrying on and honoring the great legacy of robotics in Pittsburgh, which is most well-known as the incubator of the fledgling autonomous vehicle from the U.S. DARPA Grand Challenges of the 2000s. Last year, Dowling presented the non-profit's first Pittsburgh Robotics Impact Award to Dr. William "Red" Whittaker, who many consider the father of the field robotics industry.
Whittaker, still a professor of robotics at Carnegie Mellon's Robotics Institute, has developed dozens of robots, breaking new ground not only in field robotics but also in autonomous vehicles, space exploration, mining, and agriculture. He led the development of the robots that cleaned up Three-Mile Island after the 1979 nuclear accident and the autonomous vehicle that won DARPA's $2 million Urban Challenge in 2007 with CMU's Tartan Racing vehicle named Boss. Whittaker was also instrumental in establishing the university's National Robotics Engineering Center and Field Robotics Center. Along the way, his students and colleagues have gone on to start or rise up the career ranks of many of the industry's most innovative robotics and autonomous vehicle companies.
The Pittsburgh Robotics Impact Award is just one example of the Pittsburgh Robotics Network's initiatives led by Executive Director Reed. Calling upon his previous experience at Innovation Works and local robotics companies Seegrid and IAM Robotics, he is looking to harness the innovation and potential for new business development in the region from the non-profit's office on Pittsburgh's "Robotics Row." He has three primary focuses.
"We promote all our stakeholders, not only our member companies here in Pittsburgh but also our partners and our sponsor stakeholders and industry partners," said Reed. "We create strategic connections that lead to the acceleration of their business. And we're looking to create some influence in the marketplace."
When Reed started at Pittsburgh Robotics Network in 2020 at the beginning of the COVID epidemic, the organization was tracking about 40 to 50 local robotics companies, but quickly realized it was actually more like 80 companies at the time, making the Pittsburgh area one of the top robotics regions in the world.
"We could substantiate that on several different levels," he said. That included comparisons to robotics clusters in Boston and San Francisco areas, who are now partners; activities in Denver and Austin; and globally in Israel and Odense, Denmark.
Pittsburgh Robotics Network's recently updated Pittsburgh Robotics and Autonomous Systems Cluster profile now features 100+ companies across many industries and market segments, as well as 40+ ecosystem organizations. However, Reed sees much more potential for the region.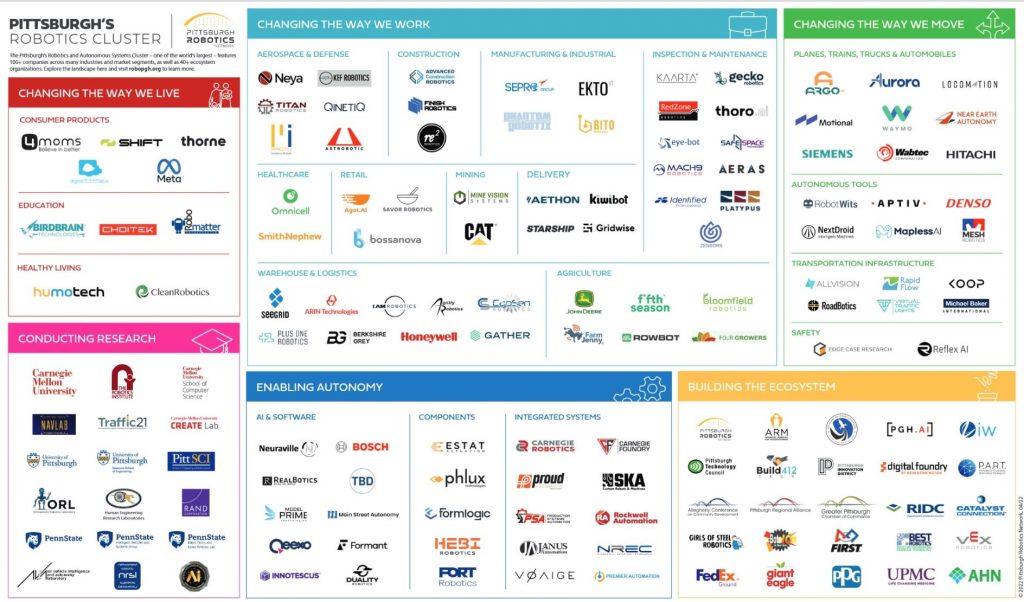 "We are first in almost every category when it comes to AI and robotics, but we have gaps, and we want to address those gaps," he said. "So, we came up with a new mission: to connect this robotics community with worldwide industry networks."
Filling in the gaps
Cascadia Capital had the same idea to connect the Pittsburgh robotics community with worldwide industry networks, creating what it says was the first of its type robotics event in the industry and partnering with the Pittsburgh Robotics Institute to bring that event to Pittsburgh last year. The Cascadia Connect RAAI (Robotics, Automation, and Artificial Intelligence) Conference "is exactly what we want to do—bring people to Pittsburgh and start building those relationships," said Reed.
To promote that connectivity, Michael Butler, Chairman and CEO, of Cascadia Capital, and Chairman, of Cascadia Acquisition Corp., kicked off that event with a fireside chat with Reed and Andra Keay, Managing Director, of Silicon Valley Robotics and Fady Saad, Co-Founder of MassRobotics and General Partner at Cybernetix Ventures. The group shared how they are working as robotics clusters to support the ecosystems in their various geographic regions and across the U.S. The event not only discussed autonomous vehicles but also innovations in healthcare, robotics, logistics companies, and agriculture technology.
The Pittsburgh Robotics Network is supporting the return of Cascadia Connect in 2023.
"We're going to make this cemented as an industry event that we can do each year to bring investors and what I term market makers together with the leading innovation and robotics development leaders," said Reed. "There are great conferences elsewhere, but I think we've carved out this new space that fits our mission, but also does something for the industry. We expect there to be tangible outcomes from these types of events that help these companies accelerate what they're doing and bring better solutions to the market faster."
This year's event will be held May 1-3 at The Fairmont Pittsburgh. Contact Cascadia Capital's Jason Lippenberger at jlippenberger@cascadiacapital.com to request an invite.