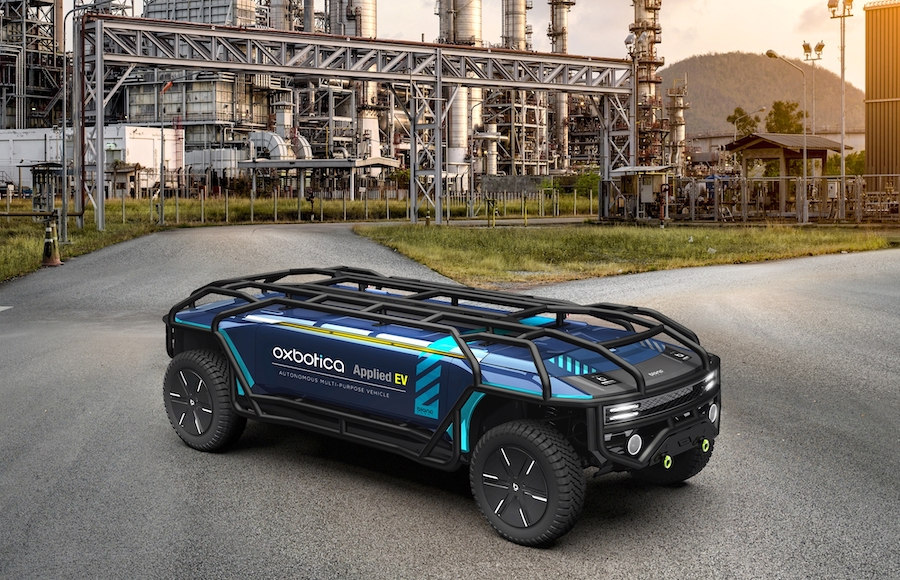 Autonomous driving software company Oxbotica is teaming up with autonomous electric automaker AppliedEV to develop a fully autonomous multi-purpose vehicle, the companies announced Sept. 8.
The AppliedEV driverless platform, Blanc Robot, resembles a giant skateboard. The versatile system is a fully autonomous electric vehicle that can accommodate a variety of "pods." This modularity enables Blanc Robot to be configured for a wide variety of applications. 
AppliedEV offers the Blanc Robot with an all-wheel-drive system, in either an off-road or on-road specification. Its battery size is matched to the duty and charge cycles, with total efficiency up to 10 miles per kilowatt-hour.
"Oxbotica and AppliedEV both see an opportunity in the market to come together with a unique offering of strong commercial outcomes as early as 12 months," Julian Broadbent, founder and CEO of AppliedEV, said in a statement. 

The first industries this partnership will target are industrial logistics and goods delivery. The aim is to focus on markets that have immediate economic business cases and a mature regulatory environment to enable deployment at scale.
"We have an ambitious deployment goal over the coming years, driven by an extraordinary market appetite for a world-class product," Paul Newman, founder and chief technology officer of Oxbotica, said in a statement.
In April, British online grocer Ocado announced it would invest 10 million pounds in Oxbotica to reduce the costs of last-mile deliveries, curb-to-kitchen robots and other logistics operations.
 "We are really excited and supportive of this collaboration between Oxbotica and AppliedEV as we see it as an important step on our journey to developing advanced autonomous mobility solutions for the Ocado Smart Platform," Alex Harvey, chief of advanced technology of Ocado Technology, said in a statement.