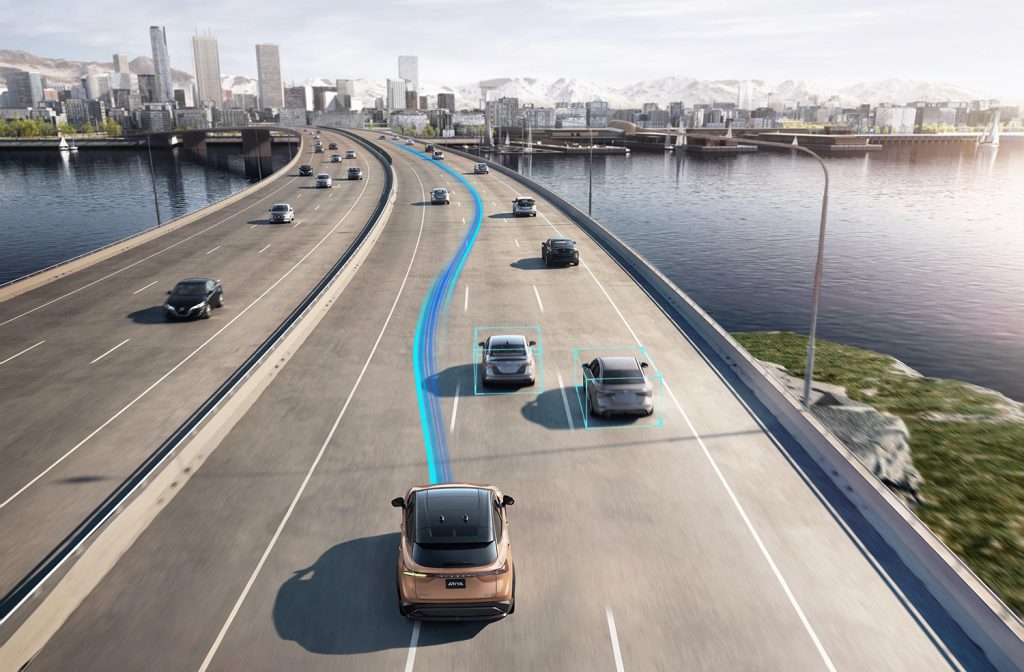 The launch of Nissan Motor Co. Ltd.'s long-awaited Ariya crossover not only made news for its electric powertrain but also that it provides its occupants with the latest technologies including the next-generation ProPILOT Assist advanced driver assistance system. Version 2.0 expands upon ProPILOT Assist by allowing an attentive driver to take his/her hands off the steering wheel under certain conditions, helping reduce driver workload in single-lane highway traffic and supporting multi-lane highway driving tasks such as lane changes, passing, and highway exiting.
ProPILOT Assist 2.0 uses Nissan's latest positioning and navigation systems as well as high-definition 3-D map data to detect the roadway type, direction, and speed limits, adjusting vehicle speed and helping keep the vehicle centered in the lane with increased accuracy. A monitoring system mounted on the steering column ensures that the driver is attentive to the road ahead when using the hands-off feature.
The Ariya is equipped as standard equipment with Nissan Safety Shield 360, a suite of six active safety features: automatic emergency braking with pedestrian detection, blind spot warning, rear cross-traffic alert, lane departure warning, high beam assist, and rear automatic braking. For the first time in the U.S., ProPILOT Park is available. The system on the Ariya takes over the steering, accelerating, braking, and gear shifting to guide the vehicle into a parking spot when activated.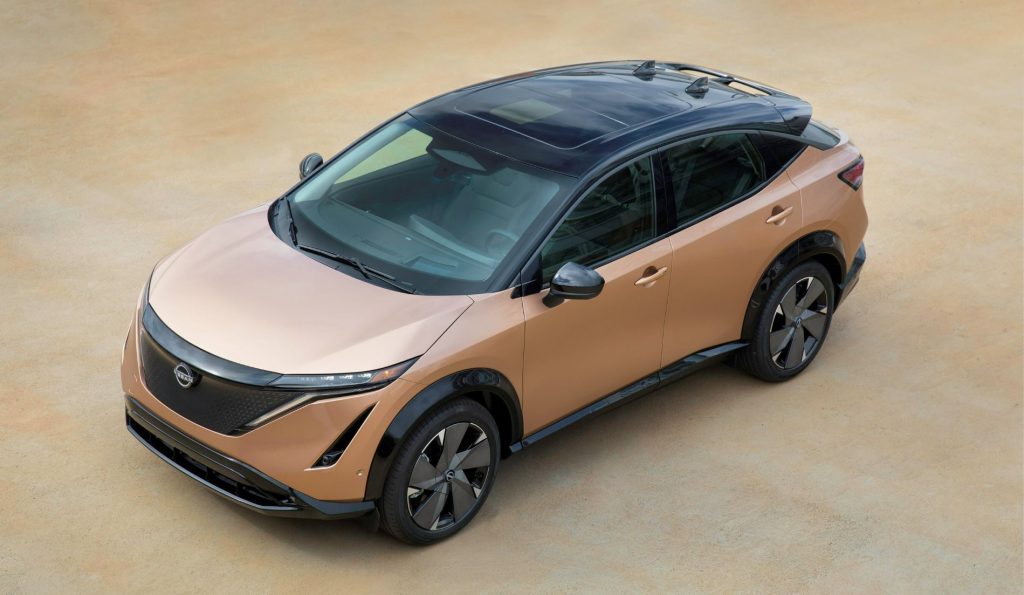 A key enabler of the hands-off and guided freeway driving capabilities of the Ariya's ProPILOT Assist 2.0 is Nissan's use of Trimble RTX technology as its high-accuracy positioning source. While positioning with standard GNSS (Global Navigation Satellite System) signals may drift up to 10 m (25 ft), RTX provides higher accuracy and enables consistent lane determination for driving applications.
"Trimble has been at the forefront of precise positioning for decades and has served the automotive segment for nearly as long," said Patricia Boothe, Senior Vice President, Civil Infrastructure Solutions at Trimble Inc. "We've applied the combination of technology leadership and domain experience to enable more than 30 million miles of confident driving with hands-off driving systems."
A key feature of the ProPILOT Assist 2.0 system is hands-off driving while cruising in a single lane. When the vehicle approaches a road divide, or when passing a slower vehicle is possible, the system judges the appropriate timing of branching off or passing based on information from the navigation system and 360-degree sensing. Audio and visual guidance is given to the driver, who is then prompted to put both hands on the steering wheel and confirm the operations.
Trimble's positioning solution, underpinned by its integrity monitoring capabilities, enables consistent lane-level positioning in this and other complex, real-world driving environments. The RTX network is supported by a globally redundant and resilient infrastructure—backed by a team of ISO 20000 certified network engineers and IT specialists, monitoring operations around the clock to ensure optimal signal performance and reliability for drivers who will depend on it. The positioning technology can provide decimeter-level accuracy in seconds, enabling autonomy applications including automotive driving, when accuracy, speed of convergence, and accessibility to a single global network matter.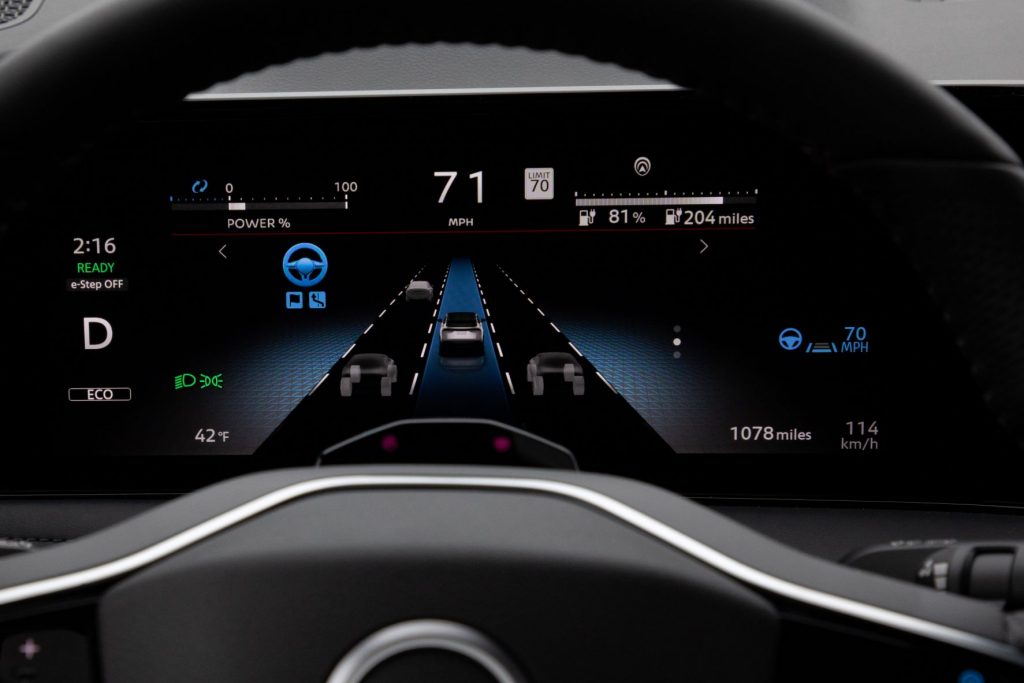 High-definition (HD) map data is also key to ProPILOT Assist 2.0 operation, with Ushr Inc. announcing at CES 2023 that it has added Nissan to its growing customer base. The company worked with Mitsubishi Electric to integrate its data into the Nissan system.
"Our goal is to offer automakers precise map data that makes drivers feel comfortable using this technology," said Chris Thibodeau, Chief Executive Officer of Ushr.
Ushr provides its HD map of U.S. motorways to Mitsubishi Electric, which leverages the data in its HDLM (High-Definition Location Module). The combined solution allows Nissan to deliver a confident and accurate hands-off driving experience to its customers.
"We have been collaborating with Nissan for a long time, and we are excited to grow our relationship with Ushr to help enable Nissan's ProPILOT Assist utilizing the Mitsubishi Electric High Definition Locator Module," said Mark Rakoski, Vice President, of Advanced Engineering, Mitsubishi Electric Automotive America.
The fused solution is said to identify curves in roads much sooner than vision or radar sensors, allowing the system to anticipate turns and comfortably adjust speed. The data allow a vehicle to detect its location within centimeters to provide smoother driving and peace of mind.