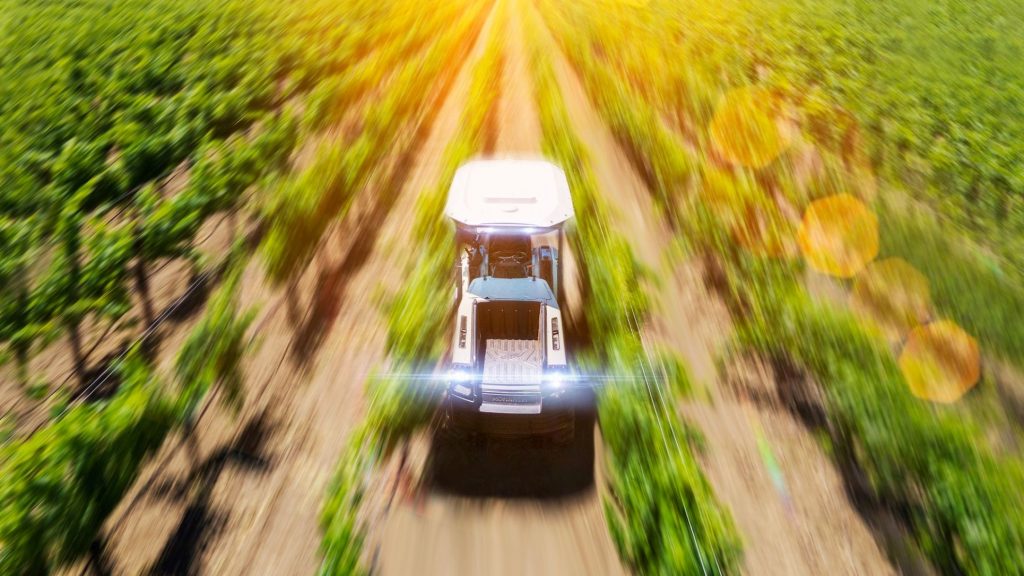 Monarch Tractor, the maker of the MK-V, the fully electric, driver-optional, smart tractor, today announced the first tractors are coming off the Founder Series production line at its headquarters and manufacturing facility in Livermore, CA. The rollout comes less than two years after Monarch unveiled its groundbreaking tractor that combines electrification, automation, and data analysis to help farmers reduce their carbon footprint, improve field safety, streamline farming operations, and increase their bottom lines.
"This is a momentous day for Monarch Tractor that has been years in the making," said Praveen Penmetsa, Co-founder & CEO, of Monarch Tractor. "Our team has worked tirelessly and relentlessly with a mission to make farming more profitable and sustainable. We're proud to see our commitment to technological innovation and sustainable solutions culminate in celebrating our first tractor off the production line, which, I might add, is powered by renewable energy."
The MK-V not only cuts energy costs and diesel emissions but also helps reduce harmful herbicides, which are expensive and deplete the soil.
"With precision ag, autonomy, and AI, data will decrease the volume of chemicals used, which is good for the soil, good for the farmer from a profitability standpoint, and good for the consumer," added Penmetsa.
Advancing the sustainability business case  
Constellation Brands, a leading global producer of fine wine and craft spirits and the largest beer importer in the U.S., has partnered with Monarch as its first customer through its purchase of the first six Founder Series MK-V tractors. The delivery of tractors to Constellation Brands will be followed by customer shipments to family farms and other large multinational corporations.
"As we build a leading global premium, fine wine, and craft spirits portfolio, comprised of some of the world's top vineyards including To Kalon (whose organic certification is expected in early 2023), we are focused on protecting and amplifying our resources while producing the highest quality wines and spirits in the world," said Robert Hanson, President of Constellation Brands' Wine & Spirits division. "Being the first to leverage the Founder Series MK-V affords us an industry-first opportunity to do so, and we congratulate Monarch on this exciting launch."
Launched to the public in 2020, Monarch Tractor is focused on transforming the agriculture industry with next-generation EV technology and automation capabilities to meet farmers' most pressing needs. It was founded with a robust team including Penmetsa, an autonomy and mobility engineer, as CEO; Mark Schwager, former Tesla Gigafactory Chief, as Co-Founder and President; Zachary Omohundro, a robotics Ph.D. from Carnegie Mellon University, as CTO; and Carlo Mondavi, from the Napa Valley Mondavi winery family, as Chief Farming Officer.
Four months after its public debut, the company deployed its pilot series at Wente Vineyards, which it says marked the first time a fully electric, driver-optional, connected tractor had ever been deployed to a commercial farm.
Monarch Tractor has captured the attention of the investment, agriculture, and contract manufacturing communities.
The company has raised more than $110 million including a $61 million Series B round in 2021. Strategic investors include Japanese auto parts maker Musashi Seimitsu Industry Co.; agricultural equipment maker CNH Industrial; and VST Tillers Tractors, an India-based equipment maker and dealer of tractors and implements.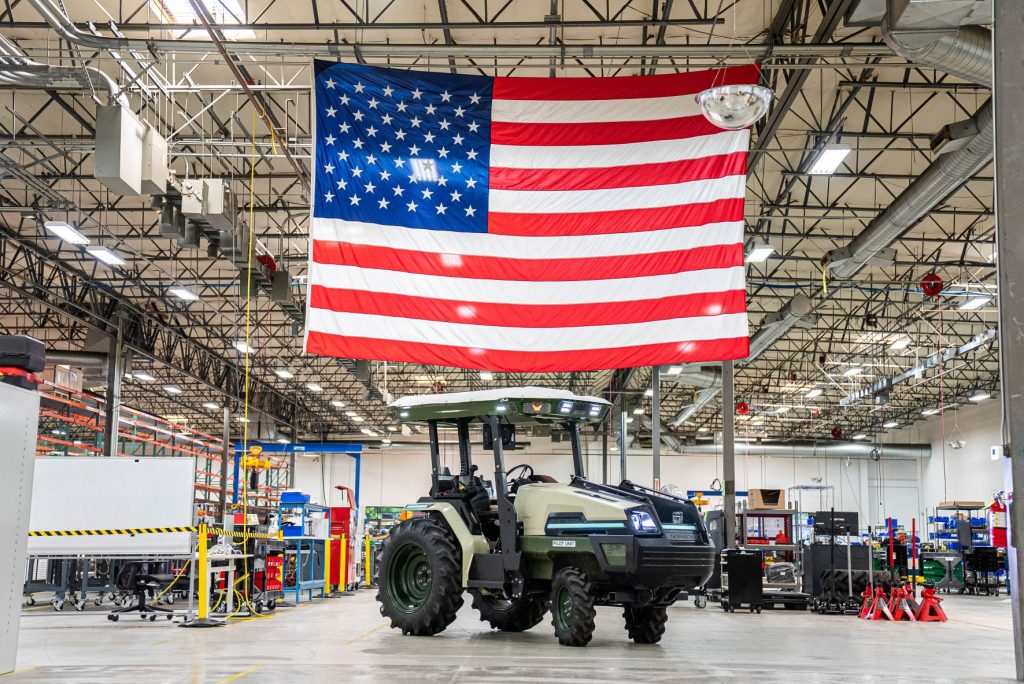 Monarch recently signed a contract manufacturing agreement with Hon Hai Technology Group also known as Foxconn, the world's largest electronics manufacturer, to build the MK-V and its battery packs. Manufacturing operations are expected to begin at Foxconn's Lordstown, OH, facility in 2023, while tractor research and development will continue in California.
"3-in-1 electrification tool"
Monarch says that using the MK-V in place of a comparable diesel tractor is the equivalent emissions reduction of removing 14 passenger vehicles from the road. Considering nearly 25% of global emissions come from agriculture, the zero-emissions tractor will help make meaningful emissions reductions in an industry that has been historically difficult to decarbonize. The tractor's use also helps address other challenges farmers face including labor shortages, safety concerns, increased customer scrutiny for sustainable practices, and government regulations.
Key features of the MK-V include what Monarch calls renewable technology. The 100% electric tractor not only has zero tailpipe emissions but also serves as a "3-in-1 electrification tool," operating as a tractor or utility vehicle during operation as well as an electric generator in the field. Its electric drivetrain is capable of 30 kW continuous power and short-duration peak power of up to 55 kW in a small footprint for multi-purpose usage.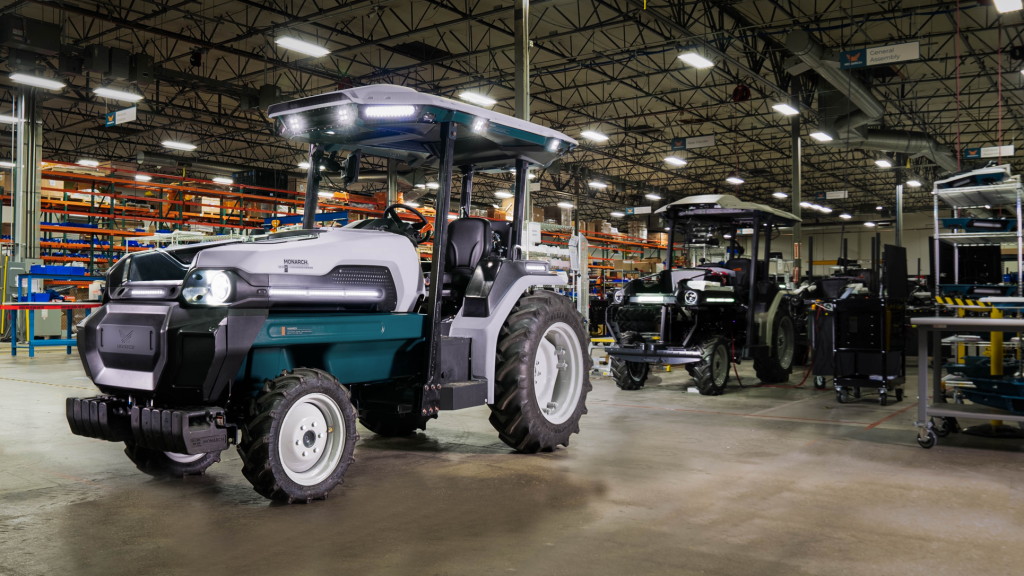 Monarch uses the latest autonomous hardware and software technology, including the Nvidia AI platform to provide driver-assist and driver-optional operations. The tractor can perform pre-programmed tasks without a driver, or an operator can use its interactive automation features including Shadow mode to have it follow a worker on the job.
The MK-V collects and analyzes crop data daily and can process data from current and next-generation implements equipped with sensors and imaging. The data can be used for real-time implement adjustments, long-term yield estimates, current growth stages, and other plant/crop health metrics. Users can receive tractor status alerts, detailed operations reports, and data collection, analysis, and storage for more efficient farm planning through a smartphone or personal device. 
The tractor's safety features include rollover and collision prevention, vision-based power takeoff, and 360° cameras to keep operations running smoothly and employees safe, day or night.
Nvidia AI support
Penmetsa likens the revolutionary tractor to paradigm shifts in PCs and smartphones. Monarch's role, he said, is to "act as the hub to enable smart implements—precision sprayers, harvesters, and more—for computer vision applications to help automate farming."
The debut caps a two-year development sprint since Monarch, founded in 2018, hatched plans to deliver its smart tractor, complete with the energy-efficient Nvidia Jetson edge AI and robotics platform. Monarch is a member of the Nvidia Inception program, which provides startups with technology support and AI platform guidance.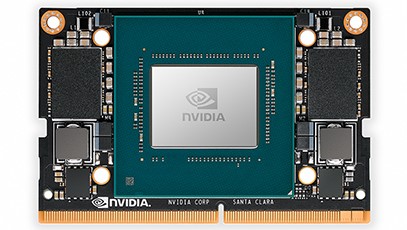 As a wave of AI sweeps farming, developers are working to support more sustainable farming practices. Nvidia's Jetson platform provides energy-efficient AI computing to the MK-V that offers advances in battery performance.
"The Nvidia Jetson enables the MK-V to run low-latency, real-time AI applications while at the same time conserving energy for longer battery life and extended run time," said Penmetsa.
Tapping into six Nvidia Jetson Xavier NX SOMs (system on modules), Monarch's MK-V is said to be essentially a roving robot packing AI supercomputing. It harnesses Jetson to deliver tractors that can safely navigate fields using only cameras.
"This is important in agriculture environments because there may be no GPS signal," said Penmetsa. "It's also crucial for safety as the Monarch is intended for totally driverless operation."
The Founder Series MK-V runs two 3D cameras and six standard cameras. With the six Jetson edge AI modules, it can run models for multiple farming tasks when paired with different implements. Supporting more sustainable farming practices, computer vision applications are available to fine-tune with transfer learning for the Monarch platform to develop precision spraying and other options.
Monarch offers a core of main applications to assist farms with AI, available in a software-as-a-service model on its platform. The MK-V's basic platform functions include sending alerts when on a low charge or an unidentified object obstructs its path. It stops spraying if its camera-based vision platform identifies a human.
"The marriage of Nvidia accelerated computing with Jetson edge AI on our Monarch MK-V has helped our customers reduce the use of unneeded herbicides with our cutting-edge, zero-emission tractor," said Mondavi. "This revolutionary technology is helping our planet's soil, waterways, health, and biodiversity."
To see the MK-V in action, check out this video.