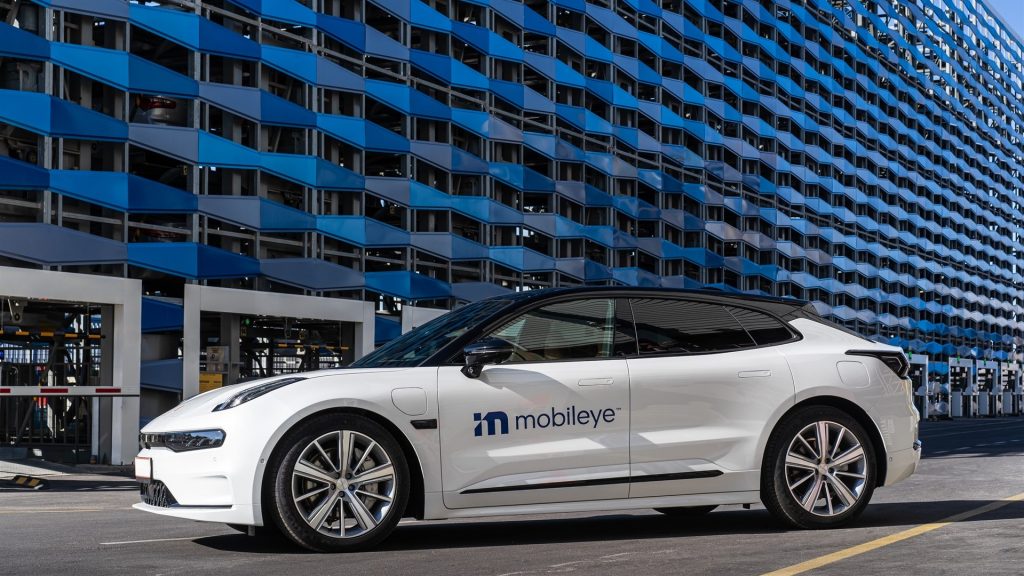 Mobileye Founder and CEO Prof. Amnon Shashua today at CES 2023 will update the show audience on the company's autonomous vehicle and advanced driver-assistance technology development, providing new details on the company's business for 2023 and beyond. He is laying out how future consumer AVs will come to market at scale by harnessing Mobileye's advanced driver-assist system called SuperVision as the baseline for higher levels of autonomy.   
The company now sees a revenue pipeline of ADAS business through 2030 of greater than $17 billion, which includes $3.5 billion of projected revenue from SuperVision, a product that was just launched in the fourth quarter of 2021. Thanks to other new products like the EyeQ6 system-on-chip, the pipeline grew over the course of 2022 as Mobileye added $6.7 billion in projected revenue in ADAS across a projected future volume of 63.6 million systems.
In addition to ADAS, Mobileye announced an additional $3.5 billion in expected revenue from its autonomous MaaS (mobility-as-a-service) products through 2028 based on deals with three major partners, including a recently secured MaaS AV program with a leading EU commercial vehicle builder. Mobileye also has "a line of sight" for $1.5 billion in revenue from a single consumer AV program for its Chauffeur product through 2030.
"In the short time since we went public in October, Mobileye's business has accelerated substantially," said Shashua. "We've seen a strong positive response from our existing customers and new automakers as well who believe in our vision for building cloud-connected, AI-driven, driver assist and autonomous technology that can scale globally and provide meaningful benefits to millions of drivers worldwide."
The SuperVision "eyes-on, hands-off" system is seeing strong customer demand in China, where more than 70,000 Zeekr 001 EV owners will soon get an additional over-the-air update that unlocks key mapping-based features. The system will also be included in the upcoming Zeekr 009, along with near-term global launches on models from three other brands under the Geely Group umbrella.
By combining a camera-only sensing system with key mapping and decision-making technology, the company says that its SuperVision gives automakers an affordable, flexible platform for eyes-on, hands-off driving across a range of operational design domains.
The system's speed-to-market in China's highly competitive automotive market has driven new business wins for SuperVision-based systems around the world, with Mobileye kicking off development work with a premium European automaker for programs targeting delivery in 2025. Other customers are also said to be at advanced stages of development. Overall, the company now expects the volume of SuperVision-based vehicles to reach about 1.2 million units in 2026.
More importantly, OEMs are said to be showing a strong desire to leverage investments in SuperVision as a bridge to enable eyes-off autonomous functions—comparable to SAE Level 3 and Level 4—across a variety of operational design domains. This can be done by adding additional sensing suites and computing power in a modular way to create a cost-efficient, eyes-off product for consumer-owned vehicles in the medium term.
Beyond SuperVision and consumer-owned AVs, Mobileye continued to develop its Mobileye Drive MaaS autonomous vehicle technology in 2022, with the company recently signing an MOU for several thousand units with a major global producer of light commercial vehicles. In 2023, it will continue testing its AV tech, with pilots of our latest vehicle technology hitting the road in Germany.
While sentiment around AVs has dipped recently, Mobileye says it remains focused on delivering scalable, modular AV technology and ensuring public and regulatory trust in AVs before they hit the road with robust, transparent validation. Shashua detailed for the first time Mobileye's three-layer validation approach to AV technology that leverages assets such as Road Experience Mapping data and True Redundancy. The company believes that this combination of real-world testing, simulation, and hardware-in-the-loop validation will allow it to marshal its massive road-test data toward enabling AVs at scale.
Mobileye says its MaaS deployment partners continue to make progress, citing its AV collaborator Holon revealing a new autonomous people mover at CES 2023 powered by Mobileye Drive. By focusing on solutions that can be built affordably and work globally for different types of vehicles, the company sees a clear and financially sustainable path to developing both consumer-owned and fleet-deployed AVs.
All of these advancements build from the company's ongoing innovation and growth in the ADAS market. Last year, it says that 233 models were launched globally with its technology.
Mobileye's innovation roadmap includes key new technologies like imaging radar and a sensor that can provide the benefits of lidar at a fraction of the cost. After demonstrating the potential of imaging radar last year, the company has begun collaborating with Wistron NeWeb, an automotive radar supplier, to bring the technology to production in two years.