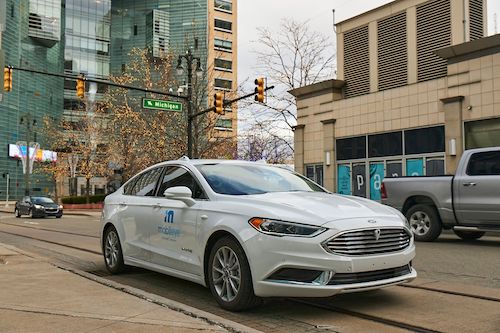 Intel's Mobileye suggests its LiDAR chips could make self-driving systems affordable for consumer cars by 2025.
Jerusalem-based Mobileye, which Intel acquired in 2017, notes it has about 80% of the market of advanced driver assistance systems (ADAS) that can automatically keep a car within its lane or apply brakes. Mobileye's revenue has more than doubled since its acquisition, with sales of close to $1 billion in 2019 and expected to rise double-digits in 2021.
At 2021's Consumer Electronic Show (CES), Mobileye president and chief executive officer Amnon Shashua noted that Intel's specialized silicon photonics fab can put active and passive laser elements on a silicon chip. The aim is to move from the time-of-flight (ToF) LiDAR techniques often currently used to frequency-modulation coherent wave (FMCW) LiDAR, which can not only provide 3D data but also the velocity of objects. In addition, whereas ToF LiDAR is limited to a maximum range of 200 meters and is sensitive to interference, Shashua noted that FMCW LiDAR has a 300-meter maximum range and is far more resilient against interference.
Intel plans to have a LiDAR system on a chip for Mobileye use in autonomous vehicles starting in 2025. That will be when "a self-driving system can reach the performance and the cost level for consumer cars," Shashua said at the show.

Mobileye's strategy for autonomous driving involves separate camera and LiDAR-radar subsystems, each capable of end-to-end autonomous driving alone, and each with its own internal redundancies. For example, its camera system involves two EyeQ5 vision-processing chips, seven long-range cameras and four parking cameras, all with varying fields of view, to generate an instantaneous 3D map.
Shashua added that whereas current radars have 192 virtual channels due to 12 by 16 transmitters and receivers, Mobileye plans to achieve 2,304 virtual channels based on 48 by 48 transmitters and receivers to image well enough to support autonomous driving. The company plans to have such radars by 2024 or 2025.
Mobileye plans on expanding tests of its self-driving cars to Detroit, Tokyo, Shanghai, Paris and, as soon as local regulations allow it, New York City. "New York City is a very, very interesting geography, driving culture, complexity to test," Shashua said. "We want to test in more difficult places."
Shashua also explained that Mobileye is relying on crowdsourcing to automatically create maps of drivable paths for self-driving cars in cities, since current GPS maps are far too imprecise for the autonomous vehicles. By analyzing data from the nearly 1 million vehicles already equipped with Mobileye's ADAS technology, the company is now automatically tracking nearly 8 million kilometers daily and has totaled nearly 1 billion kilometers to date. 
By 2024, Mobileye expects that more than 24 million vehicles with Mobileye technology will supply crowdsourced map data. "In 2024, it's going to be 1 billion kilometers of roads being sent daily, so we are really on our way to map the entire planet," Shashua said. 
Mobileye will also offer its route-planning technology to commercial robotaxi fleets by 2022 through its mobility as a service (MaaS), real-time public transit app Moovit. The company plans to start in Israel in 2022 and to launch in Osaka in 2023.