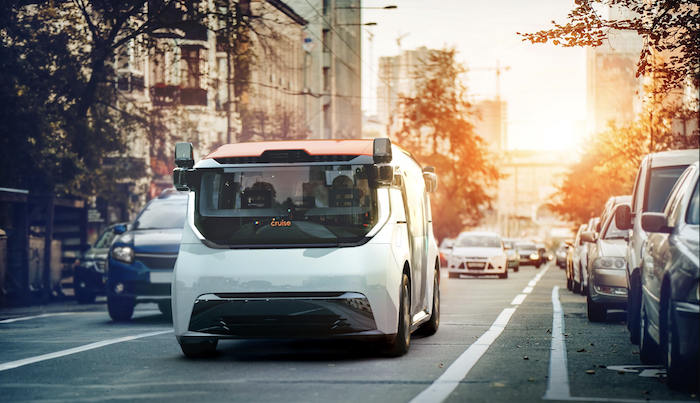 In what's the latest of many recent mergers in the self-driving industry, General Motors' self-driving subsidiary Cruise is acquiring the autonomous vehicle startup Voyage, the companies announced March 15.
Founded in 2016, Voyage was initially focused on building an open-source autonomous vehicle (AV). In the past five years, Voyage developed three generations of robo-taxis, operated self-driving taxis in retirement communities in California and Florida, and signed partnerships with industry giants such as Fiat Chrysler Automobiles and Enterprise Rent-A-Car.
"The self-driving industry is consolidating, and the leaders of a trillion-dollar market are fast emerging," Oliver Cameron, co-founder and CEO of Voyage, said in a statement. "After being intimately involved with the AV industry for the last five years, I can say with certainty that Cruise— with its advanced self-driving technology, unique automaker partnerships, and all-electric purpose-built vehicle with no human controls—is poised to be the clear leader. Now, with the addition of the customer-obsessed Voyage team, Cruise is well-positioned to deliver the best self-driving product in the world.
"Voyage's experience and development of Commander, our self-driving AI; Shield, our collision mitigation system; and Telessist, our novel remote assistance solution, will only supercharge Cruise's goal of superhuman driving performance," Cameron added.

Researchers from Voyage, particular those who worked on the company's third-generation robo-taxi, will help contribute to the Cruise Origin, a self-driving all-electric vehicle that Cruise, GM and Honda are developing jointly specifically for ride-sharing. First revealed in early 2020, Cruise noted each Origin could last for more than a million miles, many times more than the average car, thanks to GM's Ultium batteries. 
"If you could build a new transportation system from the ground up, the Cruise Origin would form the foundation," Cameron said. "Cruise, with its deep pockets and automotive partners, is uniquely positioned to deliver the tremendous benefits of the Origin."