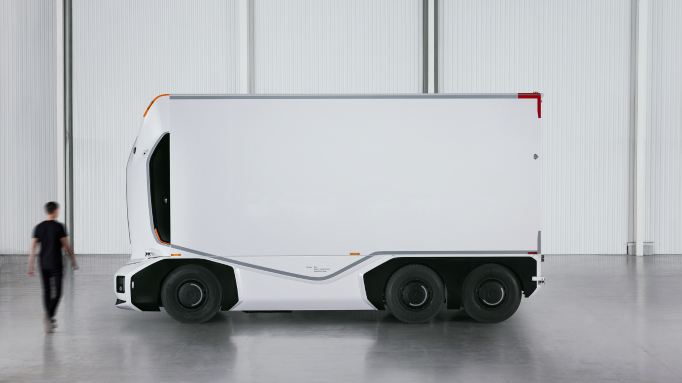 Einride announced this week at a streamed November Release event a number of innovations for its freight mobility technology ecosystem including a new Gen 2 Pod or AET (autonomous electric truck), an Einride Stations mass-charging solution, Grid operational use cases, and an extended use case for Einride Saga.
"We can unlock a truly sustainable, resilient future when we move away from thinking about transportation just as a siloed sector of A to B," said Robert Falck, Founder and CEO of Einride. "To reimagine shipping means thinking about the entirety of the ecosystem, which has been the idea of Einride since day one."
For the company founded in 2016, its ambition to build the future has been accelerating.
"Over the last year, we launched in Germany, the biggest transport market in Europe, we expanded our [autonomous] operations to be able to do 24/7 here in Sweden, but maybe the biggest milestone was the fact that we got approval to go autonomous electric without the safety driver on public roads in the U.S., and we were the first to make that happen," said Falck.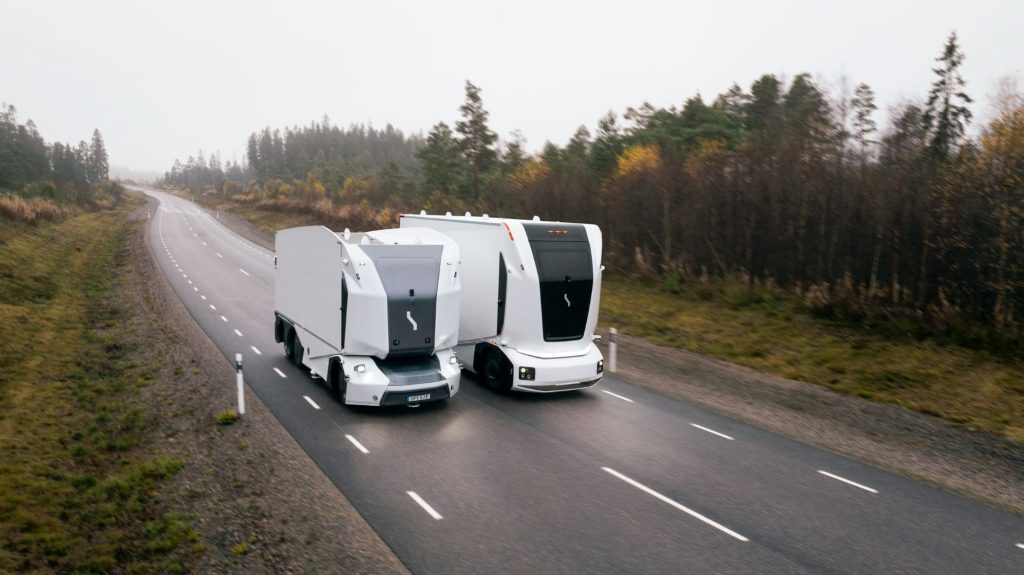 Historic pilot in the U.S.
After receiving the first U.S. approval for operations of a vehicle of its teleoperated type from the U.S. National Highway Traffic Safety Administration (NHTSA) earlier this year, Einride completed this industry-first public road pilot by operating its fully autonomous electric truck without a safety driver on board on U.S. public roads. The pilot, in partnership with Haier's GE Appliances, took place over two weeks as the vehicle supported real-time workflows and transported finished goods from GE Appliances' facilities.
"The completion of this pilot is a momentous step in the operations of autonomous heavy-duty road freight in the U.S.," said Falck. "This shows how Einride's new type of vehicle, one that has reshaped the future of shipping, is here today and unlocking real industry change."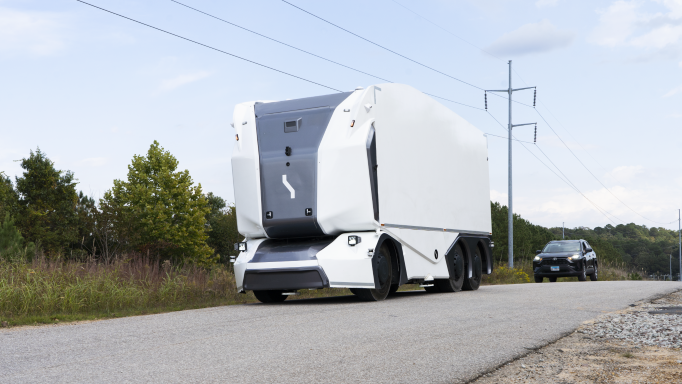 The Einride AET moved goods between GE Appliances' manufacturing facility and warehouse in close partnership with Ericsson, which provided a private connectivity network for vehicle functionality and remote vehicle monitoring.
"Working with Einride on this pilot on public roads in Tennessee helped us better envision and understand what we need to do differently to be at the forefront of autonomous and EV implementation," said Harry Chase, Senior Director of Central Materials for GE Appliances.
The partnership with GE Appliances started deploying both autonomous and electric vehicles in October 2021. Since then, GE Appliances has doubled its fleet of Einride trucks and is leveraging Einride's intelligent freight mobility platform Saga to reduce emissions throughout its supply chains.
New truck and remote interface
At the event this week, Falck introduced the company's latest AET and teleoperation workstation.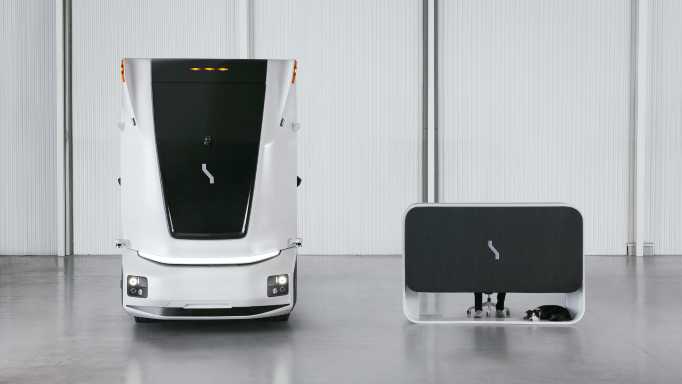 The latest AET is the Gen 2 Rigid Large, with development based on key customer needs resulting in an updated design with better functionality.
"The generation 2 rigid is a better, more durable, and safer design," said Falck.
The vehicle now has a larger cargo hold, improved optics, updated sensors and camera systems, higher maximum speed, better connectivity, and night-vision capabilities—allowing for additional deployment use cases. It is set to be deployed at customer sites starting in 2023.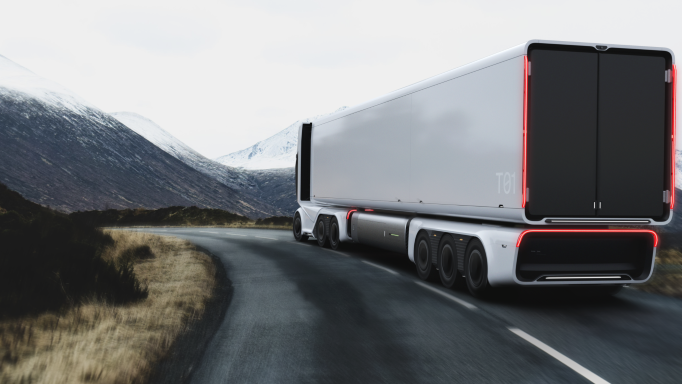 It could be joined by an Einride Trailer, an electric semi-trailer revealed in May to help fleets optimize utilization and reduce the total cost of operations. Though designed for integration with Einride vehicles for optimal performance, the trailer will also be compatible with conventional electric semi-trucks.
Enabled by Saga, the trailer cab provide AI-based insights by providing real-time data including loading route planning, fill rates, cargo monitoring, and preventative maintenance. An extended range of up to 650 km (404 mi) on a single charge will be possible with new Einride 320-kW·h batteries incorporated into its design. After further design iterations, plans call for production for initial piloting to be completed in 2023.
Backing up the Einride AVs is a teleoperation strategy that endures freight service even in tricky (complex) situations.
"At Einride, we believe in human-led autonomy," said Falck. "Humans and machines accomplish much more together."
With that in mind, he introduced the company's newest Remote Interface operation station. The third-generation unit gets more adjustable settings, a monitor setup that ensures optimal remote operator comfort, and a new flat-pack construction allowing for easier manufacturing, scalability, and set up on site.
"The remote operator will potentially supervise multiple vehicles at the same time," said Isabella Johansson, Product Manager, of Autonomous Freight at Einride. "And if any of the vehicles need support, they will notify the remote operator who will be in the station ready to give the instructions."
The instructions are high-level commands that a vehicle then executes.
"In addition to the remote monitoring and controlling of the operations, the remote operator also oversees and keeps an eye on the fleet and its health status," she added.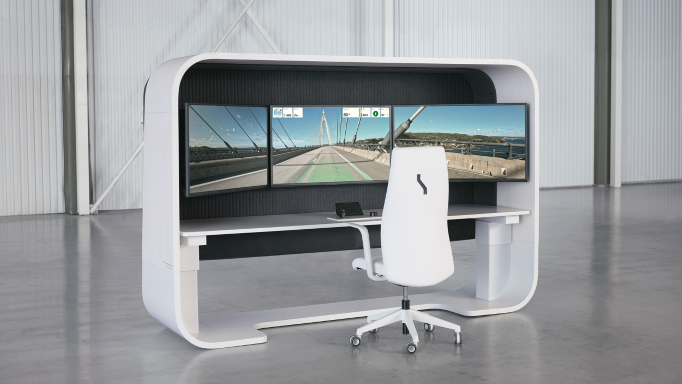 Grids for regional solutions
The event visualized the most recent global operational use cases from the company in four "grids," with the latest company offerings and milestone updates woven into these grid cases and highlighting plans for new market expansions and growing operations.
"You can think of them as archetypes or blueprints that can be applied anywhere in the world," said Linnea Kornehed Falck, CMO, Deputy CEO and Founder, explaining the grid concept. "The grids take the power of our products to meet a region's need and fast track them to electric shipping."
The Nordic Link grid, one of four visualized at the event, unveiled Einride's involvement in the MODI project, a €28 million project co-funded by the European Union and coordinated by ITS Norway. The project aims to support the roll-out of heavy-duty autonomous transport in a variety of market applications by addressing standardizations, harmonization of regulations, user requirements, and physical and digital infrastructure.
A central part of the project is the Norwegian use case where an autonomous vehicle will cross country borders for the first time when Einride's autonomous vehicle demonstrates operations on a portion of the E6 highway between Gothenburg, Sweden, and Oslo, Norway.
The announcement of the MODI project complements a larger Norwegian expansion for Einride, with client PostNord set to deploy electric fleet operations in 2023. The fleet, which will be the largest heavy-duty electric freight fleet in Norway, will service routes in the Oslo region. Einride's move into Norway follows its recent European market expansion into Germany.
From LA to New York
Einride is powering a grid to transform Los Angeles' shipping industry through digital, electric, and autonomous technologies.
"The Port of Los Angeles spans 12 square miles of sea and land and moves $300 billion worth of cargo each year," said Michelle Avary, VP of Product Strategy and Government Affairs, North America at Einride. "The port complex is Southern California's largest source of smog-forming pollution that disproportionately impacts the surrounding neighborhoods and communities. Moving from diesel trucks to electric trucks will help."
Avary also unveiled the company's latest charging solution in Einride Stations. Some of the stations will include an operations center to ensure reliable fleet operations as well as lounges for drivers to relax and recharge.
The first stations have opened throughout Sweden, and the first in the U.S. near the Port of LA, with construction set to start supporting fleets in 2023. The company says that the station concept will serve as a pivotal enabler to the deployment of customer fleets of its trucks as well as being available to future Einride deployments and non-Einride fleets, given its ability to serve up to 200 vehicles.
Einride's Saga intelligent freight mobility platform will allow the company to understand the operational changes necessary to understand installed capacity and create a digital freight heat map.
"We can be precise with demand, location, timing, and utilization of charging infrastructure, and we share this knowledge with utilities and regulators, and are creating a broader ecosystem to transform shipping," said Avary.
The company is exploring additional Einride Stations in the U.S. in Texas, Utah, Georgia, New Jersey, and Illinois, she added.
One of those grids, for the densely populated New York (and New Jersey) tri-state area, was detailed by CMO Kornehed Falck.
"Utilization is low, there has been little change for decades, and the transition to electric can move much faster," she said. "The grid that we will deploy in this region is specific to high-density electrification.
She added that with data-driven decision-making and a shared capacity approach, the company can reduce emissions and traffic and at the same time increase utilization.
"With the application of Einride's grid in New York, everyone stands to gain," she said. "The city will move faster, shippers will save an operational cost, and communities will be cleaner."
Saga Explore to unlock new use cases
Powering Einride's freight ecosystem is the Saga platform. The company's capacity customers have relied on it to plan and execute their electrification and emission reduction commitments.
"As an industry leader in electric fleet operations, we have the unique advantage of leveraging our experience to make electric solutions more accessible," said Kornehed Falck. "Right now, making the transition to electric is vital and needs to be made easy and efficient, which is available today through Einride Saga as it enables our larger grid ecosystem to be more resilient."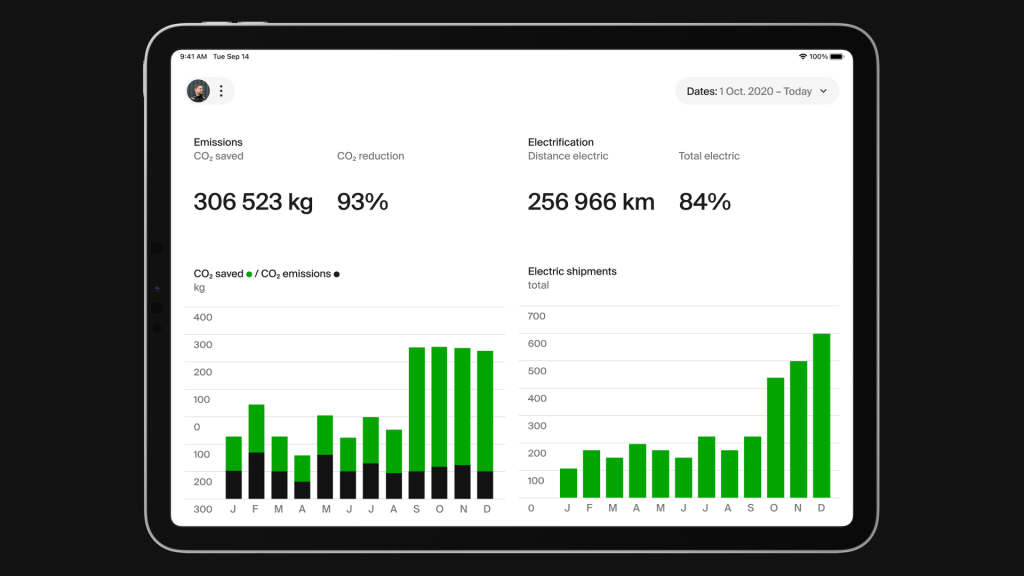 In that same spirit, the company is rolling the platform out to the broader community with Saga Explore. It will be made available to the shipper and carrier community beyond existing customers who ship their goods with the company's capacity services. Leading with the Explore capabilities, users will be able to generate and view operational KPIs, register and track progress to emission targets, and get actionable operational insights for all shipping touchpoints, using data from across their transport ecosystem.
"Explore quantifies and visualizes detailed transport emissions based on the three prongs of sustainability—environmental, economic, and performance metrics," said Mehdi Akbarian, VP of Product, Saga, at Einride. "It streamlines verified emission reporting for all transport activities, according to accredited frameworks. Even more importantly, it identifies emission reduction opportunities that exist today."
Insights to improve operations and reduce costs are enabled through the merging of different data sources and proven models as well as connecting the transport ecosystem end-to-end.
"We're now opening up Saga Explore to early-access customers who don't ship with Einride," he said. "And we're inviting you to be among the very first to experience and extend its capabilities."